Feb 29, 2016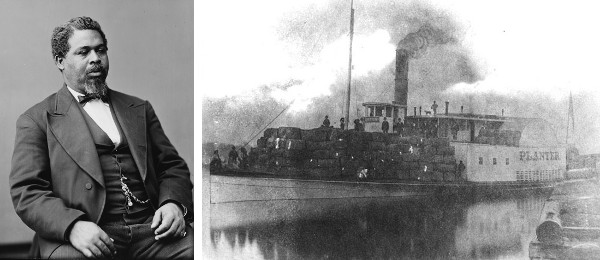 In 1862, slave Robert Smalls was working as a pilot aboard a Confederate transport ship in Charleston, S.C., when he seized a unique chance to escape. In this week's episode of the Futility Closet podcast we'll follow his daring predawn journey, which rescued 17 people from slavery and changed the course of South Carolina history.
We'll also reflect on justice for bears and puzzle over a hijacker's surprising request.
Please consider becoming a patron of Futility Closet -- on our Patreon page you can pledge any amount per episode, and all contributions are greatly appreciated. You can change or cancel your pledge at any time, and we've set up some rewards to help thank you for your support.
You can also make a one-time donation via the Donate button in the sidebar of the Futility Closet website.
Sources for our feature on Robert Smalls:
Andrew Billingsley, Yearning to Breathe Free: Robert Smalls of South Carolina and His Families, 2007.
Kitt Haley Alexander, Robert Smalls: First Black Civil War Hero, 2001.
Peggy Cooper Davis, "Introducing Robert Smalls," Fordham Law Review 69:5 (April 2001), 1695.
"Robert Smalls," American National Biography Online, accessed Feb. 14, 2016.
Henry Louis Gates Jr., "Which Slave Sailed Himself to Freedom?", PBS.org (accessed Feb. 14, 2016).
Micah White, "Black History Unsung Heroes: Robert Smalls," biography.com, Feb 9, 2015.
"Smalls, Robert," History, Art & Archives, U.S. House of Representatives (accessed Feb. 14, 2016).
Blain Roberts and Ethan J. Kytle, "Robert Smalls's Great Escape," New York Times, May 12, 2012.
Avis Thomas-Lester, "Civil War Hero Robert Smalls Seized the Opportunity to Be Free," Washington Post, March 2, 2012.
Amy Geier Edgar, "Bill Would Honor Black Pioneer in Business, Politics," Associated Press, March 26, 2004.
Listener mail:
Todd Wilkinson, "What Do You Do With a Bear That Kills a Person?", National Geographic, Aug. 20, 2015.
Sarene Leeds, "'Downton Abbey' Recap: Season 6, Episode 5," Wall Street Journal, Jan. 31, 2016.
This week's lateral thinking puzzle was contributed by listener Rini Rikka.
You can listen using the player above, download this episode directly, or subscribe on iTunes or via the RSS feed at http://feedpress.me/futilitycloset.
Many thanks to Doug Ross for the music in this episode.
If you have any questions or comments you can reach us at podcast@futilitycloset.com. Thanks for listening!