Jul 4, 2016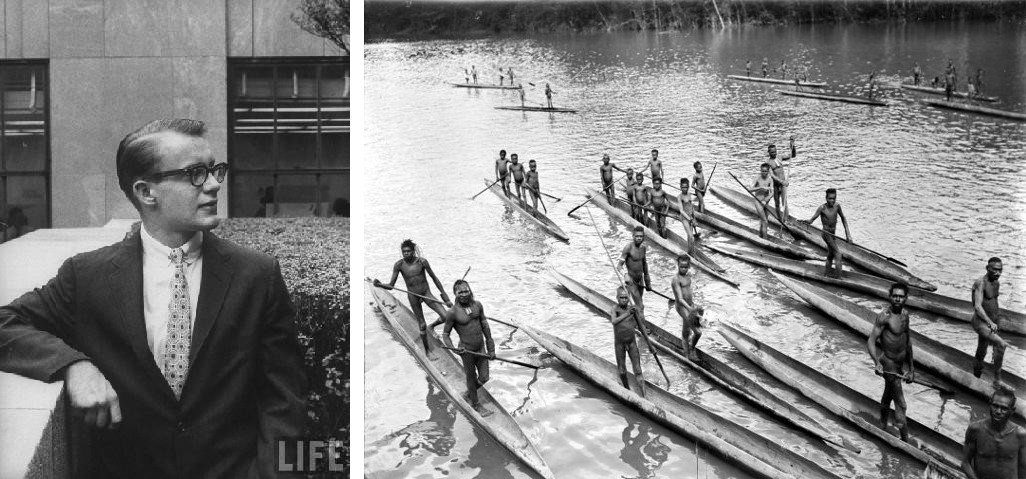 In 1961, Michael Rockefeller disappeared after a boating accident off the coast of Dutch New Guinea. Ever since, rumors have circulated that the youngest son of the powerful Rockefeller family had been killed by the headhunting cannibals who lived in the area. In this week's episode of the Futility Closet podcast, we'll recount Rockefeller's story and consider the different fates that might have befallen him.
We'll also learn more about the ingenuity of early sportscasters and puzzle over a baffled mechanic.
Sources for our feature on Michael Rockefeller:
Carl Hoffman, Savage Harvest, 2014.
Associated Press, "Rockefeller's Son Killed by Tribes?", Nov. 19, 1971.
Peter Kihss, "Governor's Son Is Missing Off Coast of New Guinea," New York Times, Nov. 20, 1961.
United Press International, "Rockefeller to Join in Search for Missing Son," Nov. 20, 1961.
United Press International, "Michael Rockefeller Had Been Told to End Quest for Native Trophies," Nov. 21, 1961.
Associated Press, "Missionaries Join Rockefeller Search," Nov. 22, 1961.
United Press International, "Searchers for Michael Rockefeller Pessimistic," Nov. 22, 1961.
"Hope Wanes for Michael Rockefeller," St. Petersburg Times, Nov. 24, 1961.
Milt Freudenheim, "Michael Rockefeller Unusual Rich Man's Son," Pittsburgh Press, Dec. 10, 1961.
Barbara Miller, "Michael Rockfeller's Legacy," Toledo Blade, Sept. 2, 1962.
Associated Press, "Young Michael Rockefeller Missing Almost 5 Years," Oct. 21, 1966.
Mary Rockefeller Morgan, "A Loss Like No Other," Psychology Today, July/August 2012.
Listener mail:
A "synthetic cricket" game in Sydney in the 1930s, re-creating a game played in England:
<iframe width="480" height="360" src="https://www.youtube-nocookie.com/embed/PnvXpCO_R3A?rel=0&amp;showinfo=0" frameborder="0" allowfullscreen></iframe>
Paul D. Staudohar, "Baseball and the Broadcast Media," in Claude Jeanrenaud, Stefan Késenne, eds., The Economics of Sport and the Media, 2006.
Walter Cronkite, A Reporter's Life, 1997.
Modesto Radio Museum, "Baseball Games Re-Created in Radio Studios."
Wikipedia, "Broadcasting of Sports Events" (accessed June 30, 2016).
Media Schools, "History of Sports Broadcasting."
This week's lateral thinking puzzle was contributed by listener Larry Miller. Here are three corroborating links (warning: these spoil the puzzle).
You can listen using the player above, download this episode directly, or subscribe on iTunes or Google Play Music or via the RSS feed at http://feedpress.me/futilitycloset.
Please consider becoming a patron of Futility Closet -- on our Patreon page you can pledge any amount per episode, and all contributions are greatly appreciated. You can change or cancel your pledge at any time, and we've set up some rewards to help thank you for your support. You can also make a one-time donation on the Support Us page of the Futility Closet website.
Many thanks to Doug Ross for the music in this episode.
If you have any questions or comments you can reach us at podcast@futilitycloset.com. Thanks for listening!