Jul 18, 2016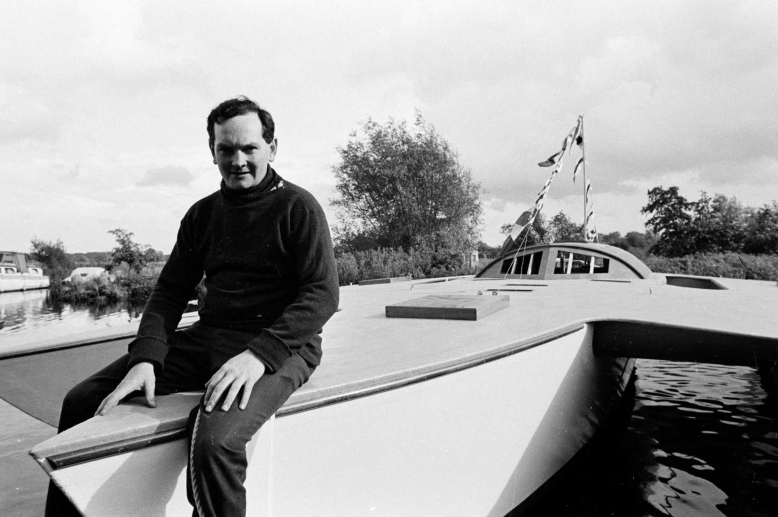 In 1968 British engineer Donald Crowhurst entered a round-the-world yacht race, hoping to use the prize money to save his failing electronics business. Woefully unprepared and falling behind, he resorted to falsifying a journey around the world. In this week's episode of the Futility Closet podcast we'll describe the desperate measures that Crowhurst turned to as events spiraled out of his control.
We'll also get some updates on Japanese fire balloons and puzzle over a computer that turns on the radio.
Intro:
The stones at Pennsylvania's Ringing Rocks Park chime like bells when struck with a hammer.
Sand dunes that "sing" when walked upon are found at 35 sites around the world. In 1884 two scientists notated the sounds on a musical scale.
Sources for our feature on Donald Crowhurst:
Peter Nichols, A Voyage for Madmen, 2001.
Nicholas Tomalin and Ron Hall, The Strange Last Voyage of Donald Crowhurst, 1970.
Associated Press, "Briton Missing in Global Race," July 10, 1969.
Associated Press, "Mystery Shrouds Lone Sailor's Fate," July 12, 1969.
Associated Press, "Search Ends for Voyager," July 12, 1969.
Associated Press, "Lost Yacht Racer Sent Fake Reports," July 25, 1969.
Associated Press, "Log Shows Yachtsman Never Left Atlantic in Race Round World," July 28, 1969.
AAP-Reuters, "Lost Sailor 'Stayed in Atlantic,'" July 28, 1969.
"Mutiny of the Mind," Time 94:6 (Aug. 8, 1969), 59.
Ed Caesar, "Drama on the Waves: The Life and Death of Donald Crowhurst," Independent, Oct. 27, 2006.
Robert McCrum, "Deep Water," Guardian, April 4, 2009.
Alex Ritman, "First Look: Colin Firth Cast Adrift as Ill-Fated Amateur Sailor Donald Crowhurst in 'The Mercy'," Hollywood Reporter, June 17, 2016.
Listener mail:
Bob Greene, "The Japanese Who Bombed Oregon," Chicago Tribune, July 18, 1988.
Nicholas D. Kristof, "Nobuo Fujita, 85, Is Dead; Only Foe to Bomb America," New York Times, Oct. 3, 1997.
Ross Coen, Fu-Go, 2014.
James sent these additional links on Nobuo Fujita:
Tatiana Danger, "Visit the Samurai Sword of the WWII Japanese Pilot Who Bombed Oregon," Roadtrippers, April 25, 2014.
Larry Bingham, "Oregon Coast Trail Dedicated for World War II Bombing," Oregonian, Oct. 2, 2008.
Finn J.D. John, "The Flying Samurai Who Attacked Oregon," Offbeat Oregon History, May 12, 2013.
Finn J.D. John, "A Town's Special Friendship With Its Onetime Would-Be Destroyer," Offbeat Oregon History, May 18, 2013.
William McCash, Bombs Over Brookings, 2005.
This week's lateral thinking puzzle was contributed by listener Doug Shaw.
You can listen using the player above, download this episode directly, or subscribe on iTunes or Google Play Music or via the RSS feed at http://feedpress.me/futilitycloset.
Please consider becoming a patron of Futility Closet -- on our Patreon page you can pledge any amount per episode, and all contributions are greatly appreciated. You can change or cancel your pledge at any time, and we've set up some rewards to help thank you for your support. You can also make a one-time donation on the Support Us page of the Futility Closet website.
Many thanks to Doug Ross for the music in this episode.
If you have any questions or comments you can reach us at podcast@futilitycloset.com. Thanks for listening!