Jul 25, 2016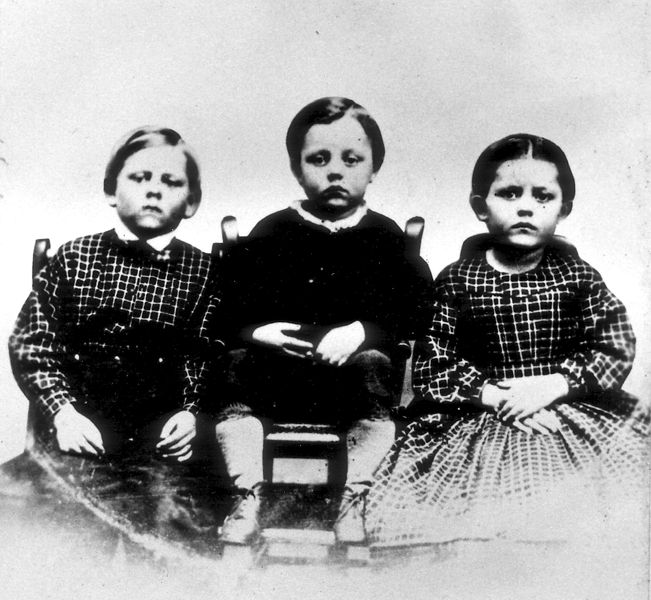 After the Battle of Gettysburg, a dead Union soldier was found near the center of town. He bore no identification, but in his hands he held a photograph of three children. In this week's episode of the Futility Closet podcast we'll follow the efforts of one Philadelphia physician to track down the lost man's family using only the image of his children.
We'll also sample a 9-year-old's comedy of manners and puzzle over a letter that copies itself.
Intro:
The mayor of Talkeetna, Alaska, is a cat named Stubbs.
According to multiple sources, the 3rd Earl of Darnley, an eccentric bachelor, suffered from the delusion that he was a teapot.
Sources for our feature on Amos Humiston:
Mark H. Dunkelman, Gettysburg's Unknown Soldier, 1999.
Mark H. Dunkelman, "Key to a Mystery," American History 32:2 (May/June 1997), 16-20.
Errol Morris, "Whose Father Was He?" (parts 1-5), New York Times, March 29-April 5, 2009.
Ronald S. Coddington, "At Gettysburg, Life Imitates Art," Military Images 34:3 (Summer 2016), 54-55.
"Visit Recalls Wartime Story," Gettysburg, Pa., Star and Sentinel, Oct. 28, 1914.
The full text of Daisy Ashford's The Young Visiters, including J.M. Barrie's preface, is on Project Gutenberg.
This week's lateral thinking puzzle was contributed by listener TJ.
You can listen using the player above, download this episode directly, or subscribe on iTunes or Google Play Music or via the RSS feed at http://feedpress.me/futilitycloset.
Please consider becoming a patron of Futility Closet -- on our Patreon page you can pledge any amount per episode, and all contributions are greatly appreciated. You can change or cancel your pledge at any time, and we've set up some rewards to help thank you for your support. You can also make a one-time donation on the Support Us page of the Futility Closet website.
Many thanks to Doug Ross for the music in this episode.
If you have any questions or comments you can reach us at podcast@futilitycloset.com. Thanks for listening!