Nov 14, 2016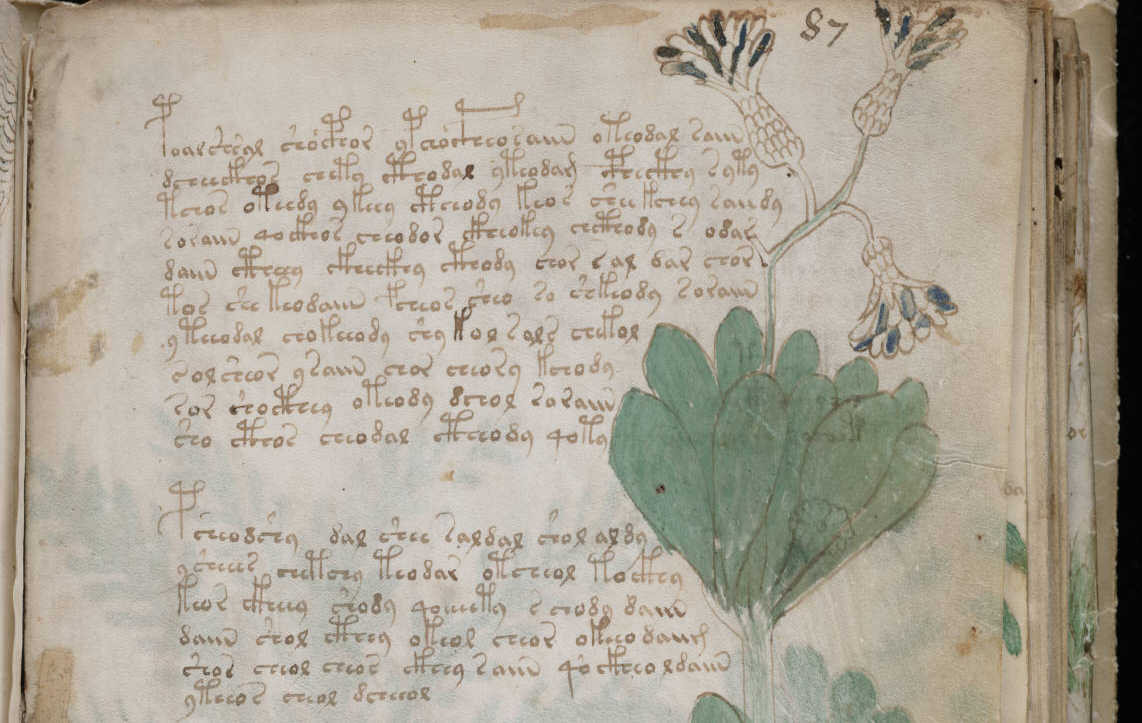 In 1912, bookseller Wilfrid Voynich discovered an illustrated manuscript that was written in a mysterious alphabet that had never been seen before. The text bears the hallmarks of natural language, but no one has ever been able to determine its meaning. In this week's episode of the Futility Closet podcast we'll learn about the Voynich manuscript, which has been bewildering scholars for more than a century.
We'll also ponder some parliamentary hostages and puzzle over a tormenting acquisition.
Intro:
In 1851, George Merryweather invented the Tempest Prognosticator, a rack of bottled leeches who would ring a bell when a storm approached.
Between 1884 and 1896, visitors to Coney Island could stay in a 31-room hotel shaped like an elephant.
Sources for our feature on the Voynich manuscript:
Gerry Kennedy and Rob Churchill, The Voynich Manuscript, 2004.
"Voynich Manuscript," Beinecke Rare Book & Manuscript Library, Yale University.
Klaus Schmeh, "The Voynich Manuscript: The Book Nobody Can Read," Skeptical Inquirer 35:1 (January/February 2011).
Diego R. Amancio et al., "Probing the Statistical Properties of Unknown Texts: Application to the Voynich Manuscript," PLoS One, July 2, 2013.
Andreas Schinner, "The Voynich Manuscript: Evidence of the Hoax Hypothesis," Cryptologia 31:2 (March 2007).
Marcelo A. Montemurro and Damián H. Zanette, "Keywords and Co-Occurrence Patterns in the Voynich Manuscript: An Information-Theoretic Analysis," PLoS One, June 21, 2013.
Bec Crew, "Researcher Finds Evidence That the 'World's Most Mysterious Book' Is an Elaborate Hoax," Science Alert, Sept. 23, 2016.
Melissa Hogenboom, "Mysterious Voynich Manuscript Has 'Genuine Message'," BBC News, June 22, 2013.
Reed Johnson, "The Unread: The Mystery of the Voynich Manuscript," New Yorker, July 9, 2013.
Rich McCormick, "Decrypting the Most Mysterious Book in the World," The Verge, Feb. 28, 2014.
Wikipedia has scans of the entire manuscript, sortable by page, folio, or topic.
Listener mail:
Wikipedia, "Hostage MP" (accessed Nov. 12, 2016).
Wikipedia, "State Opening of Parliament" (accessed Nov. 12, 2016).
Matt Field, "Queen's Speech: Your Guide to All the Parliamentary Pomp and Pageantry," Guardian, May 27, 2015.
"Intertwined Love Story: Twins Who Married Twins," Morning Edition, National Public Radio, May 28, 2010.
"Identical Twins Marry, Give Birth to Identical Twins," Telegraph, July 22, 2008.
Danielle Centoni, "The Secret Life of Pears (in Brandy)," Oregon Live, September 2011.
This week's lateral thinking puzzle was contributed by listener Jake Koethler.
You can listen using the player above, download this episode directly, or subscribe on iTunes or Google Play Music or via the RSS feed at http://feedpress.me/futilitycloset.
Please consider becoming a patron of Futility Closet -- on our Patreon page you can pledge any amount per episode, and we've set up some rewards to help thank you for your support. You can also make a one-time donation on the Support Us page of the Futility Closet website.
Many thanks to Doug Ross for the music in this episode.
If you have any questions or comments you can reach us at podcast@futilitycloset.com. Thanks for listening!