Feb 19, 2018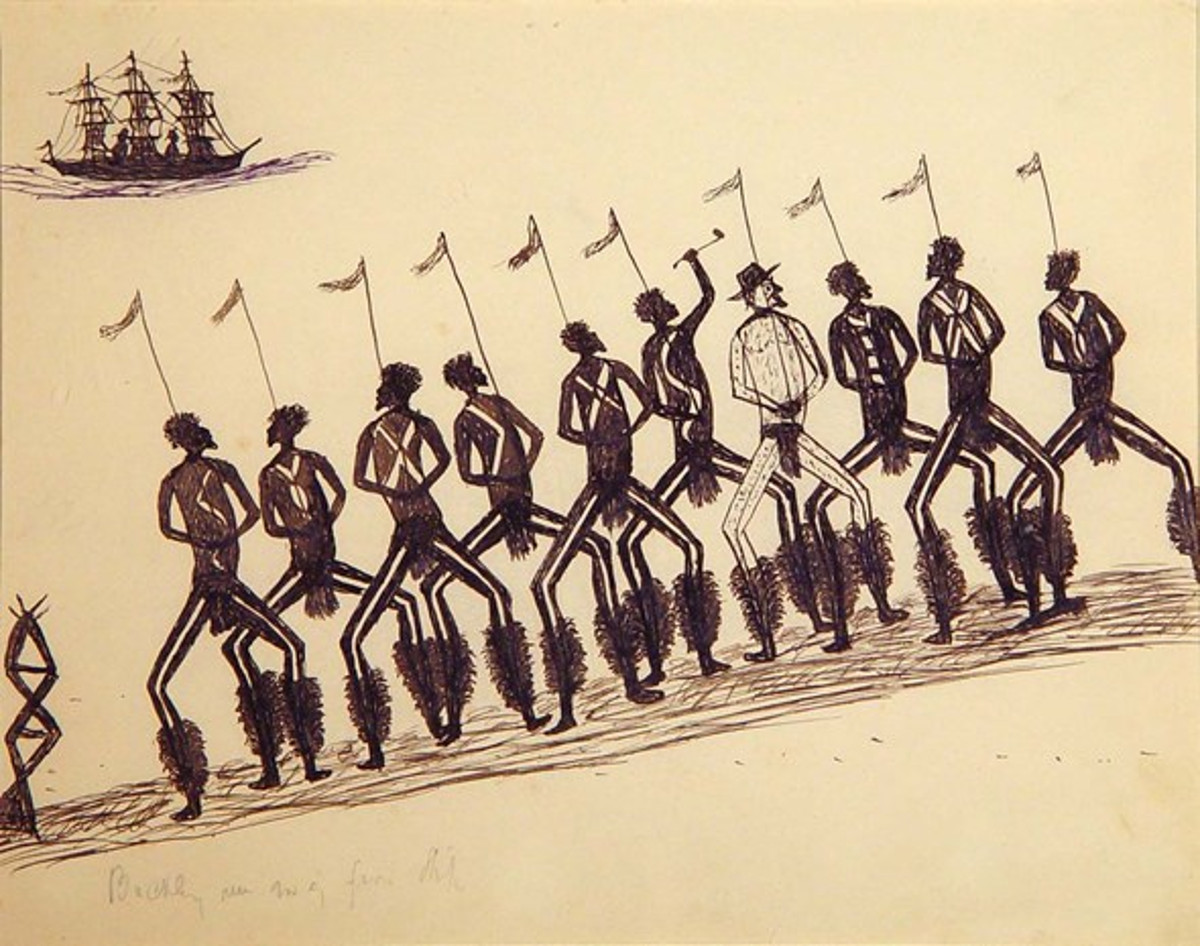 In 1835, settlers in Australia discovered a European man dressed in kangaroo skins, a convict who had escaped an earlier settlement and spent 32 years living among the natives of southern Victoria. In this week's episode of the Futility Closet podcast we'll review the extraordinary life of William Buckley, the so-called "wild white man" of colonial Australia.
We'll also try to fend off scurvy and puzzle over some colorful letters.
Intro:
Radar pioneer Sir Robert Watson-Watt wrote a poem about ironically being stopped by a radar gun.
The programming language Ook! is designed to be understood by orangutans.
Sources for our feature on William Buckley:
John Morgan, Life and Adventures of William Buckley, 1852.
R.S. Brain, Letters From Victorian Pioneers, 1898.
Francis Peter Labillière, Early History of the Colony of Victoria, 1878.
James Bonwick, Port Phillip Settlement, 1883.
William Thomas Pyke, Savage Life in Australia, 1889.
Marcus Andrew Hislop Clarke, Stories of Australia in the Early Days, 1897.
John M. White, "Before the Mission Station: From First Encounters to the Incorporation of Settlers Into Indigenous Relations of Obligation," in Natasha Fijn, Ian Keen, Christopher Lloyd, and Michael Pickering, eds., Indigenous Participation in Australian Economies II, 2012.
Patrick Brantlinger, "Eating Tongues: Australian Colonial Literature and 'the Great Silence'," Yearbook of English Studies 41:2 (2011), 125-139.
Richard Broome, "Buckley, William," Oxford Dictionary of National Biography, Sept. 23, 2004.
Marjorie J. Tipping, "Buckley, William (1780–1856)," Australian Dictionary of Biography, 1966.
Reminiscenses of James Buckley Who Lived for Thirty Years Among the Wallawarro or Watourong Tribes at Geelong Port Phillip, Communicated by Him to George Langhorne (manuscript), State Library of Victoria (accessed Jan. 28, 2018).
"William Buckley," Culture Victoria (accessed Jan. 28, 2018).
Jill Singer, "Here's a True Hero," [Melbourne] Herald Sun, June 8, 2001, 22.
"Australia's Most Brazen, Infamous Jailbreaks," ABC Premium News, Aug. 19, 2015.
"Extraordinary Tale of Our Early Days," Centralian Advocate, April 6, 2010, 13.
Bridget McManus, "Buckley's Story Revisited: Documentary," The Age, April 8, 2010, 15.
Albert McKnight, "Legend Behind Saying 'You've Got Buckley's'," Bega District News, Oct. 21, 2016, 11.
David Adams, "Wild Man Lives Anew," [Melbourne] Sunday Age, Feb. 16, 2003, 5.
Leighton Spencer, "Convict Still a Controversial Figure," Echo, Jan. 10, 2013, 14.
"Fed: Museum Buys Indigenous Drawings of Convict," AAP General News Wire, April 23, 2012.
The drawing above is Buckley Ran Away From Ship, by the Koorie artist Tommy McRae, likely drawn in the 1880s. From Culture Victoria.
Listener mail:
Yoshifumi Sugiyama and Akihiro Seita, "Kanehiro Takaki and the Control of Beriberi in the Japanese Navy," Journal of the Royal Society of Medicine 106:8 (August 2013), 332–334.
Wikipedia, "Takaki Kanehiro" (accessed Feb. 9, 2018).
Yoshinori Itokawa, "Kanehiro Takaki (1849–1920): A Biographical Sketch," Journal of Nutrition 106:5, 581–8.
Alan Hawk, "The Great Disease Enemy, Kak'ke (Beriberi) and the Imperial Japanese Army," Military Medicine 171:4 (April 2006), 333-339.
Alexander R. Bay, Beriberi in Modern Japan: The Making of a National Disease, 2012.
"Scott and Scurvy," Idle Words, March 6, 2010.
Marcus White, "James Lind: The Man Who Helped to Cure Scurvy With Lemons," BBC News, Oct. 4, 2016.
Jonathan Lamb, "Captain Cook and the Scourge of Scurvy," BBC History, Feb. 17, 2011.
Wikipedia, "Vitamin C: Discovery" (accessed Feb. 9, 2018).
This week's lateral thinking puzzle was contributed by listener Miles, who sent this corroborating link (warning -- this spoils the puzzle).
You can listen using the player above, download this episode directly, or subscribe on iTunes or Google Play Music or via the RSS feed at http://feedpress.me/futilitycloset.
Please consider becoming a patron of Futility Closet -- on our Patreon page you can pledge any amount per episode, and we've set up some rewards to help thank you for your support. You can also make a one-time donation on the Support Us page of the Futility Closet website.
Many thanks to Doug Ross for the music in this episode.
If you have any questions or comments you can reach us at podcast@futilitycloset.com. Thanks for listening!