Aug 20, 2018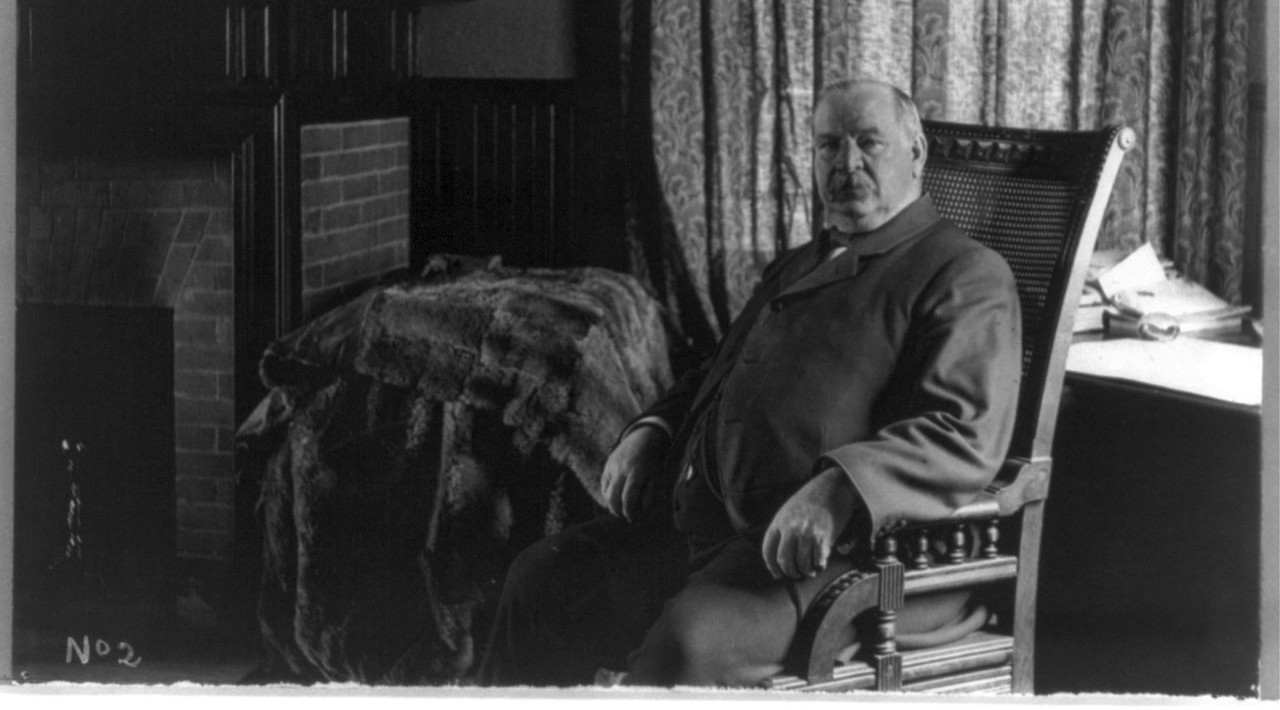 In 1893, Grover Cleveland discovered a cancerous tumor on the roof of his mouth. It was feared that public knowledge of the president's illness might set off a financial panic, so Cleveland suggested a daring plan: a secret surgery aboard a moving yacht. In this week's episode of the Futility Closet podcast we'll describe the president's gamble -- and the courageous reporter who threatened to expose it.
We'll also audit some wallabies and puzzle over some welcome neo-Nazis.
Intro:
Robert Louis Stevenson inadvertently borrowed much of Treasure Island from Washington Irving.
When Graeme Gibson donated his parrot to the Toronto Zoo, it suddenly called after him.
Sources for our feature on Grover Cleveland's secret surgery:
Matthew Algeo, The President Is a Sick Man: Wherein the Supposedly Virtuous Grover Cleveland Survives a Secret Surgery at Sea and Vilifies the Courageous Newspaperman Who Dared Expose the Truth, 2011.
William Williams Keen, The Surgical Operations on President Cleveland in 1893, 1917.
Shahid R. Aziz, "The Oral Surgical Operations of Grover Cleveland: A Presidential Cover-Up," Journal of Oral and Maxillofacial Surgery 53:9 (1995), 1088-1090.
W.O. Fenn et al., "Dr. Joseph Bryant's Role in President Grover Cleveland's Secret Anesthesia and Surgery," Anesthesiology 119:4 (October 2013), 889.
"The Secret Operation on President Cleveland," British Medical Journal 1:3568 (May 25, 1929), 965.
Ronald H. Spiro, "Verrucous Carcinoma, Then and Now," American Journal of Surgery 176:5 (1998), 393-397.
Andrew Renehan and J.C. Lowry, "The Oral Tumours of Two American Presidents: What If They Were Alive Today?", Journal of the Royal Society of Medicine 88:7 (1995), 377.
Philip H. Cooper, "President Cleveland's Palatal Tumor," Archives of Dermatology 122:7 (1986), 747-748.
Richard L. Rovit and William T. Couldwell, "A Man for All Seasons: WW Keen," Neurosurgery 50:1 (2002), 181-190.
"Without Prejudice," British Medical Journal 2:5467 (Oct. 16, 1965), 938.
John J. Brooks and Horatio T. Enterline, "The Final Diagnosis of President Cleveland's Lesion," JAMA 244:24 (1980), 2729-2729.
William Maloney, "Surreptitious Surgery on Long Island Sound," New York State Dental Journal 76:1 (January 2010), 42-45.
Robert S. Robins and Henry Rothschild, "Ethical Dilemmas of the President's Physician," Politics and the Life Sciences 7:1, Medicine and Political Behavior (August 1988), 3-11.
Richard Norton Smith, "'The President Is Fine' and Other Historical Lies," Columbia Journalism Review 40:3 (September/October 2001), 30-32.
"A Yacht, A Mustache: How A President Hid His Tumor," Morning Edition, National Public Radio, July 6, 2011.
"Grover Cleveland - Secret Surgery," University of Arizona Health Sciences Library, July 20, 2018.
Arlene Shaner, "The Secret Surgeries of Grover Cleveland," New York Academy of Medicine, Feb. 27, 2014.
Paul Maloney, "Grover Cleveland's Secret Surgery," Grover Cleveland Birthplace Memorial Association (accessed July 23, 2018).
"Dr. W.W. Keen Dies; Famous Surgeon," New York Times, June 8, 1932.
Abigail Trafford, "Presidential Illness: Are Coverups Still Possible?", Montreal Gazette, Jan. 8, 1987, A1.
Martin D. Tullai, "Health Secret Was Once Possible for U.S. President," Salt Lake Tribune, March 14, 1994, A6.
Allan B. Schwartz, "Medical Mystery: Grover Cleveland's Secret Operation," Philadelphia Inquirer, Oct. 24, 2016.
Dan Gunderman, "The Secretive, Disfiguring Medical Battle Waged by President Grover Cleveland as the Nation Fell Into a Deep Depression," New York Daily News, Dec. 25, 2016.
David Steinberg, "Should the President Undergo Independent Medical Evaluations?", Boston Globe, May 27, 2018, A.4.
Listener mail:
"Wallabies in Onchan," Onchan and Garff Area Matters, Facebook, July 12, 2018.
Samantha Harrelson, "Wandering Kangaroo Causes Rollover Crash Near Dodson in Northern Montana," KTVQ, June 21, 2018.
"Two Injured in Montana After Swerving to Avoid a Kangaroo or Wallaby," KULR 8, June 21, 2018.
Rob Rogers, "Startled Driver Rolls Car to Avoid 'Kangaroo' in Northern Montana," Billings Gazette, June 21, 2018.
"Prohibited Species," Montana Fish, Wildlife & Parks (accessed Aug. 16, 2018).
"Animals Go Wild! The Wallabies of Kalihi Valley," Hawaii News Now (accessed Aug. 16, 2018).
"Native Animals," New Zealand Department of Conservation (accessed Aug. 16, 2018).
"Kawau Island Wallabies," New Zealand Department of Conservation (accessed Aug. 16, 2018).
Wikipedia, "Kawau Island: History" (accessed Aug. 12, 2018).
This week's lateral thinking puzzle was devised by Sharon. Here are three corroborating links (warning -- these spoil the puzzle).
You can listen using the player above, download this episode directly, or subscribe on Google Podcasts, on Apple Podcasts, or via the RSS feed at https://futilitycloset.libsyn.com/rss.
Please consider becoming a patron of Futility Closet -- you can choose the amount you want to pledge, and we've set up some rewards to help thank you for your support. You can also make a one-time donation on the Support Us page of the Futility Closet website.
Many thanks to <a href="http://dougross.net/">Doug Ross</a> for the music in this episode.
If you have any questions or comments you can reach us at podcast@futilitycloset.com. Thanks for listening!