Jul 8, 2019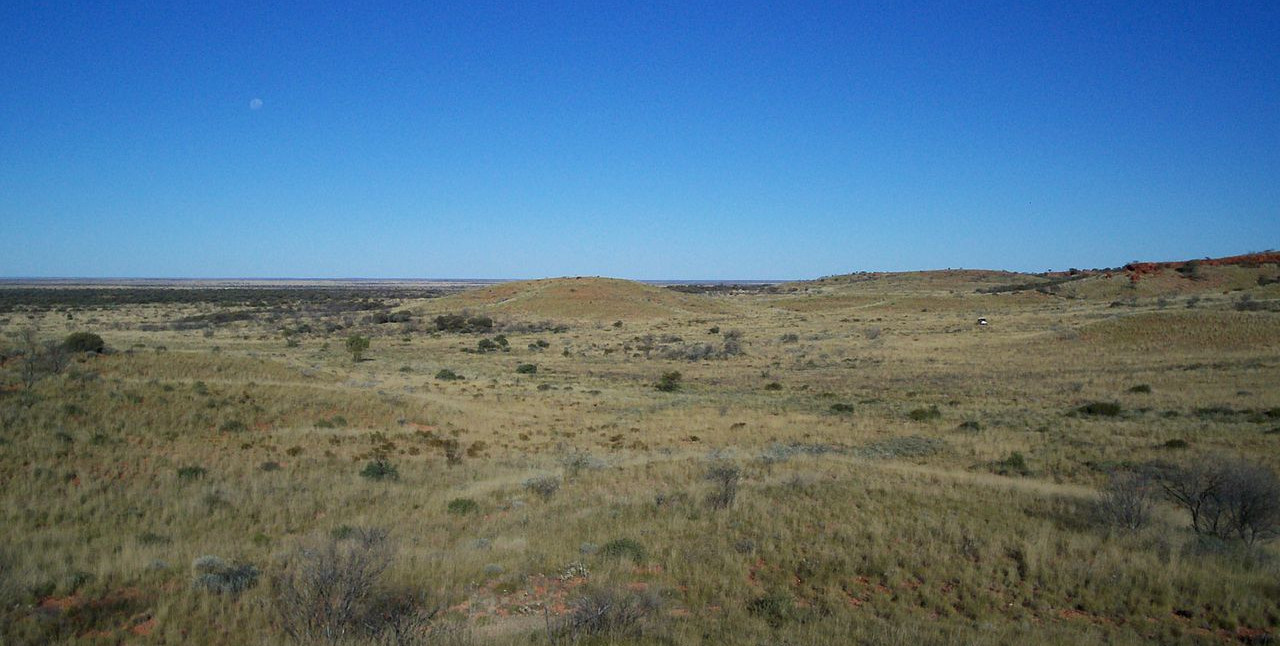 In 1930 Harold Lasseter claimed he'd discovered an enormous deposit of gold in the remote interior of Australia, and a small group of men set off into the punishing desert in search of a fortune estimated at 66 million pounds. In this week's episode of the Futility Closet podcast we'll tell the story of Lasseter's reef, one of the most enduring legends of the Australian outback.
We'll also reconsider the mortality rates of presidents and puzzle over an unlocked door.
Intro:
In the early 1800s a Frenchman known as Tarrare gained fame for eating practically anything.
Sources for our feature on Lasseter's reef:
David Hill, Gold!: The Fever That Forever Changed Australia, 2010.
Ion Llewellyn Idriess, Lasseter's Last Ride, 1940.
National Library of Australia, National Treasures from Australia's Great Libraries, 2005.
Andrew Bain, "Lasseter's Footsteps," Australian Geographic 69 (January-March 2003), 100.
Declan Cooley, "Gladstone Man's Massive Gold Find Claim, Needs Mining Giant," [Gladstone, Queensland] Observer, Feb. 24, 2017.
Simon Caterson, "Lasseter's Gold: Search for Reef a Sparkling Story by Warren Brown," Australian, Sept. 5, 2015.
Warren Brown, "Lasseter's Gold: Could Letter Finally Solve the Mystery of Dead Explorer Harold Lasseter and Gold Treasure?" Sunday Telegraph, Sept. 12, 2015.
Bob Watt, "Battered Suitcase Reveals a Rich History," Northern Territory News, May 3, 2015, 38.
"Google Earth Helps in Hunt for Lasseter's Reef of Gold," Sunshine Coast Daily, July 2, 2013, 2.
Kathy Marks, "El Dorado 'Found' on Google Earth," Independent, June 30, 2013.
"Lasseter's Legendary Reef of Gold Still Beckoning Aussie 'Battlers,'" New Zealand Herald, June 22, 2013, B.4.
Nicole Hasham, "Google Puts Gold on Map for Mates Seeking Lasseter's Reef," Sydney Morning Herald, Nov. 10, 2012, 10.
Sally Brooks, "Lasseter's Reef: Rock Samples Gold Test Riddle," Centralian Advocate, Nov. 11, 2011, 5.
"NT: eBay Map Could Hold Key to Lasseter's Reef," AAP General News Wire, Sept. 27, 2011.
Mark Day, "Lasseter's Legendary Gold Still Beckons," Weekend Australian, Sept. 24, 2011, 5.
Penelope Bergen, "Alice Focus in Hunt for Lasseter's Reef," Centralian Advocate, May 4, 2010, 3.
Alison Bevege, "'I've Found Lasseter's Reef,'" [Brisbane] Courier-Mail, May 10, 2007.
Penelope Bergen, "Lasseter's Reef Is Real, Claims Son," ABC Rural, April 13, 2010.
"Lasseter's Reef Remains Legend," Gold Coast Bulletin, July 15, 2006, 13.
Rebel Black, "In the Footsteps of a Famous Father," Daily Telegraph, June 1, 2002, 13.
Noula Tsavdaridis, "Lasseter's Reef: Fabulous Fortune or Fool's Gold," Daily Telegraph, Jan. 24, 2002, 27.
"Outback Treasure Australian Firm May Be on Trail of Gold Deposit," Reuters, Sept. 6, 1990, 3D.
"Has Lasseter's Reef Been Found?" Australian Women's Weekly, Oct. 26, 1935.
"Gold Rush in Desert Is Aided by Planes," Chicago Tribune, Nov. 14, 1932.
"Geologist Gets Trace of Fabulous Gold Reef; Will Face Australian Desert Perils to Find It," New York Times, May 25, 1931.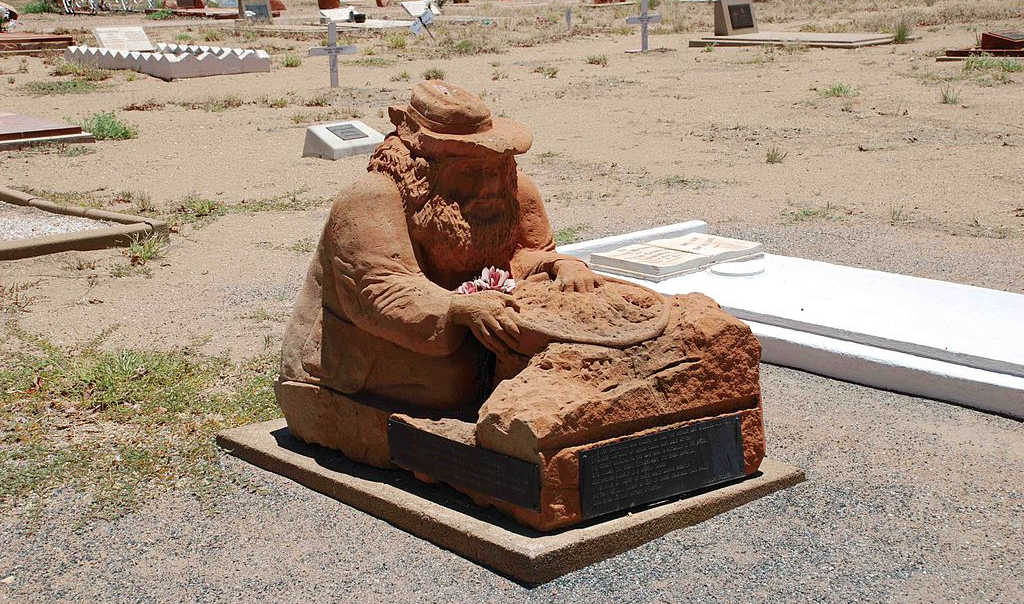 In a sense, Lasseter has never ceased his search -- above his grave in an Alice Springs cemetery is a statue perpetually assaying the desert sands. It bears an inscription by Theodore Roosevelt:
It is not the critic who counts, or how the strong man stumbled and fell
or where the doer of deeds could have done better.
The credit belongs to the man who is actually in the arena
who knows the great enthusiasms, the great devotion
and spends himself in a worthy cause.
If he fails, he fails by daring greatly,
So that he will never be one of those cold and timid souls
who knew neither victory or defeat.
Listener mail:
Wikipedia, "Mortality Rate" (accessed June 27, 2019).
"Measures of Risk: Mortality Frequency Measures," Principles of Epidemiology in Public Health Practice, Centers for Disease Control and Prevention, 2006.
"Injuries, Illnesses, and Fatalities: Dangerous Jobs," Bureau of Labor Statistics, March 28, 2018.
Guy A. Toscano, "Dangerous Jobs," Compensation and Working Conditions 2 (Summer 1997), 57-60.
"National Census of Fatal Occupational Injuries in 2017," Bureau of Labor Statistics, Dec. 18, 2018.
Michael B. Sauter and Charles Stockdale, "25 Most Dangerous Jobs in America," 24/7 Wall St., Jan. 2, 2019.
Wikipedia, "Remembrance of the Daleks: Filming and Effects" (accessed June 24, 2019).
"These 10 Towns in Idaho Have the Most Bizarre Names," Only in Your State, Jan. 21, 2016.
Wikipedia, "Dickshooter, Idaho" (accessed June 29, 2019).
"Tobar, Nevada," Howard Hickson's Histories, Great Basin College, Nevada, 2005.
Wikipedia, "Eagle, Alaska" (accessed July 1, 2019).
This week's lateral thinking puzzle was contributed by listener Gregory LeBlanc. Here's a corroborating link (warning -- this spoils the puzzle).
You can listen using the player above, download this episode directly, or subscribe on Google Podcasts, on Apple Podcasts, or via the RSS feed at https://futilitycloset.libsyn.com/rss.
Please consider becoming a patron of Futility Closet -- you can choose the amount you want to pledge, and we've set up some rewards to help thank you for your support. You can also make a one-time donation on the Support Us page of the Futility Closet website.
Many thanks to Doug Ross for the music in this episode.
If you have any questions or comments you can reach us at podcast@futilitycloset.com. Thanks for listening!