Sep 16, 2019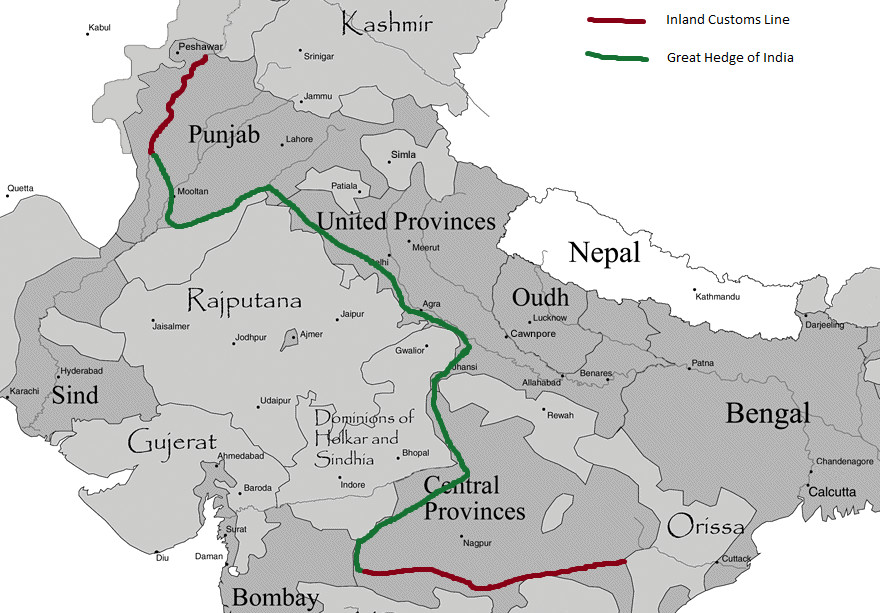 In the 19th century, an enormous hedge ran for more than a thousand miles across India, installed by the British to enforce a tax on salt. Though it took a Herculean effort to build, today it's been almost completely forgotten. In this week's episode of the Futility Closet podcast we'll describe this strange project and reflect on its disappearance from history.
We'll also exonerate a rooster and puzzle over a racing murderer.
Intro:
A group of plasterers working in London's Tate Britain art gallery in 1897 left a message for future generations.
Four chemical elements were discovered in the same Swedish mine.
Sources for our feature on the Great Hedge of India:
Roy Moxham, The Great Hedge of India: The Search for the Living Barrier that Divided a People, 2001.
Mark Kurlansky, Salt: A World History, 2011.
Sir William Henry Sleeman, Rambles and Recollections of an Indian Official, 1844.
Shugan Chand Aggarwal, The Salt Industry in India, 1976.
Sir John Strachey, India, 1888.
Ajit K. Neogy, The Paramount Power and the Princely States of India, 1858-1881, 1979.
Henry Francis Pelham, Essays, 1911.
G.S. Chhabra, Advanced Study in the History of Modern India: 1813-1919, 1971.
D.A. Barker, "The Taxation of Salt in India," The Economic Review 20 (1910), 165-172.
Nicholas Blomley, "Making Private Property: Enclosure, Common Right and the Work of Hedges," Rural History 18:1 (2007), 1-21.
Barry Lewis, "Village Defenses of the Karnataka Maidan, AD 1600–1800," South Asian Studies 25:1 (2009), 91-111.
Roy Moxham, "Salt Starvation in British India: Consequences of High Salt Taxation in Bengal Presidency, 1765 to 1878," Economic and Political Weekly 36:25 (June 23-29, 2001), 2270-2274.
Roy Moxham, "The Great Hedge of India," in Jantine Schroeder, Radu Botez, and Marine Formentini, Radioactive Waste Management and Constructing Memory for Future Generations: Proceedings of the International Conference and Debate, September 15-17, 2014, Verdun, France, Organisation for Economic Co-Operation and Development, 2015.
"The Great Hedge of India: A Lost Wonder of the World," The Long View, BBC Radio 4, March 14, 2017.
Adrian Higgins, "The Odd Tale of Britain's Wall — a Hedge — Across a Swath of India," Washington Post, Feb. 13, 2019.
David G.W. Birch, "When Britain Built Its Own Wall: The Great Hedge of India," iNews, Feb. 9, 2017.
Stephen Pritchard, "Privets on Parade ..." Guardian, Jan. 14, 2001.
Nilanjana S. Roy, "Of Indian Elections, Onions and Salt," New York Times, Nov. 20, 2013.
Maurice Chittenden, "Great Hedge of India Defended the Empire," Sunday Times, Dec. 10, 2000, 7.
Aneesh Gokhale, "Why British Built the Great Hedge of India," DNA, Aug. 12 2018.
Roy Moxham, "The Great Hedge of India," Sunday Telegraph, Jan. 7, 2001, 4.
Annabelle Quince, "Border Walls Around the World," Rear Vision, ABC Premium News, May 17, 2017.
"Have You Heard of the Salt Hedge?" New Indian Express, March 16, 2015.
Roy Moxham, "Magnificent Obsession," Weekend Australian, Oct. 5, 2002, B.26.
Matthew Wilson, "In the Thicket of It," Financial Times, Nov. 12, 2016, 20.
Moxham writes, "My GPS reading at Pali Ghar was 26° 32.2' N, 79° 09.2' E. If this reading is put into Google Earth, the embankment of the Hedge is clearly visible – but only if you already know it is there."
Listener mail:
Jonathan M. Gitlin, "Geeky License Plate Earns Hacker $12,000 in Parking Tickets," Ars Technica, Aug. 13, 2019.
Brian Barrett, "How a 'NULL' License Plate Landed One Hacker in Ticket Hell," Wired, Aug. 13, 2019.
Kim Willsher, "Maurice the Noisy Rooster Can Keep Crowing, Court Rules," Guardian, Sept. 5, 2019.
"French Rooster Maurice Wins Battle Over Noise With Neighbours," BBC News, Sept. 5, 2019.
"If It Quacks Like a Duck: Boisterous Poultry Land French Owner in Court," Agence France-Presse, Sept. 2, 2019.
Tom Whipple, "Larry the Cat Faces Rival as Jack Russell Puppy Arrives in Downing Street," Times, Sept. 2 2019.
Amy Walker, "Downing Street Gets New Resident -- a Dog Named Dilyn," Guardian, Sept. 2, 2019.
Hayley Dixon, "Boris Johnson and Carrie Symonds to Move Rescued Jack Russell Puppy Into Downing Street," Telegraph, Sept. 1, 2019.
"Boris Johnson's New Rescue Puppy Moves Into Downing Street," BBC News, Sept. 2, 2019.
"Dogs That Keep Mice Away," Animal & Pest Control Specialist, Dec. 5, 2013.
"Working History of the Jack Russell Terrier," Jack Russell Terrier Club of America.
Tom Ough, "Sepsis, Incontinence, and Murder Mysteries: A History of Downing Street Pets," Telegraph, Sept. 2, 2019.
Meagan Flynn, "A Lawsuit Against Maurice the Rooster Divided France. Now a Judge Says He Can Crow in Peace," Washington Post, Sept 6, 2019.
This week's lateral thinking puzzle was contributed by listener Dafydd Viney, who sent this corroborating link (warning -- this spoils the puzzle).
You can listen using the player above, download this episode directly, or subscribe on Google Podcasts, on Apple Podcasts, or via the RSS feed at https://futilitycloset.libsyn.com/rss.
Please consider becoming a patron of Futility Closet -- you can choose the amount you want to pledge, and we've set up some rewards to help thank you for your support. You can also make a one-time donation on the Support Us page of the Futility Closet website.
Many thanks to Doug Ross for the music in this episode.
If you have any questions or comments you can reach us at podcast@futilitycloset.com. Thanks for listening!