Dec 9, 2019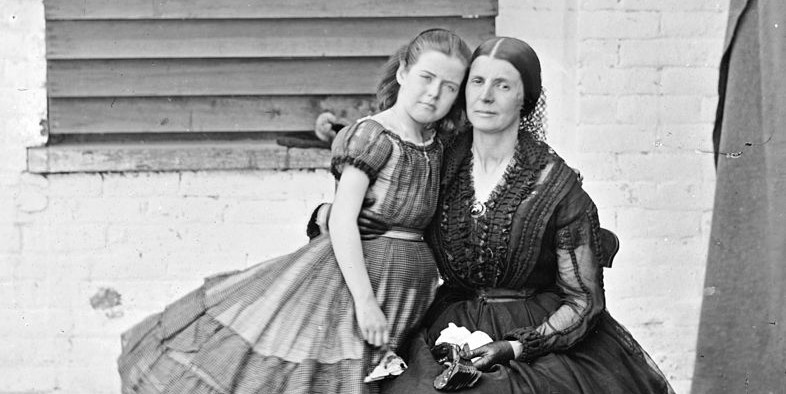 As the Civil War fractured Washington D.C., socialite Rose O'Neal Greenhow coordinated a vital spy ring to funnel information to the Confederates. In this week's episode of the Futility Closet podcast we'll describe one of the war's most unlikely spies, and her determination to aid the South.
We'll also fragment the queen's birthday and puzzle over a paid game of pinball.
Intro:
German officer Ernst Jünger likened the sounds of World War I shelling to "being menaced by a man swinging a heavy hammer."
Bowdoin College compiled a list of odd how-to titles.
NOTE: After this episode was originally released, some listeners objected to our handling of Greenhow's story, saying that we were treating her too sympathetically when she was defending the institution of slavery. They're entirely right about that -- I had focused on her personal story without being sensitive to its larger implications. I'm very sorry for that oversight. We're presenting the story here as it originally ran, and we'll discuss listeners' reactions to it in Episode 279. -- Greg
Sources for our feature:
Ann Blackman, Wild Rose: Rose O'Neale Greenhow, Civil War Spy, 2006.
Ishbel Ross, Rebel Rose: Life of Rose O'Neal Greenhow, Confederate Spy, 1954.
Karen Abbott, Liar, Temptress, Soldier, Spy: Four Women Undercover in the Civil War, 2014.
Rose O'Neal Greenhow, My Imprisonment and the First Year of Abolition Rule at Washington, 1863.
H. Donald Winkler, Stealing Secrets: How a Few Daring Women Deceived Generals, Impacted Battles, and Altered the Course of the Civil War, 2010.
Michael J. Sulick, Spying in America: Espionage from the Revolutionary War to the Dawn of the Cold War, 2014.
Allan Pinkerton, The Spy of the Rebellion, 1886.
John Bakeless, Spies of the Confederacy, 2011.
Ernest B. Furgurson, "The End of Illusions," Smithsonian 42:4 (July/August 2011), 56-64.
Jack Finnegan, "Professional Results for an Amateur," Military History, suppl. "Spies and Secret Missions: A History of American Espionage" (2002), 34-35.
Nancy B. Samuelson, "Employment of Female Spies in the American Civil War," Minerva 7:3 (Dec. 31, 1989), 57.
"Seized Correspondence of Rose O'Neal Greenhow," U.S. National Archives (accessed Nov. 24, 2019).
Rose O'Neal Greenhow Papers, Special Collections Library, Duke University.
"The Wild Rose of Washington," New York Times, Aug. 22, 2011.
"Spy Loved, Died in Line of Duty," [Wilmington, N.C] Morning Star, Dec. 31, 1999, 23.
"Civil War Day by Day," Washington [D.C.] Herald, Sept. 30, 1914, 4.
"Fair Southern Spies," [Savannah, Ga.] Morning News, Sept. 29, 1896, 5.
"Blockade Running," [Winston, N.C.] Western Sentinel, Jan. 14, 1886.
"A Rich New Year's Gift," Yorkville [S.C.] Enquirer, Feb. 6, 1862, 1.
"The Female Traitors in Washington," New York Herald, Jan. 22, 1862, 2.
"Mrs. Greenhow's Indignant Letter to Mr. Seward," New York Herald, Dec. 16, 1861, 4.
Phyllis F. Field, "Greenhow, Rose O'Neal," American National Biography, February 2000.
Listener mail:
"Public Holidays in Western Australia," Government of Western Australia Department of Mines, Industry Regulation and Safety (accessed Nov. 27, 2019).
Wikipedia, "Oscar Wilde" (accessed Nov. 27, 2019).
Howard Markel, "No, Oscar Wilde Probably Didn't Die of Syphilis," PBS NewsHour, Nov. 30, 2015.
Jon Henley, "Wilde Gets Revenge on Wallpaper," Guardian, Dec. 1, 2000.
"What Are the Best Last Words Ever?", Atlantic 317:4 (April 2016), 13.
"Grand Lakes St. Marys Educational Series: History of GLSM What You Don't Know," Lake Improvement Association (accessed Nov. 30, 2019).
"Grand Lake St. Marys State Park: History," Ohio State Parks and Watercraft (accessed Nov. 30, 2019).
Lew Powell, "Behind the Lines, Fighting Malaria With Whiskey," North Carolina Miscellany, July 10, 2011.
Wikipedia, "Gin and Tonic" (accessed Nov. 30, 2019).
Wikipedia, "Tonic Water" (accessed Nov. 30, 2019).
"'The Book of Gin' Distills a Spirited History," Morning Edition, National Public Radio, Dec. 28, 2012.
Kal Raustiala, "The Imperial Cocktail," Slate, Aug. 28, 2013.
"The Largest Human-Made Lakes in the World," WorldAtlas (accessed Nov. 30, 2019).
Wikipedia, "Lake Kariba" (accessed Nov. 30, 2019).
This week's lateral thinking puzzle was inspired by an item heard on the podcast No Such Thing as a Fish. Here are two corroborating links (warning -- these spoil the puzzle).
You can listen using the player above, download this episode directly, or subscribe on Google Podcasts, on Apple Podcasts, or via the RSS feed at https://futilitycloset.libsyn.com/rss.
Please consider becoming a patron of Futility Closet -- you can choose the amount you want to pledge, and we've set up some rewards to help thank you for your support. You can also make a one-time donation on the Support Us page of the Futility Closet website.
Many thanks to Doug Ross for the music in this episode.
If you have any questions or comments you can reach us at podcast@futilitycloset.com. Thanks for listening!