Mar 2, 2020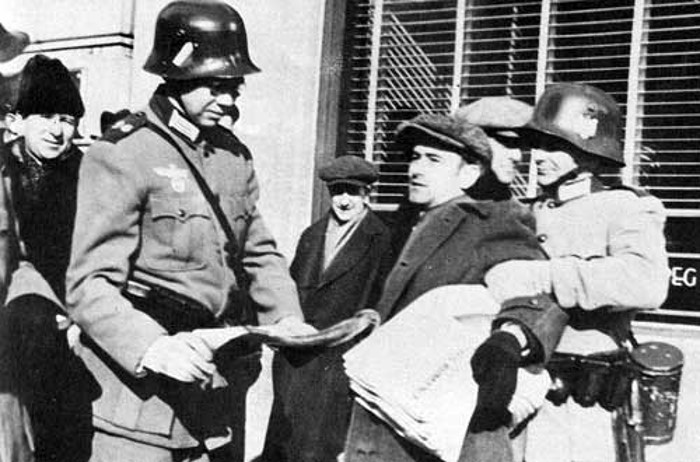 In 1942, Manitoba chose a startling way to promote the sale of war bonds -- it staged a Nazi invasion of Winnipeg. For one gripping day, soldiers captured the city, arrested its leaders, and oppressed its citizens. In this week's episode of the Futility Closet podcast we'll describe If Day, which one observer called "the biggest and most important publicity stunt" in Winnipeg's history.
We'll also consider some forged wine and puzzle over some unnoticed car options.
Intro:
In 1649 Claude Mellan carved a portrait of Jesus with a single line.
A pebble discovered in southern Africa may be the earliest evidence of an aesthetic sense among our ancestors.
Sources for our feature on If Day:
Jody Perrun, The Patriotic Consensus: Unity, Morale, and the Second World War in Winnipeg, 2014.
Darren Sean Wershler-Henry, Guy Maddin's My Winnipeg, 2010.
Michael Newman, "February 19, 1942: If Day," Manitoba History 13 (Spring 1987), 27-30.
Graham Chandler, "If Day: The Occupation of Manitoba," Legion Feb. 1, 2017.
Ted Burch, "The Day the Nazis Took Over Winnipeg," Maclean's, Sept. 10, 1960.
"Winnipeg Is 'Conquered,'" Life 12:10 (March 9, 1942), 30-32.
"Tips for Spotting Nazis," National Post, May 10, 2019.
Tristin Hopper, "Rare Photos From 'If Day' — The Time Winnipeg Staged a Full-Scale Nazi Invasion of Itself," National Post, Feb. 21, 2019.
Don Pelechaty, "Remembrance Day Memories of 1942," Central Plains Herald-Leader, Nov. 9, 2017, A.17.
Mike Huen, "'If Day' Currency Blast From the Possible Past," Winnipeg Free Press, June 30, 2017, E3.
Christian Cassidy, "When War Came to Winnipeg: 75 Years Ago, City Staged Bold and Hugely Successful Publicity Stunt," Winnipeg Free Press, Feb. 19, 2017, 1.
"75 Years Ago, Winnipeggers Said 'What If?", Winnipeg Free Press, Feb. 17, 2017.
Karen Howlett, "Fundraiser Sees Winnipeg Invaded by Fake Nazis," Globe and Mail, Feb. 19, 2014, A.2.
Alexandra Paul, "When War Came to Winnipeg," Winnipeg Free Press, Feb. 19, 2012, A.4.
Ron Robinson, "The Day Nazis Came to Winnipeg," National Post, June 21, 2008, A.23.
"George Waight, 93 Was Banker, Actor," Toronto Star, Dec. 17, 1985, B5.
"George Waight, Bank Executive, Was Actor," Globe and Mail, Dec. 17, 1985, A.14.
"Nazi Army's 'Invasion' of Winnipeg Remembered," Regina [Saskatchewan] Leader-Post, March 4, 1985, A5.
"If Day," University of Manitoba Digital Collections.
Listener mail:
Encyclopaedia Britannica, "Wolfgang Beltracchi" (accessed Feb. 22, 2020).
Christopher Goodwin, "Wolfgang Beltracchi: A Real Con Artist," Times, May 10, 2014.
"Convicted Forger Claims He Faked 'About 50' Artists," BBC News, March 7, 2012.
Ben Kenigsberg, "Review: 'Beltracchi: The Art of Forgery' Tells How a Swindler Fooled the World," New York Times, Aug. 18, 2015.
Wikipedia, "Rudy Kurniawan" (accessed Feb. 22, 2020).
Ed Cumming, "The Great Wine Fraud," Guardian, Sept. 10, 2016.
Tatiana Schlossberg, "Wine Dealer Sentenced to 10 Years for Defrauding Clients," New York Times, Aug. 7, 2014.
William K. Rashbaum and Matt Flegenheimer, "Renowned Wine Dealer Accused of Trying to Sell Counterfeits," New York Times, March 8, 2012.
"Third of Rare Scotch Whiskies Tested Found to Be Fake," BBC News, Dec. 20, 2018.
"Whisky Sour? Rare or Fake Scotch Exposed by Carbon-Dating," Reuters, Dec. 20, 2018.
Mindy Weisberger, "Nuclear Fallout Exposes Fake 'Antique' Whisky," LiveScience, Jan. 27, 2020.
David Williams, "Scottish Scientists Use Radioactive Isotopes From Old Nuclear Tests to Find Counterfeit Whisky. More Than 40 Percent of What They Tested Is Fake," CNN, Jan. 24, 2020.
This week's lateral thinking puzzle was contributed by listener Brian Voeller, who sent these corroborating links (warning -- these spoil the puzzle).
You can listen using the player above, download this episode directly, or subscribe on Google Podcasts, on Apple Podcasts, or via the RSS feed at https://futilitycloset.libsyn.com/rss.
Please consider becoming a patron of Futility Closet -- you can choose the amount you want to pledge, and we've set up some rewards to help thank you for your support. You can also make a one-time donation on the Support Us page of the Futility Closet website.
Many thanks to Doug Ross for the music in this episode.
If you have any questions or comments you can reach us at podcast@futilitycloset.com. Thanks for listening!