Mar 30, 2020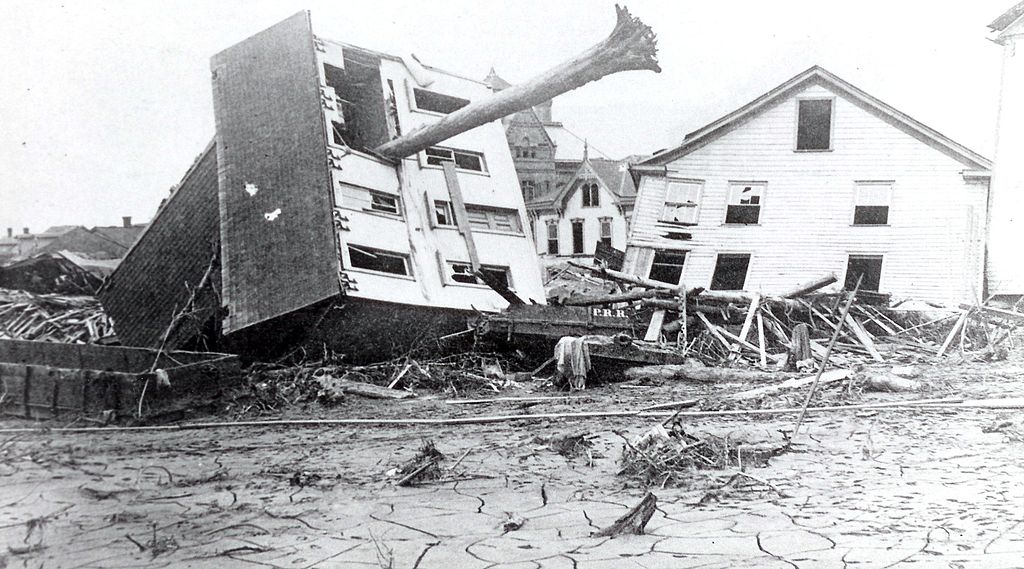 In 1889, a dam failed in southwestern Pennsylvania, sending 20 million tons of water down an industrialized valley toward the unsuspecting city of Johnstown. In this week's episode of the Futility Closet podcast we'll describe some of the dramatic and harrowing personal stories that unfolded on that historic day.
We'll also celebrate Christmas with Snoopy and puzzle over a deadly traffic light.
Intro:
For an 1866 California lecture tour, Mark Twain wrote his own handbills.
Raymond Chandler's unused titles include The Diary of a Loud Check Suit.
Sources for our feature on the Johnstown flood:
David McCullough, Johnstown Flood, 1968.
Richard O'Connor, Johnstown the Day the Dam Broke, 1957.
Neil M. Coleman, Johnstown's Flood of 1889: Power Over Truth and the Science Behind the Disaster, 2018.
Frank Connelly and George C. Jenks, Official History of the Johnstown Flood, 1889.
John Stuart Ogilvie, History of the Great Flood in Johnstown, Pa., May 31, 1889, 1889.
Willis Fletcher Johnson, History of the Johnstown Flood, 1889.
Neil M. Coleman, Uldis Kaktins, and Stephanie Wojno, "Dam-Breach Hydrology of the Johnstown Flood of 1889 -- Challenging the Findings of the 1891 Investigation Report," Heliyon 2:6 (2016), e00120.
Christine M. Kreiser, "Wave of Destruction," American History 50:4 (October 2015), 38-41.
Uldis Kaktins et al., "Revisiting the Timing and Events Leading to and Causing the Johnstown Flood of 1889," Pennsylvania History 80:3 (2013), 335-363.
Sid Perkins, "Johnstown Flood Matched Volume of Mississippi River," Science News, Oct. 20, 2009.
Emily Godbey, "Disaster Tourism and the Melodrama of Authenticity: Revisiting the 1889 Johnstown Flood," Pennsylvania History 73:3 (2006), 273-315.
Mary P. Lavine, "The Johnstown Floods: Causes and Consequences," in S.K. Majumdar et al., eds., Natural and Technological Disasters: Causes, Effects and Preventative Measures, Pennsylvania Academy of Science, 1992.
Robert D. Christie, "The Johnstown Flood," Western Pennsylvania Historical Magazine 54:2 (April 1971), 198-210.
John Bach McMaster, "The Johnstown Flood," Pennsylvania Magazine of History and Biography 57:3 (1933), 209-243.
John Bach McMaster, "The Johnstown Flood: II," Pennsylvania Magazine of History and Biography 57:4 (1933), 316-354.
"The Johnstown Disaster," Scientific American 60:26 (June 29, 1889), 406-407.
Jason Zweig, "National News, 1889: Club Is Found Culpable in Johnstown Flood," Wall Street Journal, July 7, 2014.
David Hurst, "'It's Still Controversial': Debate Rages Over Culpability of Wealthy Club Members," [Johnstown, Pa.] Tribune-Democrat, May 25, 2014.
Peter Smith, "Johnstown Flood of 1889: Greatest Disaster in the State Continues to Resonate," Pittsburgh Post-Gazette, May 24, 2014.
Henry Fountain, "Research at the Source of a Pennsylvania Flood," New York Times, Oct. 26, 2009.
"Town's Ads Say Its Catastrophic Flood 'Is Over,'" [Prescott, Ariz.] Daily Courier, March 31, 2002.
"Bones May Be From 1889 Flood," Pittsburgh Post-Gazette, July 8, 1998, B-4.
Eric Pace, "Frank Shomo, Infant Survivor of Johnstown Flood, Dies at 108," New York Times, March 24, 1997.
D. Byron Yake, "In Johnstown, They Still Talk About the Flood 85 Years Ago," [Washington, Pa.] Observer-Reporter, May 31, 1974, B-6.
"Black Day in 1889; Johnstown, Pa., Marks Flood Anniversary," New York Times, May 24, 1964.
"Flood Just Part of Little Known Tale Behind Johnstown Woes," [Washington D.C.] Evening Star, May 30, 1939.
"A Valley of Death," Three Rivers [Mich.] Tribune, June 7, 1889, 6.
Johnstown Area Heritage Association, "Johnstown Flood Museum: Pennsylvania Railroad Interview Transcripts," 2013.
Listener mail:
Kelly Servick, "Brain Parasite May Strip Away Rodents' Fear of Predators -- Not Just of Cats," Science, Jan. 14, 2020.
Madlaina Boillat et al., "Neuroinflammation-Associated Aspecific Manipulation of Mouse Predator Fear by Toxoplasma gondii," Cell Reports 30:2 (2020), 320-334.
"Toxoplasma Infection in Mice Reduces Generalized Anxiety, Not Just Feline Fear," Genetic Engineering & Biotechnology News, Jan. 15, 2020.
The Royal Guardsmen, "Snoopy's Christmas," 1967.
The Royal Guardsmen, "Snoopy vs. The Red Baron," 1966.
Wikipedia, "Snoopy's Christmas" (accessed March 15, 2020).
Alistair Hughes, "Snoopy Still Flying at Christmas," Stuff, Dec. 8, 2014.
"Snoopy's Christmas 'Worst Christmas Song of All Time,'" New Zealand Herald, Dec. 18, 2007.
This week's lateral thinking puzzle was suggested by listeners David and Becky Pruessner. Here are two corroborating links (warning -- these spoil the puzzle).
You can listen using the player above, download this episode directly, or subscribe on Google Podcasts, on Apple Podcasts, or via the RSS feed at https://futilitycloset.libsyn.com/rss.
Please consider becoming a patron of Futility Closet -- you can choose the amount you want to pledge, and we've set up some rewards to help thank you for your support. You can also make a one-time donation on the Support Us page of the Futility Closet website.
Many thanks to Doug Ross for the music in this episode.
If you have any questions or comments you can reach us at podcast@futilitycloset.com. Thanks for listening!