Aug 24, 2020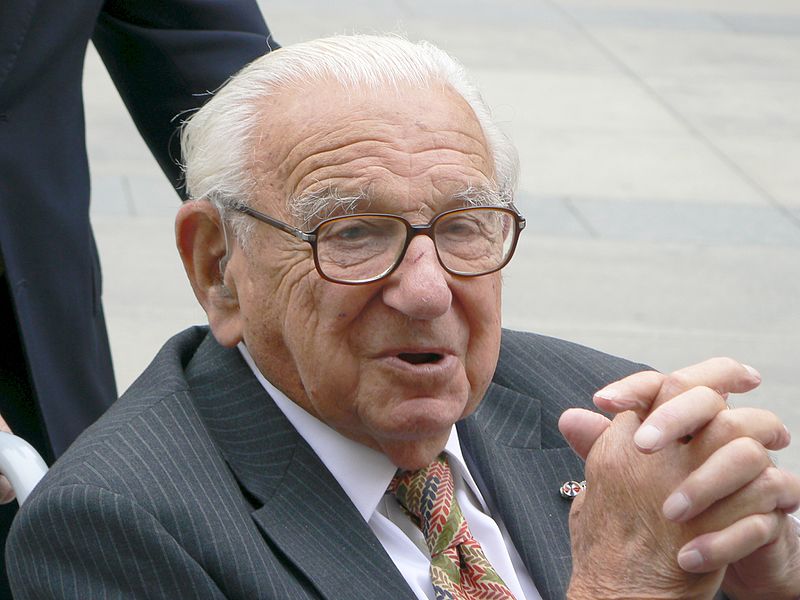 In 1939, as the shadow of war spread over Europe, British stockbroker Nicholas Winton helped to spirit hundreds of threatened children out of Czechoslovakia. In this week's episode of the Futility Closet podcast we'll describe Winton's struggle to save the children and the world's eventual recognition of his achievements.
We'll also consider some ghostly marriages and puzzle over a ship's speed.
Intro:
There's a "technical version" of "A Visit From St. Nicholas."
Critic A.E. Wilson translated Hamlet's nunnery soliloquy into "Americanese."
Sources for our feature on Nicholas Winton:
Barbara Winton, If It's Not Impossible--: The Life of Sir Nicholas Winton, 2014.
William Chadwick, The Rescue of the Prague Refugees 1938-39, 2010.
Andrea Hammel and Bea Lewkowicz, The Kindertransport to Britain 1938/39: New Perspectives, 2012.
Rod Gragg, My Brother's Keeper: Christians Who Risked All to Protect Jewish Targets of the Nazi Holocaust, 2016.
Ivan A. Backer, My Train to Freedom: A Jewish Boy's Journey From Nazi Europe to a Life of Activism, 2016.
Laura E. Brade and Rose Holmes, "Troublesome Sainthood: Nicholas Winton and the Contested History of Child Rescue in Prague, 1938-1940," History & Memory 29:1 (Spring/Summer 2017), 3-40.
Anna Hájková, "Marie Schmolka and the Group Effort," History Today 68:12 (December 2018), 36-49.
Sona Patel, "Winton's Children Share Their Stories," New York Times, July 13, 2015.
"A Job Well Done; Nicholas Winton," Economist 416:8946 (July 11, 2015), 82.
"Train Tribute to Holocaust 'Hero' Sir Nicholas Winton," BBC News, July 9, 2015.
Alasdair Steven, "Sir Nicholas Winton," Scotsman, July 7, 2015, 34.
Sarah Sedghi, "Sir Nicholas Winton, the Man Who Saved 669 Children From the Holocaust," Australian Broadcasting Corporation, July 2, 2015.
"Sir Nicholas Winton," Scotsman, July 2, 2015, 42.
Raymond Johnston, "Sir Nicholas Winton to Be Honored in US," Prague Post, Sept. 25, 2013.
Robert D. McFadden, "Nicholas Winton, Rescuer of 669 Children From Holocaust, Dies at 106," New York Times, July 1, 2015.
"Holocaust 'Hero' Sir Nicholas Winton Dies Aged 106," BBC News, July 1, 2015.
Stephen Bates, "Sir Nicholas Winton Obituary," Guardian, July 1, 2015.
Daniel Victor, "Nicholas Winton's 'Most Emotional Moment,'" New York Times, July 1, 2015.
Jake Flanagin, "Britain's Schindler, a Reluctant Hero," New York Times, July 10, 2014.
Caroline Sharples, "Winton [formerly Wertheim], Sir Nicholas George (Nicky)," Oxford Dictionary of National Biography, Jan. 10, 2019.
"Sir Nicholas Winton," Biography, July 16, 2015.
"Nicholas Winton and the Rescue of Children From Czechoslovakia, 1938–1939," United States Holocaust Memorial Museum (accessed Aug. 9, 2020).
Winton appeared twice on the BBC1 television series That's Life!, on Feb. 27 and March 6, 1988. This video combines both appearances.
Listener mail:
"Did You Know Why Marrying Dead People Is Possible in France?", The Local, Jan. 28, 2019.
Lizzy Davies, "French Woman Marries Dead Partner," Guardian, Nov. 17, 2009.
Wikipedia, "Posthumous Marriage" (accessed Aug. 7, 2020).
Vicky Xiuzhong Xu and Bang Xiao, "Ghost Marriages: A 3,000-Year-Old Tradition of Wedding the Dead Is Still Thriving in Rural China," ABC News, April 6, 2018.
Grace Tsoi, "China's Ghost Weddings and Why They Can Be Deadly," BBC News, Aug. 24, 2016.
Wikipedia, "Chinese Ghost Marriage" (accessed Aug. 7, 2020).
This week's lateral thinking puzzle was contributed by listener Ken Somolinos, who sent this corroborating link (warning -- this spoils the puzzle).
You can listen using the player above, download this episode directly, or subscribe on Google Podcasts, on Apple Podcasts, or via the RSS feed at https://futilitycloset.libsyn.com/rss.
Please consider becoming a patron of Futility Closet -- you can choose the amount you want to pledge, and we've set up some rewards to help thank you for your support. You can also make a one-time donation on the Support Us page of the Futility Closet website.
Many thanks to Doug Ross for the music in this episode.
If you have any questions or comments you can reach us at podcast@futilitycloset.com. Thanks for listening!