Oct 5, 2020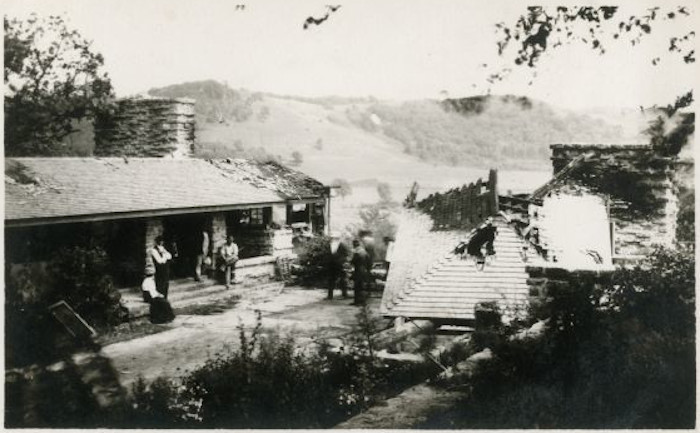 By 1914 Frank Lloyd Wright had become one of America's most influential architects. But that August a violent tragedy unfolded at his Midwestern residence and studio. In this week's episode of the Futility Closet podcast we'll describe the shocking attack of Julian Carlton, which has been called "the most horrific single act of mass murder in Wisconsin history."
We'll also admire some helpful dogs and puzzle over some freezing heat.
Intro:
In 1992 by Celess Antoine patented an umbrella for dogs.
Ignaz Moscheles' piano piece "The Way of the World" reads the same upside down.
Sources for our feature on the Taliesin killings:
William R. Drennan, Death in a Prairie House: Frank Lloyd Wright and the Taliesin Murders, 2007.
Ron McCrea, Building Taliesin: Frank Lloyd Wright's Home of Love and Loss, 2013.
Paul Hendrickson, Plagued by Fire: The Dreams and Furies of Frank Lloyd Wright, 2019.
Meryle Secrest, Frank Lloyd Wright: A Biography, 1998.
Anthony Alofsin, "Loving Frank; Death in a Prairie House: Frank Lloyd Wright and the Taliesin Murders," Journal of the Society of Architectural Historians 69:3 (September 2010), 450-451.
Christopher Benfey, "Burning Down the House," Harper's Magazine 339:2035 (December 2019), 88-94.
Naomi Uechi, "Evolving Transcendentalism: Thoreauvian Simplicity in Frank Lloyd Wright's Taliesin and Contemporary Ecological Architecture," Concord Saunterer 17 (2009), 73-98.
Jonathan Morrison, "Frank Lloyd Wright: The Giant Talent With Shaky Foundations," Times, Jan. 4, 2020, 16.
Michael Prodger, "Plagued By Fire by Paul Hendrickson -- Frank Lloyd Wright, a Life of Disaster and Disarray," Guardian, Nov. 22, 2019, 14.
Philip Kennicott, "He Burned Frank Lloyd Wright's House and Killed His Mistress -- But Why?", Washington Post, Nov. 22, 2019.
"Monumental Achievements: Frank Lloyd Wright, an American Great Whose Life Was as Colourful as His Buildings Were Breathtaking," Sunday Times, Oct. 20, 2019, 32.
John Glassie, "What Kept Wright From Running Dry?", Washington Post, Oct. 6, 2019, E.12.
Ron Hogan, "The Tragic Story of Guggenheim Architect Frank Lloyd Wright's Secret Love Nest," New York Post, Oct. 5, 2019.
Leanne Shapton and Niklas Maak, "The House That Love Built -- Before It Was Gone," New York Times, July 4, 2016.
Ron McCrea, "August, 1914: Small-Town Wisconsin Rises to the Occasion of the Taliesin Mass Murder," [Madison, Wis.] Capital Times, Aug. 14, 2014.
Mara Bovsun, "Cook Massacres Seven at Wisconsin Home Frank Lloyd Wright Built for His Mistress," New York Daily News, Jan. 25, 2014.
Patricia Wolff, "Tranquil Taliesin Harbors Tragic Tale," Oshkosh [Wis.] Northwestern, June 26, 2011, A.1.
Ron McCrea, "Taliesin's Postcard Memories Rare Photos Reveal Scenes From Frank Lloyd Wright's Pre-Fire Dwellings," Madison [Wis.] Capital Times, March 23, 2011, 9.
Marcus Field, "Architect of Desire," Independent on Sunday, March 8, 2009, 14.
Robert Campbell, "House Proud: Paying Homage to Frank Lloyd Wright's Home, Taliesin East," Boston Globe, Dec. 13, 1992, 17.
Image: The Taliesin courtyard after the attack and fire. Frank Lloyd Wright is at left.
Listener mail:
"Just Nuisance," Simonstown.com (accessed Sept. 25, 2020).
Kirsten Jacobs, "The Legendary Tale of Just Nuisance," Cape Town Etc, Jan. 28, 2020.
The Kitchen Sisters, "Turnspit Dogs: The Rise and Fall of the Vernepator Cur," NPR, May 13, 2014.
Natalie Zarrelli, "The Best Kitchen Gadget of the 1600s Was a Small, Short-Legged Dog," Atlas Obscura, Jan. 11, 2017.
"Sewing Machine Worked by a Dog," Futility Closet, Oct. 16, 2011.
"Turnspit Dogs," Futility Closet, Nov. 10, 2006.
Wikipedia, "Newfoundland (dog)," accessed Sept. 24, 2020.
Stanley Coren, "The Dogs of Napoleon Bonaparte," Psychology Today, March 8, 2018.
"Beach Rescue Dog Alerts Swimmer," BBC News, 23 August 2007.
Adam Rivera, David Miller, Phoebe Natanson, and Andrea Miller, "Dogs Train Year-Round to Save Lives in the Italian Waters," ABC News, April 2, 2018.
Tom Kington, "Italy's Lifesaving Dogs Swim Towards Foreign Shores," Times, March 10, 2020, 31.
"Italy's Canine Lifeguards," NDTV, Aug. 23, 2010 (contains several photos).
Anna Gragert, "Newfoundland Dogs Help the Italian Coast Guard Save Lives," My Modern Met, Aug. 5, 2015 (contains several photos).
This week's lateral thinking puzzle was contributed by listener Garth Payne, who sent this corroborating link (warning -- this spoils the puzzle).
You can listen using the player above, download this episode directly, or subscribe on Google Podcasts, on Apple Podcasts, or via the RSS feed at https://futilitycloset.libsyn.com/rss.
Please consider becoming a patron of Futility Closet -- you can choose the amount you want to pledge, and we've set up some rewards to help thank you for your support. You can also make a one-time donation on the Support Us page of the Futility Closet website.
Many thanks to Doug Ross for the music in this episode.
If you have any questions or comments you can reach us at podcast@futilitycloset.com. Thanks for listening!