Mar 8, 2021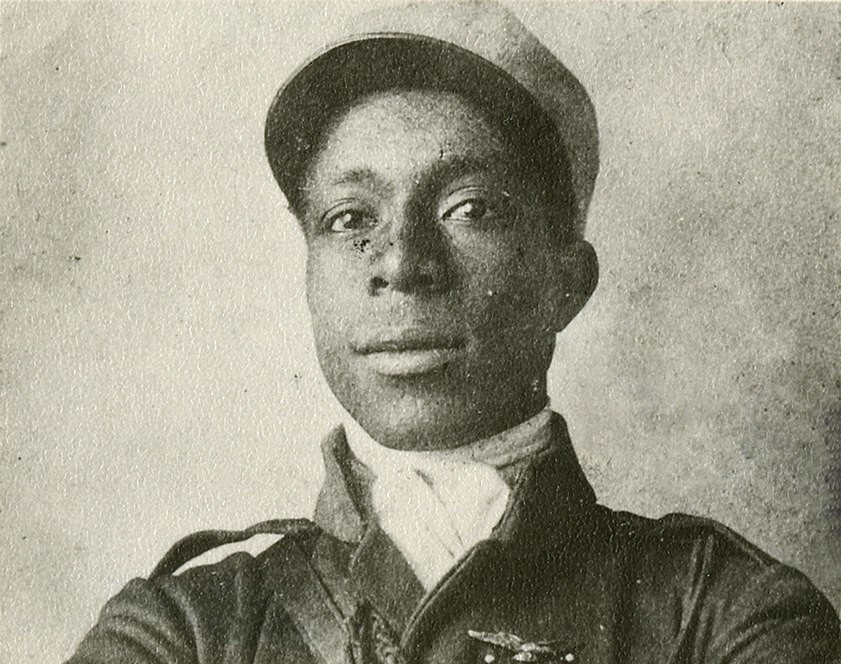 Eugene Bullard ran away from home in 1907 to seek his fortune in a more racially accepting Europe. There he led a life of staggering accomplishment, becoming by turns a prizefighter, a combat pilot, a nightclub impresario, and a spy. In this week's episode of the Futility Closet podcast we'll tell Bullard's impressive story, which won him resounding praise in his adopted France.
We'll also accidentally go to Canada and puzzle over a deadly omission.
Intro:
The melody of Peter Cornelius' "Ein Ton" is a single repeated note.
Thomas Edison proposed the word hello to begin telephone conversations.
Sources for our feature on Eugene Bullard:
Tom Clavin and Phil Keith, All Blood Runs Red: The Legendary Life of Eugene Bullard -- Boxer, Pilot, Soldier, Spy, 2019.
Gail Buckley, American Patriots: The Story of Blacks in the Military From the Revolution to Desert Storm, 2001.
Jonathan Sutherland, African Americans at War: An Encyclopedia, 2004.
Alexander M. Bielakowski, Ethnic and Racial Minorities in the U.S. Military, 2013.
Edmund L. Gros, "The Members of Lafayette Flying Corps," Flying 6:9 (October 1917), 776-778.
James Norman Hall and Charles Bernhard Nordhoff, The Lafayette Flying Corps, 1920.
John H. Wilson, "'All Blood Runs Red,'" Aviation History 17:4 (March 2007), 13-15.
Brendan Manley, "France Commemorates WWI Lafayette Escadrille," Military History 33:3 (Sept. 2016), 8.
Rachel Gillett, "Jazz and the Evolution of Black American Cosmopolitanism in Interwar Paris," Journal of World History 21:3 (September 2010), 471-495.
Thabiti Asukile, "J.A. Rogers' 'Jazz at Home': Afro-American Jazz in Paris During the Jazz Age," The Black Scholar 40:3 (Fall 2010), 22-35.
Tyler Stovall, "Strangers on the Seine: Immigration in Modern Paris," Journal of Urban History 39:4 (June 14, 2013), 807-813.
Nicholas Hewitt, "Black Montmartre: American Jazz and Music Hall in Paris in the Interwar Years," Journal of Romance Studies 5:3 (Winter 2005), 25-31.
Frederic J. Svoboda, "Who Was That Black Man?: A Note on Eugene Bullard and The Sun Also Rises," Hemingway Review 17:2 (Spring 1998), 105-110.
"Air Force Honors Pioneering Pilot," Military History 36:6 (March 2020), 10.
Ann Fotheringham, "Eugene Bullard," [Glasgow] Evening Times, June 8, 2020.
Jeremy Redmon, "AJC Local In-Depth Georgia Hero," Atlanta Journal-Constitution, Oct. 10, 2019.
Jeremy Redmon, "Only in the AJC: Georgia Hero," Atlanta Journal-Constitution, Oct. 7, 2019.
Herb Boyd, "First Black Fighter Pilot, Eugene Bullard," New York Amsterdam News, Aug. 29, 2019.
Janine Di Giovanni, "The Yanks Who Chose to Stay," [London] Evening Standard, March 23, 2009.
Fred L. Borch and Robert F. Dorr, "Expatriate Boxer Was First Black American Combat Pilot," Air Force Times, Feb. 23, 2009.
Brad Barnes, "'Flyboys' Uses Eugene Bullard as Model for Character," McClatchy-Tribune News Service, Sept. 22, 2006.
Sherri M. Owens, "1st Black Combat Pilot: He Flew for Freedom," Orlando Sentinel, July 29, 2001.
Michael Kilian, "Smithsonian to Honor First Black Combat Pilot," Chicago Tribune, Oct. 11, 1992, 6.
"Exhibition Traces Role of Blacks in Aviation," New York Times, Sept. 26, 1982.
"Eugene Bullard, Ex-Pilot, Dead; American Flew for French in '18," New York Times, Oct. 14, 1961.
Dominick Pisano, "Eugene J. Bullard," Smithsonian National Air and Space Museum, Oct. 12, 2010.
Robert Vanderpool, "African-American History Month: Eugene Bullard -- The First African-American Military Pilot," Joint Base Elmendorf-Richardson, Feb. 29, 2016.
Cori Brosnahan, "The Two Lives of Eugene Bullard," American Experience, PBS, April 3, 2017.
Caroline M. Fannin, "Bullard, Eugène Jacques," American National Biography, October 2002.
Listener mail:
"A Tale of Two Sydneys: Dutch Teen Tries to Visit Australia, but Ends Up in Nova Scotia," CBC, March 30, 2017.
Ashifa Kassam, "Land Down Blunder: Teen Heading to Australia Lands in Sydney, Nova Scotia," Guardian, March 31, 2017.
"Italian Tourists End Up in Wrong Sydney," CBC, July 7, 2010.
"Oops. British Couple Flies to Canada by Mistake," CBC News, Aug. 6, 2002.
"No Kangaroos. But Can We Interest You in a Fiddle?" CBC News, Sept. 19, 2008.
"What Is the Most Common City/Town Name in the United States?" U.S. Geological Survey (accessed Feb. 27, 2021).
Robert C. Adams, On Board the "Rocket," 1879.
This week's lateral thinking puzzle is taken from Anges Rogers' 1953 book How Come?: A Book of Riddles, sent to us by listener Jon Jerome.
You can listen using the player above, download this episode directly, or subscribe on Google Podcasts, on Apple Podcasts, or via the RSS feed at https://futilitycloset.libsyn.com/rss.
Please consider becoming a patron of Futility Closet -- you can choose the amount you want to pledge, and we've set up some rewards to help thank you for your support. You can also make a one-time donation on the Support Us page of the Futility Closet website.
Many thanks to Doug Ross for the music in this episode.
If you have any questions or comments you can reach us at podcast@futilitycloset.com. Thanks for listening!