Apr 5, 2021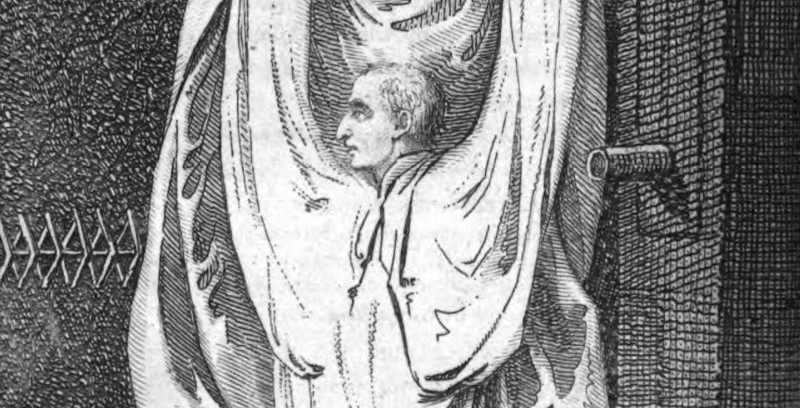 One dark night in 1804, a London excise officer mistook a bricklayer for a ghost and shot him. This raised a difficult question: Was he guilty of murder? In this week's episode of the Futility Closet podcast we'll consider the case of the Hammersmith ghost, which has been called "one of the greatest curiosities in English criminal law."
We'll also worry about British spiders and puzzle over some duplicative dog names.
<!--more-->
Intro:
In 1850, an English doctor claimed to have given first aid to a pike.
In 1970, Air Force pilot Gary Foust ejected from his F-106 and watched it land itself.
Sources for our feature on the Hammersmith ghost:
W.M. Medland and Charles Weobly, A Collection of Remarkable and Interesting Criminal Trials, Actions at Law, &c., 1804.
Thomas Faulkner, The History and Antiquities of the Parish of Hammersmith, 1839.
James Paterson, Curiosities of Law and Lawyers, 1899.
Thomas Faulkner, An Historical and Topographical Account of Fulham: Including the Hamlet of Hammersmith, 1813.
R.S. Kirby, Kirby's Wonderful and Scientific Museum: Or, Magazine of Remarkable Characters, Volume 2, 1804.
Jacob Middleton, "An Aristocratic Spectre," History Today 61:2 (February 2011), 44-45.
Alfred Whitman, "A Hundred Years Ago -- 1804," Strand 28:168 (December 1904), 632-638.
Augustus K. Stephenson, "Ghost Stories of 100 Years Ago," Journal of the Society for Psychical Research 208:11 (April 1904), 214-220.
John Ezard, "Ghostly Murder Haunts Lawyers 200 Years On," Guardian, Jan. 2, 2004.
"The Case of the Murdered Ghost," BBC News, Jan. 3, 2004.
"Killing of a 'Ghost' That Haunted Courts for 180 Years," [Glasgow] Herald, Jan. 3, 2004.
"Experts to Remember Spectral Shooting," Birmingham Post, Jan. 3, 2004.
Arifa Akbar, "Club Hosts Gathering in Honour of Famous Ghost Case," Independent, Jan. 3, 2004.
Martin Baggoley, "The Hammersmith Ghost and the Strange Death of Thomas Millwood," Crime Magazine, April 9, 2015.
"'Laying' a Ghost," [Brisbane] Telegraph, March 8, 1924.
"A Ghost Story of 100 Years Ago," Port Macquarie News and Hastings River Advocate, Oct. 29, 1910.
"From the Courts," Brisbane Courier, Dec. 22, 1906.
"Strange Stories of London Ghosts," [Melbourne] Leader, Oct. 6, 1900.
"Dream Evidence," [Adelaide] Express and Telegraph, Feb. 21, 1891.
"Ghosts, Witches, and Hangmen," Moreton [Qld.] Mail, Nov. 22, 1889.
"Glimpses of the Past," Bury and Norwich Post, Sept. 7, 1886.
"Resuscitation of the Hammersmith Ghost," [London] Examiner, Dec. 15, 1833.
"The Hammersmith Ghost," [London] Morning Post, Dec. 6, 1824.
"A New Hammersmith Ghost," [London] Morning Chronicle, Dec. 4, 1824.
"Old Bailey," Aberdeen Journal, Jan. 25, 1804.
"Murder -- Hammersmith Ghost," Bury and Norwich Post, Jan. 18, 1804.
"From the London Gazette," Hampshire Telegraph and Naval Chronicle, Jan. 16, 1804.
"The Hammersmith Ghost," Caledonian Mercury, Jan. 14, 1804.
"The Real Hammersmith Ghost," Staffordshire Advertiser, Jan. 14, 1804.
Trial proceedings from the Old Bailey.
Jane Alexander, "The Time Someone Shot a Ghost Dead in Hammersmith," Londonist, Oct. 25, 2019.
Ross Macfarlane, "The Hammersmith Ghost," Wellcome Library blog, Oct. 31, 2009.
Kelly Buchanan, "The Case of a Ghost Haunted England for Over Two Hundred Years," In Custodia Legis, Library of Congress, Oct. 30, 2015.
Gabrielle Keane, Locating Literature in the Ghost Hoax: An Exploration of 19th-Century Print News Media, dissertation, University of Pittsburgh, 2019.
Jen Cadwallader, Spirits of the Age: Ghost Stories and the Victorian Psyche, dissertation, University of North Carolina at Chapel Hill, 2009.
Listener mail:
"Bing (TV series)," Wikipedia (accessed March 24, 2021).
"List of Bing episodes," Wikipedia (accessed March 24, 2021).
Amber Tully, "Should You Put Ice on a Burn (or Not)?" Cleveland Clinic, June 12, 2018.
"Minor Burns - Aftercare," MedLine Plus, Aug. 13, 2020.
Anahad O'Connor, "The Claim: Ice Is Good for a Skin Burn," New York Times, June 10, 2008.
Luis Villazon, "How Many UK Spiders Are Actually Dangerous?" BBC Science Focus (accessed March 24, 2021).
"Spider," Wikipedia (accessed March 30, 2021).
"Not So False After All: Venom of the Noble False Widow Spider Very Similar to the Venom of 'True' Black Widows," NUI Galway, June 18, 2020.
John P. Dunbar et al., "Venomics Approach Reveals a High Proportion of Lactrodectus-Like Toxins in the Venom of the Noble False Widow Spider Steatoda nobilis," Toxins, 12:6 (June 18, 2020), 402.
"Study Finds Noble False Widow Spiders Bite Can Transmit Harmful Antibiotic-Resistant Bacteria to Humans," NUI Galway, Dec. 1, 2020.
This week's lateral thinking puzzle was contributed by listener Stephen Harvey, who sent these corroborating links (warning -- these spoil the puzzle).
You can listen using the player above, download this episode directly, or subscribe on Google Podcasts, on Apple Podcasts, or via the RSS feed at https://futilitycloset.libsyn.com/rss.
Please consider becoming a patron of Futility Closet -- you can choose the amount you want to pledge, and we've set up some rewards to help thank you for your support. You can also make a one-time donation on the Support Us page of the Futility Closet website.
Many thanks to Doug Ross for the music in this episode.
If you have any questions or comments you can reach us at podcast@futilitycloset.com. Thanks for listening!