Apr 6, 2015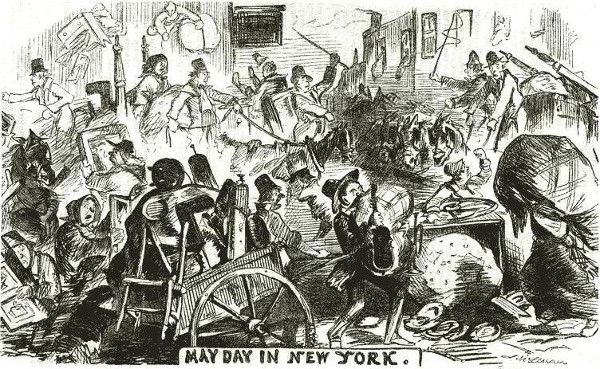 For centuries, May 1 brought chaos to New York, as most tenants had to move on the same day, clogging the streets with harried people and all their belongings. In this episode of the Futility Closet podcast we'll review the colorful history of "Moving Day" and wonder how it lasted through two centuries.
We'll also recount some surprising escapes from sinking ships and puzzle over a burglar's ingenuity.
Sources for our feature on Moving Day, New York City's historic custom of changing residence on May 1:
Kenneth A. Scherzer, The Unbounded Community: Neighborhood Life and Social Structure in New York City, 1830-1875, 1992.
Elizabeth Blackmar, Manhattan for Rent, 1785-1850, 1991.
William Shepard Walsh, Curiosities of Popular Customs ... Illustrated, 1897.
"Expressmen and Cartmen's Charges -- The Laws Relative Thereto," New York Times, April 14, 1870.
"Rich Are Homeless This Moving Day," New York Times, Oct. 1, 1919.
"Rain Adds to Gloom of City Moving Day," New York Times, Oct. 2, 1919.
"May 1 Moving Rush a Thing of the Past," New York Times, May 2, 1922.
In 1890 the New York Times published a list of the maximum prices that city ordinances permitted cartmen to charge: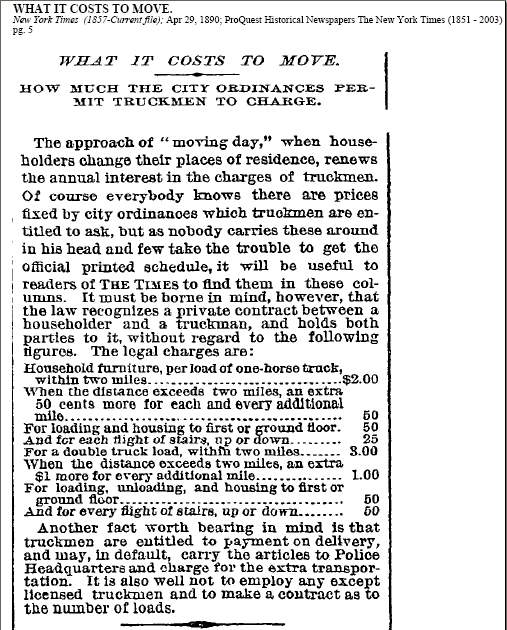 Sources for our feature on oddities in maritime disasters:
"Andrea Doria Tragedy Recalled by the Survivors," Associated Press, July 24, 1981.
"A Remarkable Maritime Disaster," Scientific American, Nov. 24, 1888.
"A Remarkable Collision," New Zealand Herald, July 26, 1884.
This week's lateral thinking puzzle was contributed by listener Ken Murphy.
You can listen using the player above, download this episode directly, or subscribe on iTunes or via the RSS feed at http://feedpress.me/futilitycloset.
Please consider becoming a patron of Futility Closet -- on our Patreon page you can pledge any amount per episode, and all contributions are greatly appreciated. You can change or cancel your pledge at any time, and we've set up some rewards to help thank you for your support.
You can also make a one-time donation via the Donate button in the sidebar of the Futility Closet website.
Many thanks to Doug Ross for the music in this episode.
If you have any questions or comments you can reach us at podcast@futilitycloset.com. And you can finally follow us on Facebook and Twitter. Thanks for listening!