Dec 12, 2016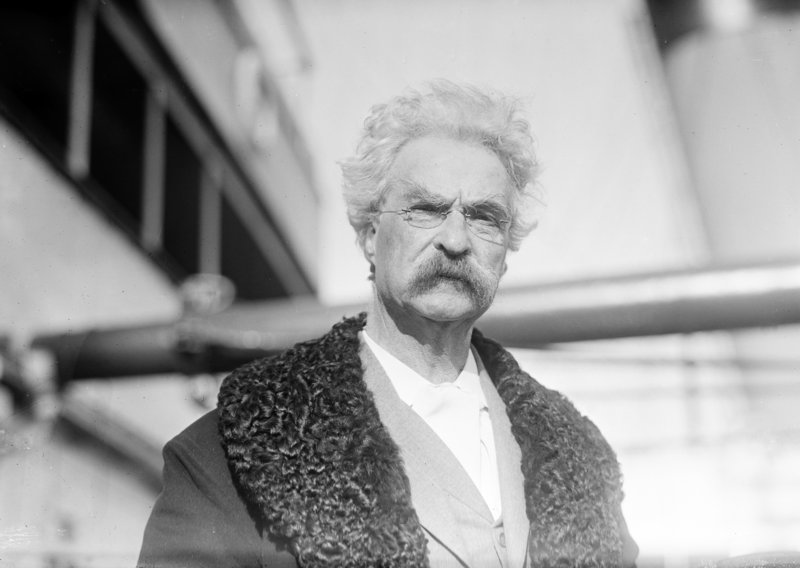 In this week's episode of the Futility Closet podcast we'll explore some more curiosities and unanswered questions from Greg's research, including a pilot who saved Buckingham Palace, a ghost who confronted Arthur Conan Doyle, what Mark Twain learned from a palm reader, and a bedeviling superfluity of Norwegians.
We'll also discover a language used only by women and puzzle over a gift that's best given sparingly.
Intro:
Horatio Nelson's coffin was fashioned from the mast of a French flagship that he had defeated.
In 1994 the city council of Green River, Wyoming, designated an airstrip south of town as an "intergalactic spaceport."
Sources for our feature on notes and queries:
The story of the Singapore tiger shooting appears in this history of the Raffles hotel.
Neil Kagan's 2013 book The Untold Civil War alleges that the 15th Wisconsin Volunteer Regiment was so thick with Norwegians that it contained dozens of men named Ole Olson. The Norwegian American Genealogical Center says that the Roster of Wisconsin Volunteers shows that the 15th had 128 men whose first name was Ole, 75 men whose last name was Olson, Olsen, or Oleson, but just 15 whose names were Ole Olson, Ole Olsen, or Ole Oleson.
The anecdote about the Gettysburg ordinance is mentioned in Michael Sanders' 2006 More Strange Tales of the Civil War, which cites Gregory A. Coco's A Strange and Blighted Land, Gettysburg: The Aftermath of a Battle, 1995. I found it in Allen C. Guelzo's Gettysburg: The Last Invasion, 2013.
Frances Wilson describes Titanic survivor Lawrence Beesley's visit to the set of A Night to Remember in her 2011 book How to Survive the Titanic, Or The Sinking of J. Bruce Ismay.
The observation about John Ford's eye for camerawork appears in Robert L. Carringer's 1996 book The Making of Citizen Kane.
Dan Murphy's Puritan name is spelled out in Willard R. Espy's An Almanac of Words at Play, 1975. (I first wrote about unusual Puritan names in 2009.) The two long names cited by H.L. Mencken appear in his 1921 study The American Language.
Douglas Hofstadter describes Stanford art professor Matt Kahn's confetti illusion in his foreword to Al Seckel's 2004 book Masters of Deception.
Mark Twain wrote about Cheiro's prophecy in his notebook in 1903. His affidavit regarding the palmist's insight into his character is described in Sarah E. Chinn's 2000 book Technology and the Logic of American Racism.
Three sources regarding Georges Simenon's prolificity:
Stanley G. Eskin, Simenon, A Critical Biography, 1987.
Henry Anatole Grunwald, "World's Most Prolific Novelist," Life 45:18 (Nov. 3, 1958).
Aubrey Dillon-Malone, Stranger Than Fiction: A Book of Literary Lists, 1999.
Also in Stranger Than Fiction, Dillon-Malone says that Anthony Trollope's quota of seven pages a day would sometimes carry him out of one book and into the next. Dillon-Malone says he's quoting Malcolm Cowley, who indeed says as much in this Paris Review interview, but I'd like to confirm the anecdote.
British fighter pilot Ray Holmes' severing of a Dornier bomber's tail is depicted in this painting. In his 2010 book Royal Prayer: A Surprising History, David Baldwin says "the whole engagement was captured on film," but I've never been able to find it. The best I've found is the opening moments of this National Geographic documentary:
https://www.youtube.com/watch?v=lACDhxSLbYQ
The anecdote about Arthur Conan Doyle in Africa is from Russell Miller's 2008 book The Adventures of Arthur Conan Doyle: A Biography.
Among other places, the story about Kant's soul appears in Arthur Stone Dewing's 1903 Introduction to the History of Modern Philosophy.
And Cornelia Parker's comment about her conversation with Noam Chomsky appears in "Apocalypse Later," Guardian, Feb. 11, 2008.
Listener mail:
Noah Shachtman, "They Cracked This 250-Year-Old Code, and Found a Secret Society Inside," Wired, Nov. 16, 2012.
Wikipedia, "Copiale cipher" (accessed Dec. 8, 2016).
"Scientists Crack Mysterious 'Copiale Cipher,'" Guardian, Oct. 26, 2011.
Jon Watts, "The Forbidden Tongue," Guardian, Sept. 23, 2005.
Wikipedia, "Nüshu script" (accessed Dec. 8, 2016).
David Kahn, The Codebreakers, 1967.
This week's lateral thinking puzzle is from Paul Sloane and Des MacHale's 2014 book Remarkable Lateral Thinking Puzzles.
You can listen using the player above, download this episode directly, or subscribe on iTunes or Google Play Music or via the RSS feed at http://feedpress.me/futilitycloset.
Please consider becoming a patron of Futility Closet -- on our Patreon page you can pledge any amount per episode, and we've set up some rewards to help thank you for your support. You can also make a one-time donation on the Support Us page of the Futility Closet website.
Many thanks to Doug Ross for the music in this episode.
If you have any questions or comments you can reach us at podcast@futilitycloset.com. Thanks for listening!