Jul 31, 2017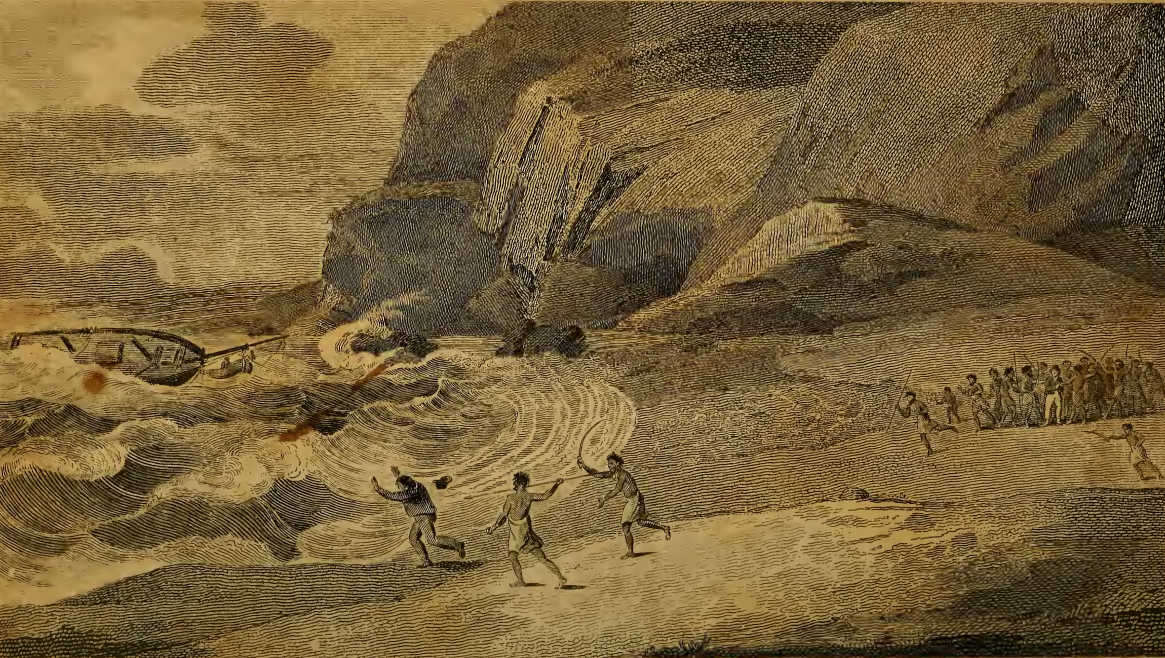 In 1815 an American ship ran aground in northwestern Africa, and its crew were enslaved by merciless nomads. In this week's episode of the Futility Closet podcast we'll follow the desperate efforts of Captain James Riley to find a way to cross the Sahara and beg for help from Western officials in Morocco.
We'll also wade through more molasses and puzzle over a prospective guitar thief.
Intro:
In 1972 archaeologists in northwestern Iran found evidence of one couple's tender final moment.
An anonymous author recast "A Visit From St. Nicholas" in legal language.
Sources for our feature on James Riley:
Dean King, Skeletons on the Zahara, 2004.
James Riley, An Authentic Narrative of the Loss of the American Brig Commerce, 1817.
Archibald Robbins, A Journal, Comprising an Account of the Loss of the Brig Commerce, of Hartford Conn., 1847.
James Riley and William Willshire Riley, Sequel to Riley's Narrative, 1851.
Robert J. Allison, The Crescent Obscured: The United States and the Muslim World, 1776-1815, 1995.
Christine E. Sears, American Slaves and African Masters, 2012.
Paul Baepler, ed., White Slaves, African Masters: An Anthology of American Barbary Captivity Narratives, 1999.
Eamonn Gearon, The Sahara: A Cultural History, 2011.
Dean King, "The Cruelest Journey," National Geographic Adventure 6:1 (February 2004), 46.
Paul Michel Baepler, "The Barbary Captivity Narrative in American Culture," Early American Literature 39:2 (2004), 217-246.
Sven D. Outram-Leman, "Alexander Scott: Constructing a Legitimate Geography of the Sahara From a Captivity Narrative, 1821," History in Africa 43 (2016), 63-94.
Gordon M. Sayre, "Renegades From Barbary: The Transnational Turn in Captivity Studies," American Literary History 22:2 (Summer 2010), 347-359.
Glenn James Voelz, "Images of Enemy and Self in the Age of Jefferson: The Barbary Conflict in Popular Literary Depiction," War & Society 28:2 (2009), 21-47.
Hester Blum, "Pirated Tars, Piratical Texts: Barbary Captivity and American Sea Narratives," Early American Studies 1:2 (Fall 2003), 133-158.
Paul Baepler, "White Slaves, African Masters," Annals of the American Academy of Political and Social Science 588:1 (July 2003), 90-104.
R. Gerald McMurtry, "The Influence of Riley's Narrative Upon Abraham Lincoln," Indiana Magazine of History 30:2 (June 1934), 133-138.
K. Gerald McMurtry, "Some Books That Lincoln Read," Journal of Developmental Reading 1:2 (Winter 1958), 19-26.
Mark Kirby, "Author's Sahara Trek Inspired by Classic Tale," National Geographic Adventure, Jan. 27, 2004.
"Riley's Sufferings in the Great Desert," Chambers's Edinburgh Journal, Dec. 24, 1836, 382-383.
Robert C. Davis, "Slavery in North Africa -- The Famous Story of Captain James Riley," Public Domain Review (accessed July 9, 2017).
Lev Grossman, "Sailing the Seas of Sand," Time 163:9 (March 1, 2004), 47.
Listener mail:
Dana Rieck, "Loveland's Sticky Situation Reaches 25-Year Anniversary," Loveland [Colo.] Reporter-Herald, Feb. 16, 2015.
"Meet Stan, the New Flemish Hermit!" Flanders News, Feb. 5, 2017.
Ben Gilbert, "These Incredible Photos Show One 72-Year-Old Woman's Hermit Lifestyle in Siberia," Business Insider, July 1, 2017.
Jennifer Schaffer, "The Snatching of Hannah Twynnoy."
"Hannah Twynnoy and the Tiger of Malmesbury."
This week's lateral thinking puzzle was contributed by listener Dan White, who sent this corroborating photo (warning -- this spoils the puzzle).
You can listen using the player above, download this episode directly, or subscribe on iTunes or Google Play Music or via the RSS feed at http://feedpress.me/futilitycloset.
Please consider becoming a patron of Futility Closet -- on our Patreon page you can pledge any amount per episode, and we've set up some rewards to help thank you for your support.
You can also make a one-time donation on the Support Us page of the Futility Closet website or browse our online store for Futility Closet merchandise.
Many thanks to Doug Ross for the music in this episode.
If you have any questions or comments you can reach us at podcast@futilitycloset.com. Thanks for listening!