Aug 14, 2017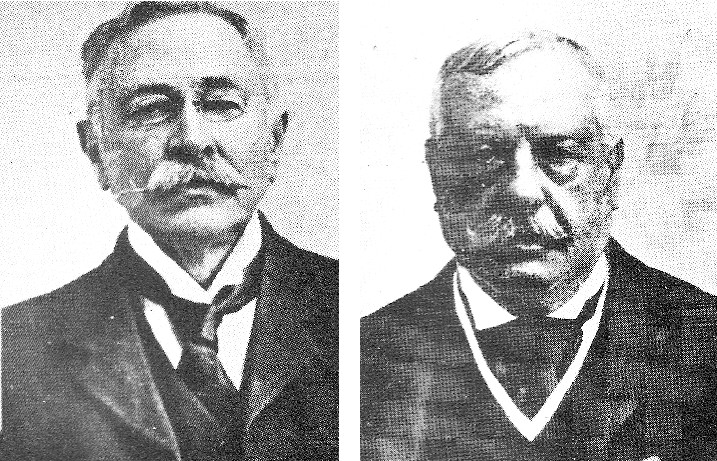 In 1896, Adolf Beck found himself caught up in a senseless legal nightmare: Twelve women from around London insisted that he'd deceived them and stolen their cash and jewelry. In this week's episode of the Futility Closet podcast we'll follow Beck's incredible ordeal, which ignited a scandal and inspired historic reforms in the English justice system.
We'll also covet some noble socks and puzzle over a numerical sacking.
Intro:
A 1631 edition of the Bible omitted not in "Thou shalt not commit adultery."
When the first hydrogen balloon landed in 1783, frightened villagers attacked it with pitchforks.
Sources for our feature on Adolph Beck:
Tim Coates, The Strange Story of Adolph Beck, 1999.
Jim Morris, The Who's Who of British Crime, 2015.
"An English Dreyfus," Goodwin's Weekly, Sept. 22, 1904, 6.
"Police Effort Was Tragedy," [Grand Forks, N.D.] Evening Times, Dec. 24, 1909, 1.
"Errors of English Court," Holt County [Mo.] Sentinel, Dec. 2, 1904, 2.
"England's Dreyfus Case Is at an End," [Scotland, S.D.] Citizen-Republican, Dec. 1, 1904, 3.
"Sir Arthur Conan Doyle a Detective in Real Life," New York Sun, May 31, 1914, 3.
"Jailed for Another's Crime," [Astoria, Ore.] Morning Astorian, Aug. 13, 1904, 4.
Judith Rowbotham, Kim Stevenson, and Samantha Pegg, Crime News in Modern Britain: Press Reporting and Responsibility, 1820-2010.
Graham Davies and Laurence Griffiths, "Eyewitness Identification and the English Courts: A Century of Trial and Error," Psychiatry, Psychology and Law 15:3 (November 2008), 435-449.
Haia Shpayer-Makov, "Journalists and Police Detectives in Victorian and Edwardian England: An Uneasy Reciprocal Relationship," Journal of Social History 42:4 (Summer 2009), 963-987.
D. Michael Risinger, "Unsafe Verdicts: The Need for Reformed Standards for the Trial and Review of Factual Innocence Claims," Houston Law Review 41 (January 2004), 1281.
"Remarkable Case of A. Beck: Innocent Man Twice Convicted of a Mean Offense," New York Times, Aug 13, 1904, 6.
J.H. Wigmore, "The Bill to Make Compensation to Persons Erroneously Convicted of Crime," Journal of the American Institute of Criminal Law and Criminology 3:5 (January 1913), 665-667.
C. Ainsworth Mitchell, "Handwriting and Its Value as Evidence," Journal of the Royal Society of Arts 71:3673 (April 13, 1923), 373-384.
Brian Cathcart, "The Strange Case of Adolf Beck," Independent, Oct. 16, 2004.
"Adolf Beck, Unlawfully Obtaining From Fanny Nutt Two Gold Rings," Proceedings of the Old Bailey, Feb. 24, 1896.
In the photo above, Adolph Beck is on the left, John Smith on the right. In July 1904, Smith was actually brought to Brixton Prison while Beck was being held there. Beck wrote, "I saw him at chapel two or three times. There is no resemblance between us."
Listener mail:
"Why Weren't the Clothes of the Pompeii Victims Destroyed by the Heat of a Pyroclastic Current?" Pompeii: The Mystery of the People Frozen in Time, Learning Zone, BBC, March 28, 2013.
Natasha Sheldon, "How Did the People of Pompeii Die? Suffocation Versus Thermal Shock," Decoded Past, April 1, 2014.
Harriet Torry, "It's a Vasectomy Party! Snips, Chips and Dips With Your Closest Friends," Wall Street Journal, July 23, 2017.
This week's lateral thinking puzzle was contributed by listener Anees Rao, who sent this corroborating link (warning -- this spoils the puzzle).
Please visit Littleton Coin Company to sell your coins and currency, or call them toll free 1-877-857-7850.
You can listen using the player above, download this episode directly, or subscribe on iTunes or Google Play Music or via the RSS feed at http://feedpress.me/futilitycloset.
Please consider becoming a patron of Futility Closet -- on our Patreon page you can pledge any amount per episode, and we've set up some rewards to help thank you for your support.
You can also make a one-time donation on the Support Us page of the Futility Closet website.
Many thanks to Doug Ross for the music in this episode.
If you have any questions or comments you can reach us at podcast@futilitycloset.com. Thanks for listening!