Aug 21, 2017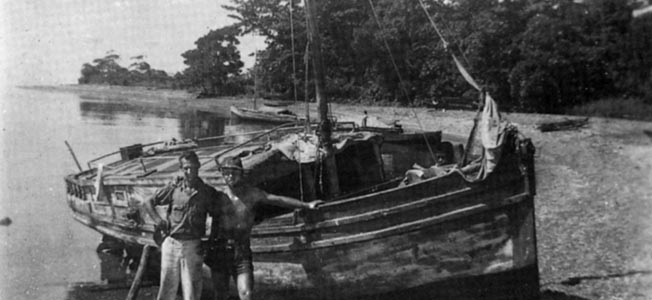 After Japan invaded the Philippines in 1941 two American servicemen hatched a desperate plan to sail 3,000 miles to Allied Australia in a 20-foot wooden fishing boat. In this week's episode of the Futility Closet podcast we'll join Rocky Gause and William Osborne as they struggle to avoid the Japanese and reach safety.
We'll also tell time in Casablanca and puzzle over a towing fatality.
Intro:
H.M. Small patented a hammock for railway passenger cars in 1889.
The clock face on the Marienkirche in Bergen auf Rügen, Germany, has 61 minutes.
Sources for our feature on Damon Gause:
Damon Gause, The War Journal of Major Damon "Rocky" Gause, 1999.
William L. Osborne, Voyage into the Wind, 2013.
Stephan Wilkinson, "10 Great POW Escapes," Military History 28:4 (November 2011), 28-33,5.
"Two U.S. Officers Flee Philippines By a 159-Day Journey to Australia," New York Times, Oct. 20, 1942, 6.
"Bataan-to-Australia Escape Takes 159 Days," Los Angeles Times, Oct. 20, 1942, 1.
"U.S. Officers in Australia After Fleeing Philippines," New York Times, Oct. 24, 1942, 5.
"Angry Officer Who Fled Luzon Tells Odyssey," Los Angeles Times, Nov. 4, 1942, A1.
"Crash Kills Gause, Who Fled Bataan," New York Times, March 17, 1944, 7.
Mark Pino, "Bataan Survivors Meet, Share Stories of Strength," Orlando Sentinel, May 4, 1997, 1.
Tunku Varadarajan, "Bidding War for Diary of Great Escape," Times, May 8, 1998, 20.
David Usborne, "Hero's Voyage Ends in Hollywood," Independent, May 9, 1998, 13.
Don O'Briant, "Georgia Officer's Great Escape to Get Hollywood Treatment," Atlanta Constitution, March 4, 1999, 1.
Mark Pino, "War Hero's Tribute Marching On," Orlando Sentinel, April 21, 1999, 1.
Bill Baab, "Journal Documents Great Escapes During War," Augusta Chronicle, Jan. 16, 2000, F5.
Christopher Dickey, "The Great Escape," New York Times, Jan. 23, 2000.
Don O'Briant, "Veterans Day: Sons Relive WWII Tale of Perilous Getaway," Atlanta Journal-Constitution, Nov. 11, 2001, 1.
"The Firsthand Account of One of the Greatest Escapes of World War II," Book TV, CSPAN2, 2000.
Robert E. Hood, "The Incredible Escape," Boys' Life, May 2002.
Chris Petrikin and Benedict Carver, "Miramax Escapes With 'War Journal,'" Variety, Feb. 9, 1999.
Listener mail:
We discussed English as She Is Spoke in Episode 58.
Deb Belt, "Chesapeake Bay Lighthouse Is the Right House for $15K," Baltimore Patch, Aug. 1, 2017.
Beth Dalbey, "5 Historic Great Lakes Lighthouses for Sale in Michigan," Baltimore Patch, July 28, 2017.
A Maryland lighthouse for sale by the General Services Administration.
To see all the lighthouses currently at auction, search for "lighthouse" on this page.
This week's lateral thinking puzzle was contributed by listener David Pruessner.
Please visit Littleton Coin Company to sell your coins and currency, or call them toll free 1-877-857-7850.
Get your free trial set from Harry's, including a handle, blade, shave gel, and travel blade cover, by visiting http://harrys.com/closet.
You can listen using the player above, download this episode directly, or subscribe on iTunes or Google Play Music or via the RSS feed at http://feedpress.me/futilitycloset.
Please consider becoming a patron of Futility Closet -- on our Patreon page you can pledge any amount per episode, and we've set up some rewards to help thank you for your support. You can also make a one-time donation on the Support Us page of the Futility Closet website.
Many thanks to Doug Ross for the music in this episode.
If you have any questions or comments you can reach us at podcast@futilitycloset.com. Thanks for listening!