Jun 25, 2018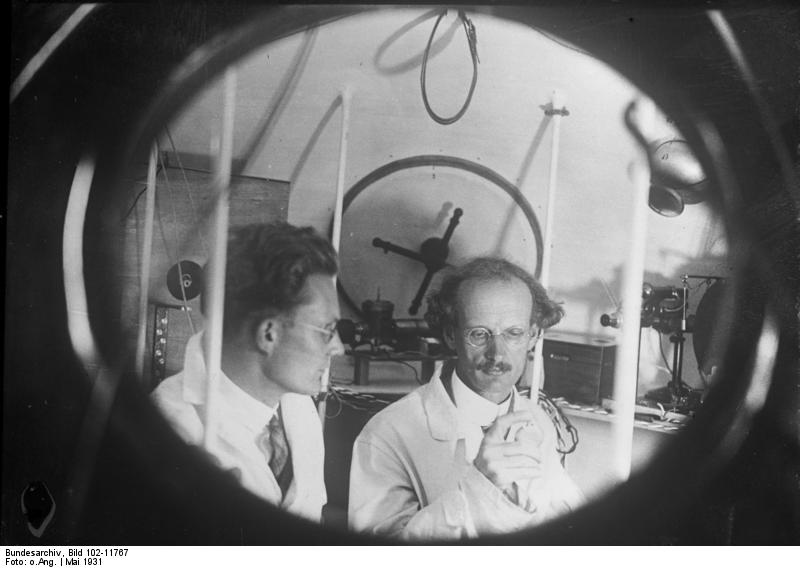 Swiss physicist Auguste Piccard opened two new worlds in the 20th century. He was the first person to fly 10 miles above the earth and the first to travel 2 miles beneath the sea, using inventions that opened the doors to these new frontiers. In this week's episode of the Futility Closet podcast we'll follow Piccard on his historic journeys into the sky and the sea.
We'll also admire some beekeeping serendipity and puzzle over a sudden need for locksmiths.
Intro:
Herbert Hoover's doctor invented a game to keep him in shape.
William Howard Taft boasted that he lost 70 pounds on this diet.
Sources for our feature on Auguste Piccard:
Auguste Piccard, Between Earth and Sky, 1950.
Auguste Piccard, Earth, Sky and Sea, 1956.
Alan Honour, Ten Miles High, Two Miles Deep: The Adventures of the Piccards, 1957.
Fergus Fleming and Annabel Merulla, eds., The Explorer's Eye, 2005.
Tom Cheshire, The Explorer Gene: How Three Generations of One Family Went Higher, Deeper, and Further Than Any Before, 2013.
Markus Pagitz, "The Future of Scientific Ballooning," Philosophical Transactions of the Royal Society A 365:1861, 3003-3017.
G. Pfotzer, "History of the Use of Balloons in Scientific Experiments," Space Science Reviews 13:2 (June 1972), 199-242.
Don Walsh, "Dr. Piccard and His Wonderful Electric Submarines," United States Naval Institute Proceedings 137:9 (September 2011), 102.
"Bathyscaphe Explores Ocean Bottom," Science News-Letter 733 (Jan. 18, 1958), 35.
Jean Piccard, "Exploration by Balloon," Scientific Monthly 47:3 (September 1938), 270-277.
J.R. Dean, "Deep Submersibles Used in Oceanography," Geographical Journal 131:1 (March 1965), 70-72.
"Scientists Fortunate to Return from Region of Black Skies," Science News-Letter 19:530 (June 6, 1931), 364.
"Auguste Piccard," Physics Today 15:8 (August 1962), 80.
"Ten Miles High in an Air-Tight Ball," Popular Science, August 1931, 23.
Mark Betancourt, "See The World From 100,000 Feet," Air & Space Smithsonian, July 2015.
Malcolm W. Browne, "A Balloonist's Adventurous Lineage," New York Times, March 21, 1999, 8.
"Balloon's Historic Flight an Aviation Milestone," South Bend [Ind.] Tribune, March 27, 1999, A9.
"Jacques Piccard," Times, Nov. 5, 2008, 58.
Naomi Koppel, "Balloonist Piccard Comes From Long Line of Record-Setting Pioneers," Milwaukee Journal Sentinel, March 21, 1999, 21.
Glenn C. Altschuler, "What Propels the Piccards to Their Extremes," Boston Globe, Dec. 3, 2013, G.6.
Helen Fields, "A Swiss Family's Triple Crown," U.S. News & World Report 136:7 (Feb. 23, 2004), 78-80.
"Brother Had Faith in Piccard's Success," New York Times, May 29, 1931.
"Jacques Piccard, Scientist Who Explored the Deep Seas, Dies at 86," Associated Press, Nov. 1, 2008.
"Piccard on Radio Describes Flight," New York Times, June 2, 1931.
"Piccard and Cosyns to Aid Argentine Flight," New York Times, Jan. 21, 1940.
"Auguste Piccard, Explorer, Is Dead. Auguste Piccard Is Dead at 78. Stratosphere and Sea Explorer," New York Times, March 26, 1962.
Whit Burnett, "Piccard and Aide Had Close Call," [Washington D.C.] Evening Star, May 29, 1931, A-4.
Auguste Piccard, "Conquest of the Stratosphere at Hand," [Washington D.C.] Evening Star, Feb. 14, 1932, 5.
"Plan Stratosphere Flight," [Washington D.C.] Evening Star, May 23, 1933, A-2.
Max Cosyns, "Conquest of the Stratosphere at Hand," [Washington D.C.] Evening Star, June 26, 1934, 11.
Listener mail:
Scott McArt, "The Latest Bee Science Distilled," American Bee Journal, April 1, 2018.
Bettina Ziegelmann et al., "Lithium Chloride Effectively Kills the Honey Bee Parasite Varroa destructor by a Systemic Mode of Action," Scientific Reports 8:1 (2018), 683.
Mary Bammer, "Lithium Chloride for Varroa Control?" Institute of Food and Agricultural Sciences and University of Florida, April 18, 2018.
Sarah De Filippe, "Director of Geese: A Dog With a Job," Vassar College Miscellany News 134:8 (Nov. 12, 2004), 16.
Maxim Alter, "Dog Days May End Fowl Play," New Paltz Oracle, Oct. 28, 2010.
"New Paltz Welcomes the Arrival of Geese Herding Border Collie," New Paltz News, Feb. 16, 2011.
This week's lateral thinking puzzle is based on an item in Dan Lewis' Now I Know enewsletter (warning -- this link spoils the puzzle).
You can listen using the player above, download this episode directly, or subscribe on Apple Podcasts or Google Play Music or via the RSS feed at http://feedpress.me/futilitycloset.
Please consider becoming a patron of Futility Closet -- you can choose the amount you want to pledge, and we've set up some rewards to help thank you for your support. You can also make a one-time donation on the Support Us page of the Futility Closet website.
Many thanks to Doug Ross for the music in this episode.
If you have any questions or comments you can reach us at podcast@futilitycloset.com. Thanks for listening!