Sep 10, 2018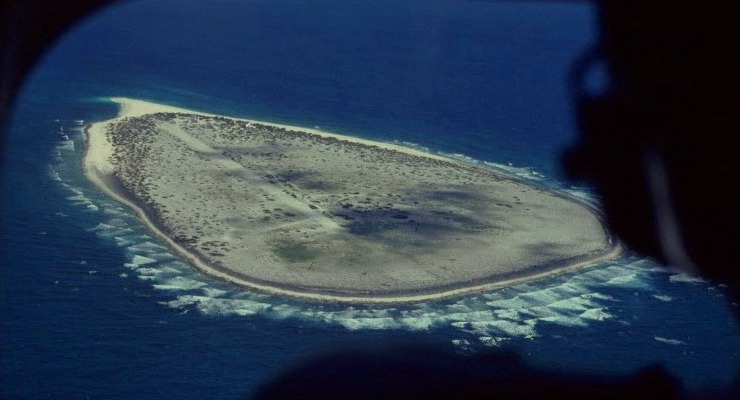 In 1761 a French schooner was shipwrecked in the Indian Ocean, leaving more than 200 people stranded on a tiny island. The crew departed in a makeshift boat, leaving 60 Malagasy slaves to fend for themselves and wait for rescue. In this week's episode of the Futility Closet podcast we'll tell the story of the Tromelin Island castaways, which one observer calls "arguably the most extraordinary story of survival ever documented."
We'll also admire some hardworking cats and puzzle over a racer's death.
Intro:
In 1830 architect Thomas Willson proposed building an enormous pyramid to house London's dead.
In 1959 a Norwegian insulation manufacturer undertook to transport a three-ton block of ice to the equator without refrigeration.
Sources for our feature on the Tromelin Island castaways:
Samir S. Patel, "Castaways," Archaeology, Sept. 15, 2014.
"Lèse humanité," Economist, Dec. 16, 2015.
Max Guérout, "Esclaves oubliés," La Revue Maritime 477 (December 2006).
John Lichfield, "Shipwrecked and Abandoned: The Story of the Slave Crusoes," Independent, Feb. 5, 2007.
James Russell, "The Recovery of Tromelin Island," National Geographic, April 11, 2016.
V. Laroulandie and C. Lefèvre, "The Use of Avian Resources by the Forgotten Slaves of Tromelin Island (Indian Ocean)," International Journal of Osteoarchaeology 24:3 (2014), 407-416.
Matthieu Le Corre, et al. "Seabird Recovery and Vegetation Dynamics After Norway Rat Eradication at Tromelin Island, Western Indian Ocean," Biological Conservation 185 (2015), 85-94.
Nick Marriner et al., "A Geomorphological Reconnaissance of Tromelin Island, Indian Ocean," Journal of Coastal Research 28:6 (November 2012), 1606-1616.
Urko Apaolaza Ávila, "Basques in the Caribbean Slave Trade (Eighteenth and Nineteenth Centuries)," in William A. Douglass, ed., Basques in Cuba, 2016.
Jane Webster, "Slave Ships and Maritime Archaeology: An Overview," International Journal of Historical Archaeology 12:1 (March 2008), 6–19.
Annabelle Georgen, "Abandonnés sur une île déserte: la tragédie des esclaves oubliés de Tromelin," Slate, Feb. 22, 2017.
Peter Mitchell and Paul Lane, The Oxford Handbook of African Archaeology, 2013.
Carl Thompson, Shipwreck in Art and Literature: Images and Interpretations from Antiquity to the Present Day, 2014.
Nelly Schmidt, "Slavery and Its Abolition, French Colonies, Research and Transmission of Knowledge," UNESCO Slave Route Project.
Constance Holden, "Random Samples," Science, New Series 315:5812 (Feb. 2, 2007), 579.
Jasmina Sopova, "UNESCO Launches Forgotten Slaves Programme," UNESCO, April 23, 2004.
"Archaeological Science," Health & Medicine Week, May 17, 2010, 1593.
Sylviane Diouf, "Survivors: Sand Island," New York Public Library, March 7, 2012.
H.A. Moriarty, Islands in the Southern Indian Ocean, Westward of Longitude 80° East, Including Madagascar, 1904.
Alexander G. Findlay, A Directory for the Navigation of the Indian Ocean, 1866.
A. Constable, Shipwrecks and Disasters at Sea, 1812.
Lawrence G. Green, "Mystery Isles of the East," New York Times, June 21, 1931.
Bernie McClenny, "Tromelin Island," QST 98:9 (September 2014), 91-92.
"Foreign Intelligence," [London] General Evening Post, Aug. 21, 1777.
"Extract of a Letter From Amsterdam, Aug. 7," London Chronicle, Aug. 22, 1777.
Listener mail:
"Chief Mouser Palmerston Develops a Taste for Duck," Times, July 24, 2018.
"Library Cat Outlasts Councilman That Wanted Him Gone," CBS News, Dec. 16, 2016.
Bud Kennedy, "Council Critic Takes Yet Another Swipe at Browser the Library Cat," Fort Worth Star-Telegram, Dec. 10, 2016.
Ricki Harris, "Beloved Cat Will Keep His Job at the Local Library After International Backlash," ABC News, July 5, 2016.
Ricki Harris, "Beloved Cat Fired From His Job at a Local Public Library," ABC News, June 28, 2016.
Wikipedia, "Mike (cat)" (accessed Sept. 4, 2018).
E.A. Wallis Budge, "Mike", the Cat Who Assisted in Keeping the Main Gate of the British Museum From February 1909 to January 1929, 1929.
R.B. Shaberman, Mike, the British Museum Cat, 1909-1929: A Jubilee Reminiscence, 1979.
Dog Days of Summer Family Festival, Smithsonian National Postal Museum (accessed Sept. 6, 2018).
This week's lateral thinking puzzle was contributed by listener Bryant Pocock, who sent these corroborating links (warning -- these spoil the puzzle).
You can listen using the player above, download this episode directly, or subscribe on Google Podcasts, on Apple Podcasts, or via the RSS feed at https://futilitycloset.libsyn.com/rss.
Please consider becoming a patron of Futility Closet -- you can choose the amount you want to pledge, and we've set up some rewards to help thank you for your support. You can also make a one-time donation on the Support Us page of the Futility Closet website.
Many thanks to Doug Ross for the music in this episode.
If you have any questions or comments you can reach us at podcast@futilitycloset.com. Thanks for listening!