Jan 28, 2019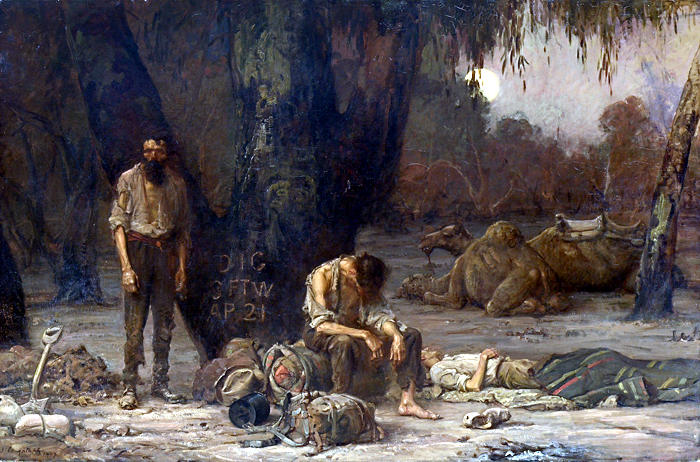 In 1860 a party of explorers set out to traverse the Australian continent, but bad management and a series of misfortunes sent it spiraling toward tragedy. In this week's episode of the Futility Closet podcast we'll tell the story of the Victorian Exploring Expedition and its dramatic climax at Cooper's Creek.
We'll also try to validate Archimedes and puzzle over an unlucky thief.
Intro:
In 1990 Jon Perez Laraudogoitia wrote a philosophy article that compelled its own acceptance.
In 1976 architect Robert Venturi found a way to commemorate a house with no surviving description.
Sources for our story on the Burke and Wills expedition:
Alan Moorehead, Cooper's Creek, 1963.
Sarah P. Murgatroyd, The Dig Tree, 2002.
Dave Phoenix, Following Burke and Wills Across Australia: A Touring Guide, 2015.
Ian Clark and Fred Cahir, The Aboriginal Story of Burke and Wills: Forgotten Narratives, 2013.
A.W. Howitt, et al., "Exploring Expedition From Victoria to the Gulf of Carpentaria, Under the Command of Mr. Robert O'Hara Burke," Journal of the Royal Geographical Society of London 32 (1862), 430-529.
The Diary of William John Wills.
William John Wills, A Successful Exploration Through the Interior of Australia: From Melbourne to the Gulf of Carpentaria, 1863.
Dave Phoenix, "Burke and Wills -- An Overview of the Expedition, Its Preparation, Planning and Outcomes," Queensland History Journal 21:8 (2012), 497.
Jessica Campion, "Burke and Wills: Botany's Untold Success Story," Australian Geographic, July 27, 2011.
Bernie Joyce and Doug McCann, "The Scientific Legacy of Burke & Wills," Australasian Science 32:5 (June 2011), 29-31.
Sally Woollett, "Thiamine and the Dig Tree Tragedy," Chemistry in Australia 78:10 (November 2011), 4.
John W. Earl and Barry V. McCleary, "Mystery of the Poisoned Expedition," Nature 368:6473 (April 21, 1994), 683.
Deirdre Slattery, "If Burke Had Been a Naturalist ...: Telling and Re-Telling National Narratives," Australian Journal of Outdoor Education 8:2 (2004), 13-21.
Peter Daszak, "A Last Waltz for Burke, Wills, and King," EcoHealth 13:4 (December 2016), 821–823.
"Burke & Wills: From Melbourne to Myth," [Melbourne] Herald Sun, Sept. 24, 2002, 34.
Carolyn Webb, "Exploring the Myth," The Age, Aug. 26, 2002, 3.
"Memoirs of the Late Leaders of the Exploring Expedition," Sydney Morning Herald, Nov. 19, 1861, 2.
"Memorandum on the Recent Journeys of Exploration Across the Continent of Australia," Sydney Morning Herald, Dec. 20, 1861, 7.
"The Australian Exploring Expedition," North Wales Chronicle, Feb. 22, 1862.
"Australian Explorations," Newcastle Courant, May 23, 1862.
Richard Garnett, "Burke, Robert O'Hara," Oxford Dictionary of National Biography, Sept. 23, 2004.
C.A. Harris, "Wills, William John," Oxford Dictionary of National Biography, Sept. 23, 2004.
Burke and Wills Collection, National Museum Australia.
Listener mail:
Wikipedia, "Concentrated Solar Power" (accessed Jan. 17, 2019).
Wikipedia, "Ivanpah Solar Power Facility" (accessed Jan. 17, 2019).
Adam Clark Estes, "How the World's Largest Solar Plant Wants to Fix Its Fried Bird Problem," Gizmodo, Aug. 19, 2014.
Associated Press, "BrightSource Solar Plant Sets Birds on Fire as They Fly Overhead," Aug. 18, 2014.
Ian Sample, "Doubt Cast on Archimedes' Killer Mirrors," Guardian, Oct. 23, 2005.
Jeremy Hsu, "Archimedes' Flaming Death Ray Was Probably Just a Cannon, Study Finds," Christian Science Monitor, June 29, 2010.
Thomas W. Africa, "Archimedes Through the Looking-Glass," The Classical World 68:5 (February 1975), 305-308.
Josh Clark, "What Was Archimedes' Death Ray?" How Stuff Works (accessed Jan. 17, 2019).
"Archimedes Death Ray," student experiment, Product Engineering Processes, MIT, October 2005.
"Archimedes Death Ray: Testing With MythBusters," Product Engineering Processes, MIT, October 2005.
Renee Montagne, "Was Archimedes' Mirror Real?" Morning Edition, National Public Radio, July 25, 2018.
This week's lateral thinking puzzle was devised by Sharon. Here's a corroborating link (warning -- this spoils the puzzle).
You can listen using the player above, download this episode directly, or subscribe on Google Podcasts, on Apple Podcasts, or via the RSS feed at https://futilitycloset.libsyn.com/rss.
Please consider becoming a patron of Futility Closet -- you can choose the amount you want to pledge, and we've set up some rewards to help thank you for your support. You can also make a one-time donation on the Support Us page of the Futility Closet website.
Many thanks to Doug Ross for the music in this episode.
If you have any questions or comments you can reach us at podcast@futilitycloset.com. Thanks for listening!