Apr 15, 2019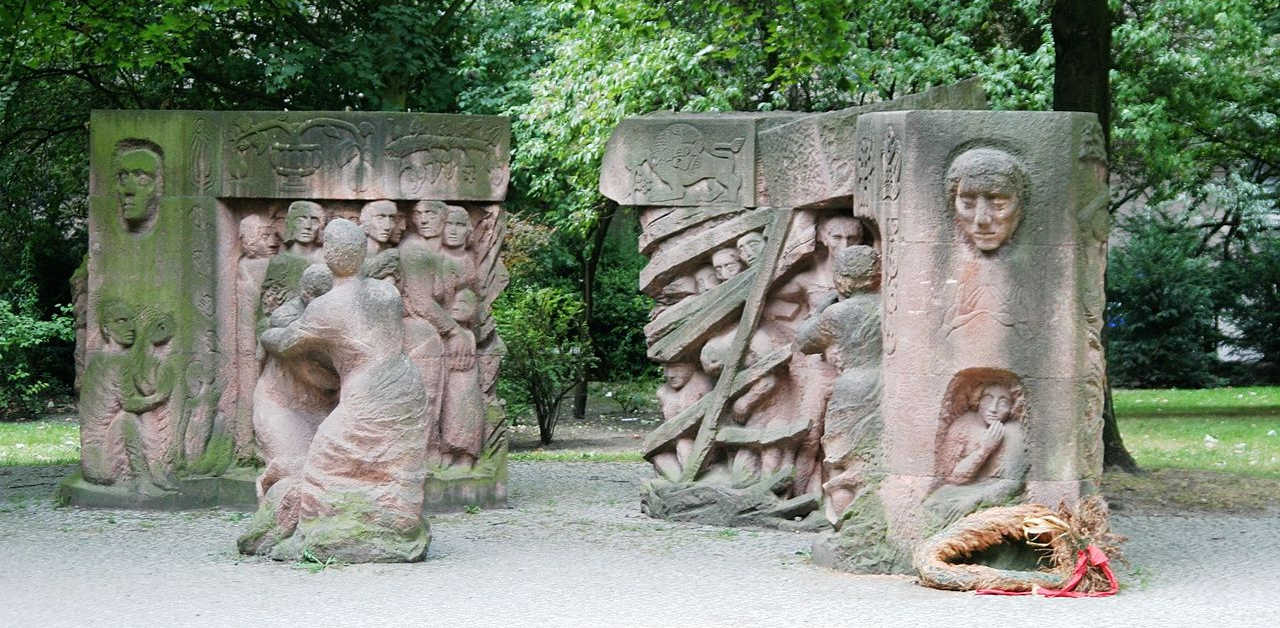 In February 1943, hundreds of German women joined in a spontaneous protest in central Berlin. They were objecting to the roundup of some of the city's last Jews -- their husbands. In this week's episode of the Futility Closet podcast we'll describe the Rosenstrasse protest, a remarkable example of civil disobedience.
We'll also ponder whether a computer can make art and puzzle over some unusual phone calls.
Intro:
Between 1946 and 1953, British wordplay maven Leigh Mercer published 100 immortal palindromes in Notes & Queries.
In 1933 English sculptor John Skeaping recorded his opinions of his contemporaries inside a horse of mahogany.
Sources for our feature on the Rosenstrasse demonstration:
Nathan Stoltzfus, Resistance of the Heart: Intermarriage and the Rosenstrasse Protest in Nazi Germany, 2001.
Wolf Gruner and Ursula Marcum, "The Factory Action and the Events at the Rosenstrasse in Berlin: Facts and Fictions About 27 February 1943: Sixty Years Later," Central European History 36:2 (2003), 179-208.
Nathan Stoltzfus, "Historical Evidence and Plausible History: Interpreting the Berlin Gestapo's Attempted 'Final Roundup' of Jews (Also Known as the 'Factory Action')," Central European History 38:3 (2005), 450-459.
Wolf Gruner, "A 'Historikerstreit?' A Reply to Nathan Stoltzfus' Response," Central European History 38:3 (2005), 460-464.
Michael Geyer, "Resistance of the Heart: Intermarriage and the Rosenstrasse Protest in Nazi Germany (review)," Journal of Church and State 40:1 (Winter 1998), 189-190.
"The Rosenstrasse Incident Is Recounted," Canadian Jewish News, Feb. 27, 1997, 11.
Jeff McMillan, "A Moment of Courage in Hitler's Berlin," Chronicle of Higher Education 43:8 (Oct. 18, 1996), A9.
Evan B. Bukey, "Widerstand in der Rosenstrasse: Die Fabrik-Aktion und die Verfolgung der 'Mischehen' 1943 (review)," Holocaust and Genocide Studies 21:2 (Fall 2007).
Ron Madson, "The Restoration of Conscientious Objection," Dialogue: A Journal of Mormon Thought 51:4 (Winter 2018), 77-103, 251.
Nathan Stoltzfus, "Dissent in Nazi Germany," Atlantic 270:3 (September 1992), 86-94.
Nathan Stoltzfus and Mordechai Paldiel, "Rosenstrasse at 75," Jerusalem Post, Feb. 24, 2018.
Julia M. Klein, "The Time Hitler Blinked," Forward, Aug. 5, 2016, 23-24.
"Lecture: Nonviolent Resistance to Nazis," University Wire, Nov. 3, 2013.
Dori Laub, "In Search of the Rescuer in the Holocaust," Historical Reflections 39:2 (Summer 2013), 40-56.
Susan Neiman, "To Resist Hitler and Survive," New York Times, Feb. 3, 2008.
Barbara Kellerman, "Those Who Stood Against Hitler," New York Times, Feb. 3, 2008.
J. Kelly Nestruck, "The Good Germans," National Post, Sept. 24, 2004, PM9.
Corinna da Fonseca-Wollheim, "'Give Us Our Husbands Back!'" Jerusalem Post, April 25, 2003, 10.
"She Won't Use 'Holocaust' or 'Kristallnacht,'" Oakland Tribune, April 13, 2003, 1.
Norm Guthartz, "Triumph Over Hatred," Jerusalem Post, Sept. 18, 1997, 9.
Nathan Stoltzfus, "Unsung Heroes Defied the Nazis: Too Often Resistance Is Seen as a Choice of Martyrdom vs. Passivity," Philadelphia Inquirer, March 18, 1997, A.13.
Anne Karpf, "A Remarkable Demonstration of Love," Times, Dec. 12, 1996, 36.
David Molner, "History Lesson: In 1943 Berlin, a Group of Wives Won the Release of Their Jewish Husbands," Chicago Tribune, Nov. 28, 1993, 11.
"27 February 1943: The Rosenstrasse Protest," Holocaust Memorial Day Trust (accessed March 31, 2019).
"The Rosenstrasse Demonstration, 1943," United States Holocaust Memorial Museum (accessed March 31, 2019).
Max Rennebohm, "German Wives Win the Release of Their Jewish Husbands (Rosenstrasse Protest), 1943," Global Nonviolent Action Database, May 18, 2011.
Listener mail:
Svea Eckert, "Inside the Fake Science Factory," DEF CON 26, Sept. 17, 2018. (The description of the WASET sting starts at about 10:50.)
SCIgen - An Automatic CS Paper Generator.
Adam Conner-Simons, "How Three MIT Students Fooled the World of Scientific Journals," MIT News, April 14, 2015.
"Springer and Université Joseph Fourier Release SciDetect to Discover Fake Scientific Papers," Springer, March 23, 2015.
Mike Rugnetta, "This Episode Was Written by an AI," PBS Idea Channel, June 29, 2016.
Mike Rugnetta, "Can an Artificial Intelligence Create Art?", PBS Idea Channel, June 30, 2016.
This week's lateral thinking puzzle was contributed by listener Jennifer Sinnott.
You can listen using the player above, download this episode directly, or subscribe on Google Podcasts, on Apple Podcasts, or via the RSS feed at https://futilitycloset.libsyn.com/rss.
Please consider becoming a patron of Futility Closet -- you can choose the amount you want to pledge, and we've set up some rewards to help thank you for your support. You can also make a one-time donation on the Support Us page of the Futility Closet website.
Many thanks to Doug Ross for the music in this episode.
If you have any questions or comments you can reach us at podcast@futilitycloset.com. Thanks for listening!