Oct 7, 2019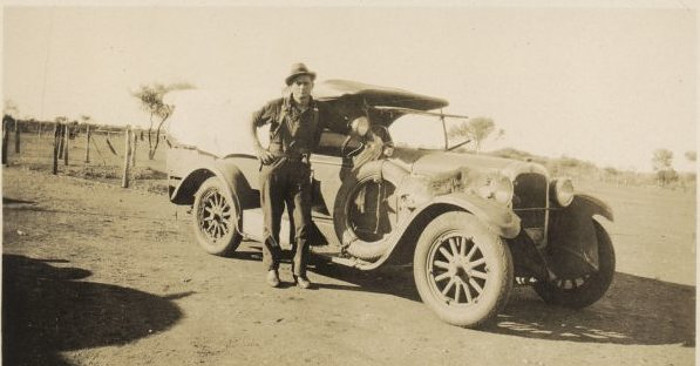 In 1929, detective novelist Arthur Upfield wanted to devise the perfect murder, so he started a discussion among his friends in Western Australia. He was pleased with their solution -- until local workers began disappearing, as if the book were coming true. In this week's episode of the Futility Closet podcast we'll describe the Murchison murders, a disturbing case of life imitating art.
We'll also incite a revolution and puzzle over a perplexing purchase.
Intro:
Jacques Jouet wrote a love poem in the language of Tarzan's great apes.
To accompany Apollo 11, the president of Ivory Coast wrote a message to the moon.
Above: Snowy Rowles with James Ryan's car, photographed by Arthur Upfield. Sources for our feature on the Murchison murders:
Arthur Upfield, The Murchison Murders, 1932.
Arthur Upfield, The Sands of Windee, 1931.
Arthur Upfield, Up and Down the Real Australia, 2009.
Jack Coulter, With Malice Aforethought, 1982.
James Morton and Susanna Lobez, Dangerous to Know: An Australasian Crime Compendium, 2009.
Travis Barton Lindsey, Arthur William Upfield: A Biography, dissertation, Murdoch University, 2005.
Carol Hetherington, "Bony at Home and Abroad: The Arthur Upfield Phenomenon," Journal of the Association for the Study of Australian Literature (2009).
Bill Casey, "Some Burning Issues: Arthur Upfield and the Murchison Murders, Marginalising Aboriginal People and Suggestions on Teaching Australia's History of Frontier Violence," Australian Aboriginal Studies 1 (2018), 29-42.
"Turning Pages," The Age, July 18, 2015, 29.
Christopher Fowler, "Arthur Upfield," Independent, Sept. 15, 2013, 16.
Terry Sweetman, "Perfect Murder Around the Fire," [Brisbane] Courier-Mail, Aug. 25, 2013, 55.
James Cockington, "Detective Work Pays Off: Enjoy It - Collect," Sydney Morning Herald, Nov. 17, 2010, 13.
Rachel Browne, "Perfect Crime," [Sydney] Sun-Herald, June 14, 2009, 3.
Bridget McManus, "A Novel Approach to Crime," Sydney Morning Herald, June 8, 2009, 6.
Many thanks to Graham Marshall for his help in researching this story.
Listener mail:
Wikipedia, "The Scottish Play" (accessed Sept. 4, 2019).
Royal Shakespeare Company, "The Curse of the Scottish Play" (accessed Sept. 4, 2019).
"Macbeth: The Curse of the Scottish Play," Telegraph, Sept. 18, 2015.
Laura Schumm, "Why Do Actors Avoid the Word 'Macbeth'?", History.com, April 9, 2014.
David Berre, "'Macbeth' Curse of the Stage," Washington Post, Jan. 28, 1988.
"'Scottish Curse' Struck Heston in Bermuda," Bernews, April 7, 2013.
Tim Hodgson, "Heston's 'Macbeth' Painting Goes on Display," Royal Gazette, April 18, 2016.
"Did the Dumb Girl of Portici Really Set Off the Belgian Revolution in 1830?", Focus on Belgium, Aug. 10, 2018.
Wikipedia, "La muette de Portici," (accessed Sept. 17, 2019).
This week's lateral thinking puzzle was contributed by listener Jim Power.
You can listen using the player above, download this episode directly, or subscribe on Google Podcasts, on Apple Podcasts, or via the RSS feed at https://futilitycloset.libsyn.com/rss.
Please consider becoming a patron of Futility Closet -- you can choose the amount you want to pledge, and we've set up some rewards to help thank you for your support. You can also make a one-time donation on the Support Us page of the Futility Closet website.
Many thanks to Doug Ross for the music in this episode.
If you have any questions or comments you can reach us at podcast@futilitycloset.com. Thanks for listening!