Oct 14, 2019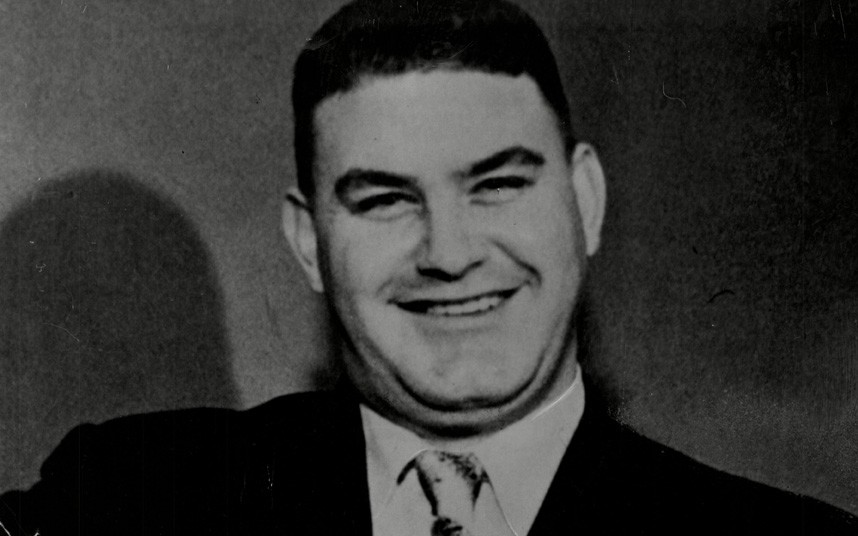 Ferdinand Demara earned his reputation as the Great Impostor: For over 22 years he criss-crossed the country, posing as everything from an auditor to a zoologist and stealing a succession of identities to fool his employers. In this week's episode of the Futility Closet podcast we'll review Demara's motivation, morality, and techniques -- and the charismatic spell he seemed to cast over others.
We'll also make Big Ben strike 13 and puzzle over a movie watcher's cat.
Intro:
In 1825, Thomas Steele proposed enclosing Isaac Newton's residence in a pyramid surmounted by a stone globe.
In 1923 Arthur Guiterman found a rhyme for wasp.
Sources for our feature on Ferdinand Demara:
Robert Crichton, The Great Impostor, 1959.
Robert Crichton, The Rascal and the Road, 1961.
Frank E. Hagan, Introduction to Criminology: Theories, Methods, and Criminal Behavior, 2008.
Joe McCarthy, "The Master Imposter: An Incredible Tale," Life, Jan. 28, 1952.
Susan Goldenberg, "Unmasked," Canada's History 91:1 (February/March 2011), 31-36.
Ray Cavanaugh, "Brother, Doctor, Soldier, Lies," National Catholic Reporter 51:20 (July 17, 2015), 16.
David Goldman, "The Great Impostor," Biography 4:8 (August 2000), 24.
"Ferdinand Waldo Demara, 60, An Impostor in Varied Fields," Associated Press, June 9, 1982.
Tim Holmes, "Ferdinand Waldo Demara: One of the Greatest Imposters the World Has Ever Seen," Independent, Aug. 29, 2019.
Kevin Loria, "The True Story of a Con Artist Who Conducted Surgeries, Ran a Prison, Taught College, and More," Business Insider, Feb. 20, 2016.
"Americana: Ferdinand the Bull Thrower," Time, Feb. 25, 1957.
Samuel Thurston, "Champion Rascal," New York Times, July 26, 1959.
"Top 10 Imposters," Time, May 26, 2009.
"'The Great Imposter' Reportedly a Cleric," Associated Press, Jan. 8, 1970.
Thomas M. Pryor, "Universal to Film 'Great Impostor'; Career of Ferdinand Demara Jr. Will Be Traced -- Lilli Palmer's Pact Extended," New York Times, March 12, 1959.
John Schwartz, "Ideas & Trends; James Gatz, Please Call Your Office," New York Times, March 11, 2001.
Eric Pace, "Notes on People," New York Times, April 6, 1978.
"Fake Surgeon a Success; Canada to Oust American Who Served Navy in Korea," New York Times, Nov. 21, 1951.
"Navy Drops Bogus Surgeon," New York Times, Jan. 30, 1952.
"Schoolmaster a Fraud; 'Surgeon' During Korea War Is Unmasked in Maine," New York Times, Feb. 15, 1957.
Samuel T. Williamson, "Life Is a Masquerade," New York Times, Dec. 3, 1961.
Glen Hallick, "Local Veteran Reflects on Service in the Korean War," Stonewall Argus and Teulon Times [Manitoba], July 25, 2013, 14.
Glenn R. Lisle, "Waldo Demara Was a Daring Imposter," Ottawa Citizen, Jan. 20, 2006, A15.
"The Original 'Impostor'," Newsday, Oct. 13, 1996, A.41.
"Korean War Veteran Wells Met the Great Imposter," Scarborough [Ontario] Mirror, Nov. 12, 2012, 1.
Marty Gervais, "My Town," Windsor [Ontario] Star, May 31, 2003, A5.
Darren Mcdonald, "The Great Imposter," Chilliwack [B.C.] Times, Nov. 11, 2005, B2.
John F. Morrison, "'The Great Imposter': Jack Doe of All Trades," Philadelphia Daily News, March 30, 1983, 22.
Pat MacAdam, "The Great Impostor's Last Victim," Ottawa Citizen, April 11, 1999, A3.
John Affleck, "Bold Look Into Minds of Conmen," Gold Coast [Southport, Queensland] Bulletin, June 18, 2016, 55.
Glen Hallick, "Stan Davis Reflects on His Service in the Korean War," Interlake Spectator, July 25, 2013, 12.
"From Our Pages: 1951," Kingston [Ontario] Whig, Dec. 27, 1999, 54.
Darrel Bristow-Bovey, "The Man With 50 Lives," [Johannesburg] Times, Nov. 3, 2017.
When Demara appeared on You Bet Your Life in 1959, Groucho Marx called him "the most intelligent and charming and likable crook I've ever met."
Listener mail:
"Hear Big Ben on the Radio Before You Hear It in Real Life," Londonist, Sept. 26, 2014.
John O'Ceallaigh, "40 Amazing Facts About Big Ben – As Its Clock Takes on a New Colour," Telegraph, March 22, 2019.
"The Great Bell - Big Ben," parliament.uk (accessed Oct. 5, 2019).
Wikipedia, "Big Ben" (accessed Oct. 5, 2019).
"How to Make Big Ben Strike Thirteen?", Secrets of the Universe, BBC, Nov. 1, 2010.
Wikipedia, "Big Ben Strikes Again" (accessed Oct. 3, 2019).
Jets Hunt, GPS Puzzles and the Sherlock Holmes Mystery: GPS (Global Positioning System) vs. Sherlock Holmes, 2010.
This week's lateral thinking puzzle was contributed by listeners Neil De Carteret and Nala.
You can listen using the player above, download this episode directly, or subscribe on Google Podcasts, on Apple Podcasts, or via the RSS feed at https://futilitycloset.libsyn.com/rss.
Please consider becoming a patron of Futility Closet -- you can choose the amount you want to pledge, and we've set up some rewards to help thank you for your support. You can also make a one-time donation on the Support Us page of the Futility Closet website.
Many thanks to Doug Ross for the music in this episode.
If you have any questions or comments you can reach us at podcast@futilitycloset.com. Thanks for listening!