Apr 13, 2020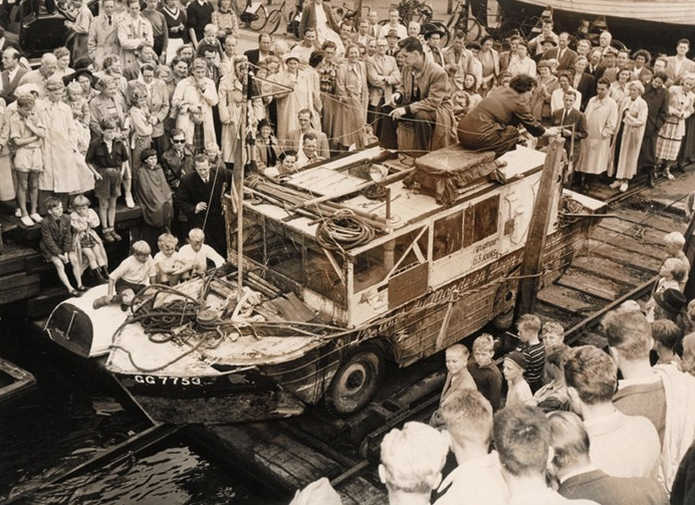 In 1946, Australian engineer Ben Carlin decided to circle the world in an amphibious jeep. He would spend 10 years in the attempt, which he called an "exercise in technology, masochism, and chance." In this week's episode of the Futility Closet podcast we'll describe Carlin's unlikely odyssey and the determination that drove him.
We'll also salute the Kentucky navy and puzzle over some surprising winners.
Intro:
During World War II a New Zealand duck served as sergeant in a U.S. Marine battalion.
In 1938 H.P. Lovecraft wrote an acrostic sonnet to Edgar Allan Poe.
Sources for our feature on Ben Carlin and the Half-Safe:
Gordon Bass, The Last Great Australian Adventurer: Ben Carlin's Epic Journey Around the World by Amphibious Jeep, 2017.
Boyé De Mente, Once a Fool -- From Tokyo to Alaska by Amphibious Jeep, 2005.
William Longyard, A Speck on the Sea: Epic Voyages in the Most Improbable Vessels, 2004.
Paula Grey, A History of Travel in 50 Vehicles, 2016.
"Across the Atlantic by Jeep," Life 29:21 (Nov. 20, 1950), 149-153.
James Nestor, "Half-Safe: A Story of Love, Obsession, and History's Most Insane Around-the-World Adventure," Atavist 20 (December 2012).
Justin Pollard, "The Eccentric Engineer: How Sea Sickness and Near-Suffocation Spoiled a Romantic Getaway," Engineering & Technology 14:5 (2019), 89.
Gordon Bass, "The Great Escape," Weekend Australian Magazine, July 29, 2017, 20.
"50 Years Ago in Alaska," Alaska 73:10 (December 2007/January 2008), 13.
Dag Pike, "Still Crazy," Yachting 201:4 (April 2007), 74-78.
Eliza Wynn, "Northam Born Adventurer Showcased in Travel Film Festival," [Northam, Western Australia] Avon Valley Advocate, May 23, 2018, 2.
"Guildford to Get a Taste of Adventure," Midland Kalamunda [Western Australia] Reporter, April 17, 2018, 5.
Troy Lennon, "Aussie Adventurer's Crazy Global Jeep Jaunt," Daily Telegraph, Aug. 1, 2017, 23.
"Ben Carlin Subject of New Book," Midland Kalamunda Reporter, Sept. 15, 2015, 2.
Lorraine Horsley and Emma Wynne, "School Remembers Perth Adventurer Who Circumnavigated Globe in Half Safe, World War II Amphibious Jeep," ABC Premium News, June 22, 2015.
"No Half Measures for Carlin," Melville [Western Australia] Times, June 28, 2011, 29.
"Half-Safe Inspires Couple in Their Travels Across the Globe," Midland Kalamunda Reporter, July 7, 2009, 3.
Warren Brown, "Jeep Thrills on the High Seas," [Surry Hills, New South Wales] Daily Telegraph, Oct. 29, 2004, Y07.
"Ben Carlin Ends 10-Year 'Around the World' Trip," The Age, May 15, 1958, 4.
Listener mail:
Andrea Gallo and Ben Kesling, "Par-A-Dice Captain Is Lucky to Roll Once a Year," Wall Street Journal, Aug. 10, 2014.
Jennifer Delgado and Robert McCoppin, "Des Plaines Casino Goes Vegas to Corner Upscale Chicago Market," Chicago Tribune, July 15, 2011.
Douglas Holt, "Gambling Boats May Go Nowhere, But Captain, Crew Stay Afloat," Chicago Tribune, April 16, 2000.
Paul Sloca, "Missouri's 'Boats in Moats' Get That Sinking Feeling," Los Angeles Times, Jan. 18, 1998.
Wikipedia, "Riverboat Casino" (accessed April 1, 2020).
Wikipedia, "Rivers Casino (Des Plaines)" (accessed March 23, 2020).
Mark Ballard, "First Riverboat Casino Approved to Come Ashore Near Lake Charles; See Next Steps, Expected Completion," [New Orleans] Advocate, Dec. 19, 2019.
Text of Kentucky House Resolution 256, "Encourage the Purchase of a Submarine to Destroy Casino Riverboats":
A RESOLUTION encouraging the purchase and vigorous use of the USS Louisville 688 VLS Class submarine.
WHEREAS, in the past few years the scourge of the casino riverboat has been an increasingly significant presence on the Ohio River; and
WHEREAS, the Ohio River borders the Commonwealth of Kentucky; and
WHEREAS, the siren song of payola issuing from the discordant calliopes of these gambling vessels has led thousands of Kentucky citizens to vast disappointment and woe; and
WHEREAS, no good can come to the citizens of Kentucky hypnotized from the siren song issuing from these casino riverboats, the engines of which are fired by the hard-earned dollars lost from Kentucky citizens;
NOW, THEREFORE,
Be it resolved by the House of Representatives of the General Assembly of the Commonwealth of Kentucky:
Section 1. The House of Representatives does hereby encourage the formation of the Kentucky Navy and subsequently immediately encourages the purchase and armament of one particularly effective submarine, namely, the USS Louisville 688 VLS Class Submarine, to patrol the portion of the Ohio River under the jurisdiction of the Commonwealth to engage and destroy any casino riverboats that the submarine may encounter.
Section 2. The House of Representatives does hereby authorize the notification of the casino riverboat consulate of this Resolution and impending whoopin' so that they may remove their casino vessels to friendlier waters.
(To find the resolution on the website of the Kentucky General Assembly, search for the term "submarine" in the Legislative Record for the 2002 Regular Session.)
"Kentucky Lawmaker Makes Fiscal Point With Humorous Legislation," Fox News, March 29, 2002.
David Mikkelson, "Kentucky Submarine Purchase," Snopes, July 18, 2007.
This week's lateral thinking puzzle was contributed by listener Frank Kroeger, who sent this corroborating link (warning -- this spoils the puzzle).
You can listen using the player above, download this episode directly, or subscribe on Google Podcasts, on Apple Podcasts, or via the RSS feed at https://futilitycloset.libsyn.com/rss.
Please consider becoming a patron of Futility Closet -- you can choose the amount you want to pledge, and we've set up some rewards to help thank you for your support. You can also make a one-time donation on the Support Us page of the Futility Closet website.
Many thanks to Doug Ross for the music in this episode.
If you have any questions or comments you can reach us at podcast@futilitycloset.com. Thanks for listening!