Nov 23, 2020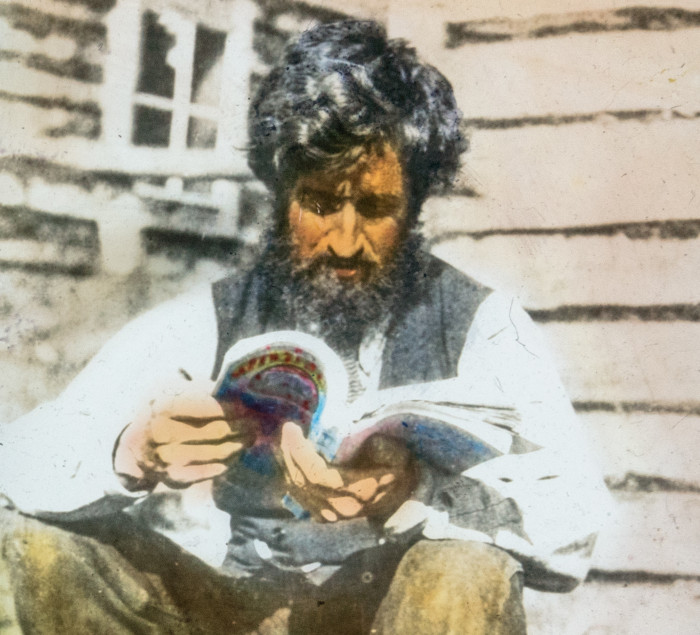 John Hornby left a privileged background in England to roam the vast subarctic tundra of northern Canada. There he became known as "the hermit of the north," famous for staying alive in a land with very few resources. In this week's episode of the Futility Closet podcast, we'll spend a winter with Hornby, who's been called "one of the most colorful adventurers in modern history."
We'll also consider an anthropologist's reputation and puzzle over an unreachable safe.
Intro:
In 1902, Ambrose Bierce proposed that we learn to sever our social ties.
Can it make sense to pray for a change in the past?
Sources for our feature on John Hornby:
Malcolm Waldron, Snow Man: John Hornby in the Barren Lands, 1931.
Pierre Berton, Prisoners of the North, 2011.
David F. Pelly, Thelon: A River Sanctuary, 1996.
Morten Asfeldt and Bob Henderson, eds., Pike's Portage: Stories of a Distinguished Place, 2010.
Misao Dean, Inheriting a Canoe Paddle: The Canoe in Discourses of English-Canadian Nationalism, 2013.
Michael D. Pitt, Beyond the End of the Road: A Winter of Contentment North of the Arctic Circle, 2009.
Mckay Jenkins, Bloody Falls of the Coppermine: Madness and Murder in the Arctic Barren Lands, 2007.
Clive Powell-Williams, Cold Burial: A True Story of Endurance and Disaster, 2003.
Brook Sutton, "Long Before McCandless, John Hornby Tested Himself in Northern Canada -- and Failed," Adventure Journal, Oct. 27, 2016.
C.B. Sikstrom, "Hjalmar Nelson Hamar (1894–1967)," Arctic 67:3 (2014), 407-409.
Alex M. Hall, "Pike's Portage: Stories of a Distinguised Place, Edited by Morten Asfeldt and Bob Henderson," Arctic 63:3 (2010), 364-365.
David F. Pelly, "Snow Man: John Hornby in the Barren Lands," Arctic 53:1 (March 2000), 81-82.
Hugh Stewart, "Arctic Profiles: John Hornby," Arctic 37:2 (June 1984), 184-185.
M.T. Kelly, "Snow Man: John Hornby in the Barren Lands," Books in Canada 27:7 (October 1998), 29.
Thomas H. Hill, "John Hornby: Legend or Fool," Torch Magazine 89:2 (Winter 2016), 6-9.
Martin Zeilig, "Touring Canada's Untouched North a Treat," [Regina, Sask.] Leader Post, Oct. 27, 2006, F2.
"Privation and Death in 'the Barrens,'" Toronto Star, Aug. 9, 1987, A8.
Anne Ross, "John Hornby," Globe and Mail, March 21, 1978, P.6.
George J. Lustre, "Hornby's Adventures," Globe and Mail, March 10, 1978, P.7.
Allan Irving, "John Hornby," Globe and Mail, March 9, 1978, P.6.
"Last Hours of John Hornby Are Pictured by Christian," [Washington D.C.] Evening Star, Dec. 31, 1929, 2.
"Bodies of Three Explorers Found," [Washington D.C.] Evening Star, Sept. 6, 1928, 29.
"Identity of Bodies Not Entirely Clear," New Britain [Conn.] Herald, Aug. 15, 1928, 10.
"Musk-Ox Sanctuary," Montreal Gazette, Aug. 26, 1927.
James Charles Critchell Bullock Archive, Sherborne School, June 1, 2015.
John Ferns, "Hornby, John," Dictionary of Canadian Biography (accessed Nov. 8, 2020).
Listener mail:
"Building Name Review: Kroeber Hall," Berkeley: Office of the Chancellor (accessed Nov. 7, 2020).
"Proposal to Un-Name Kroeber Hall," UC Berkeley Building Name Review Committee, July 1, 2020.
Karl Kroeber and Clifton B. Kroeber, Ishi in Three Centuries, 2003.
Vicky Baker, "Last Survivor: The Story of the 'World's Loneliest Man,'" BBC News, July 20, 2018.
Dom Phillips, "Footage of Sole Survivor of Amazon Tribe Emerges," Guardian, July 19, 2018.
Monte Reel, "The Most Isolated Man on the Planet," Slate, Aug. 20, 2010.
This week's lateral thinking puzzle was devised by Greg. Here are two corroborating links (warning -- these spoil the puzzle).
You can listen using the player above, download this episode directly, or subscribe on Google Podcasts, on Apple Podcasts, or via the RSS feed at https://futilitycloset.libsyn.com/rss.
Please consider becoming a patron of Futility Closet -- you can choose the amount you want to pledge, and we've set up some rewards to help thank you for your support. You can also make a one-time donation on the Support Us page of the Futility Closet website.
Many thanks to Doug Ross for the music in this episode.
If you have any questions or comments you can reach us at podcast@futilitycloset.com. Thanks for listening!