Feb 22, 2021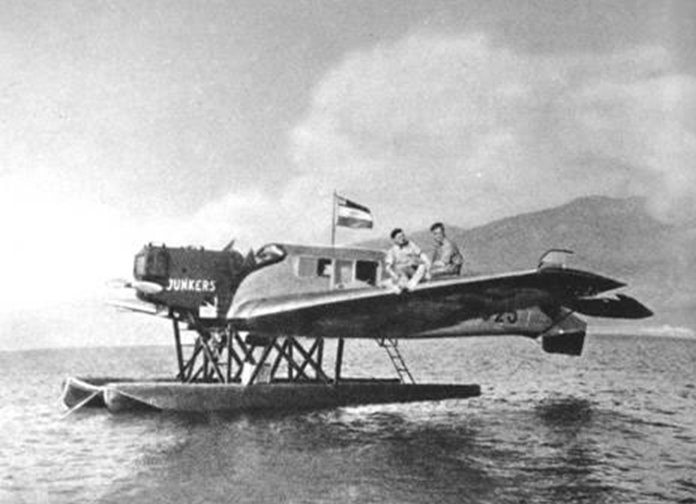 Crossing the world in 1932, two German airmen ran out of fuel in a remote region of northwestern Australia. With no food and little water, they struggled to find their way to safety while rescuers fought to locate them. In this week's episode of the Futility Closet podcast we'll describe the airmen's ordeal, a dramatic story of perseverance and chance.
We'll also survey some escalators and puzzle over a consequential crash.
Intro:
Winston Churchill had a confusing namesake in the United States.
Shelley's friend Horace Smith wrote a competing version of "Ozymandias."
Sources for our feature on the 1932 Kimberley rescue:
Barbara Winter, Atlantis Is Missing: A Gripping True Story of Survival in the Australian Wilderness, 1979.
Brian H. Hernan, Forgotten Flyer, 2007.
Anthony Redmond, "Tracks and Shadows: Some Social Effects of the 1938 Frobenius Expedition to the North-West Kimberley," in Nicolas Peterson and Anna Kenny, eds., German Ethnography in Australia, 2017, 413-434.
Frank Koehler, "Descriptions of New Species of the Diverse and Endemic Land Snail Amplirhagada Iredale, 1933 From Rainforest Patches Across the Kimberley, Western Australia (Pulmonata, Camaenidae)," Records of the Australian Museum 63:2 (2011), 163-202.
Bridget Judd, "The Unexpected Rescue Mission That Inspired ABC Mini-Series Flight Into Hell -- And Other Survivalists," Australian Broadcasting Corporation, Jan. 16, 2021.
Peter de Kruijff, "Survivalist Retraces Lost Aviators' Trek," Kimberley Echo, Jan. 29, 2018.
Michael Atkinson, "Surviving the Kimberley," Australian Geographic, June 28, 2018.
Erin Parke, "No Food, No Water, No Wi-Fi: Adventurer Tests Skills in One of Australia's Most Remote Places," ABC Premium News, Jan. 29, 2018.
"Forgotten Territory," [Darwin, N.T.] Northern Territory News, Feb. 28, 2016.
Graeme Westlake, "They Accepted Their Saviour's Fish and Ate It Raw," Canberra Times, May 15, 1982.
"German Fliers Got Lost in Our Nor-West," [Perth] Mirror, June 2, 1956.
"37 Days in a Torture Chamber," [Adelaide] News, April 21, 1954.
"Air Passenger," [Grafton, N.S.W.] Examiner, July 18, 1938.
"Hans Bertram," Sydney Morning Herald, July 16, 1938.
"Aviation: Pilot Bertram," [Charters Towers, Qld.] Northern Miner, April 20, 1933.
"Bertram Lands at Crawley," [Perth] Daily News, Sept. 24, 1932.
"Bertram's Marooned 'Plane," Singleton [N.S.W.] Argus, Sept. 21, 1932.
"Captain Bertram," Sydney Morning Herald, Sept. 20, 1932.
"Fully Recovered," Sydney Morning Herald, Aug. 6, 1932.
"The Search for the German Airmen," [Perth] Western Mail, July 21, 1932.
"The German Airmen," Albany [W.A.] Advertiser, July 7, 1932.
"Death Cheated," Cincinnati Enquirer, July 5, 1932.
"Lost German Fliers," [Adelaide] Chronicle, June 30, 1932.
"Search for Hans Bertram," [Carnarvon, W.A.] Northern Times, June 16, 1932.
"Strangers on the Shore: Shipwreck Survivors and Their Contact With Aboriginal Groups in Western Australia 1628-1956," Department of Maritime Archaeology, Western Australian Maritime Museum, 1998.
Listener mail:
"Escalator Etiquette," Wikipedia (accessed Feb. 8, 2021).
Brian Ashcraft, "It's Hard For Japan to Change Its Escalator Manners," Kotaku, June 20, 2019.
Jack Malvern, "Mystery Over Tube Escalator Etiquette Cleared Up by Restored Film," Times, Oct. 21, 2009.
Laura Reynolds, "11 Secrets of Harrods," Londonist (accessed Feb. 14, 2021).
Adam Taylor, "A Japanese Campaign Wants to Rewrite the Global Rules of Escalator Etiquette," Washington Post, Aug. 26, 2015.
Linda Poon, "Tokyo Wants People to Stand on Both Sides of the Escalator," Bloomberg City Lab, Dec. 20, 2018.
Johan Gaume and Alexander M. Puzrin, "Mechanisms of Slab Avalanche Release and Impact in the Dyatlov Pass Incident in 1959," Communications Earth & Environment 2:10 (Jan. 28, 2021), 1-11.
Robin George Andrews, "Has Science Solved One of History's Greatest Adventure Mysteries?", National Geographic, Jan. 28, 2021.
Nature Video, "Explaining the Icy Mystery of the Dyatlov Pass Deaths" (video), Jan. 28, 2021.
New Scientist, "The Dyatlov Pass incident, which saw nine Russian mountaineers die in mysterious circumstances in 1959, has been the subject of many conspiracy theories. Now researchers say an unusual avalanche was to blame," Twitter, Jan. 28, 2021.
This week's lateral thinking puzzle was contributed by listener Alex Baumans. Here are two corroborating links (warning -- these spoil the puzzle).
You can listen using the player above, download this episode directly, or subscribe on Google Podcasts, on Apple Podcasts, or via the RSS feed at https://futilitycloset.libsyn.com/rss.
Please consider becoming a patron of Futility Closet -- you can choose the amount you want to pledge, and we've set up some rewards to help thank you for your support. You can also make a one-time donation on the Support Us page of the Futility Closet website.
Many thanks to Doug Ross for the music in this episode.
If you have any questions or comments you can reach us at podcast@futilitycloset.com. Thanks for listening!