Jan 18, 2016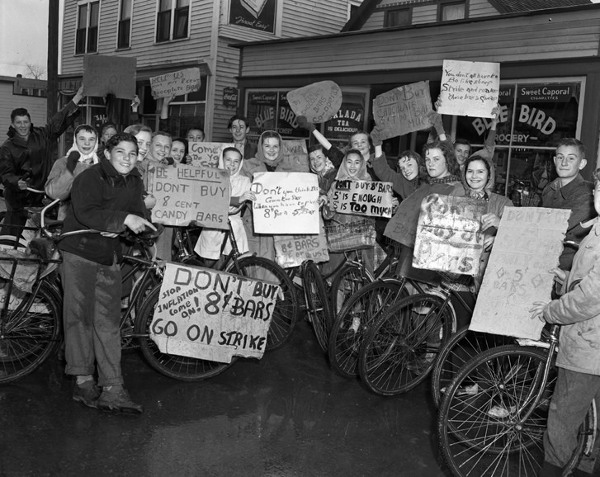 In 1947, the price of a candy bar in British Columbia rose from 5 to 8 cents, and the local teenagers organized a surprisingly effective "strike" that soon spread across the country. In this week's episode of the Futility Closet podcast we'll follow Canada's unlikely "candy bar war," which gripped the nation for 10 days before ending with a surprising twist.
We'll also take a grueling automobile ride across 1903 America and puzzle over the intentions of a masked man.
Please consider becoming a patron of Futility Closet -- on our Patreon page you can pledge any amount per episode, and all contributions are greatly appreciated. You can change or cancel your pledge at any time, and we've set up some rewards to help thank you for your support.
You can also make a one-time donation via the Donate button in the sidebar of the Futility Closet website.
Our feature on Canada's candy bar war of 1947 was suggested by listener Randy Banderob. Sources:
Tom Hawthorn, "From a Shop in Ladysmith, Chocolate Strike Affected Sales Across the Country," Globe and Mail, April 23, 2012.
"Auld Lang Syne," Ladysmith-Chemainus Chronicle, May 4, 1977.
"Putting Their Three Cents In," Ladysmith-Chemainus Chronicle, June 12, 2007.
"'War' Fought Over Chocolate," Now, April 18, 2007.
Dave Obee, "Candy Price Hike Sent Kids Into the Streets," Victoria Times-Colonist, Dec. 7, 2008.
Travesty Productions, The Five Cent War.
Burnaby History Tour: The Five Cent Chocolate War (accessed Jan. 3, 2016).
Lenny Flank, "The 1947 Candy Bar Strike," Hidden History, July 28, 2015.
Listener mail:
Sources for our story on Horatio Nelson Jackson and his 1903 auto journey across the United States:
Dayton Duncan and Ken Burns, Horatio's Drive, 2003.
Horatio's Drive (DVD), 2003, written by Dayton Duncan, directed by Ken Burns.
Here's a photo of Bud the transcontinental bulldog: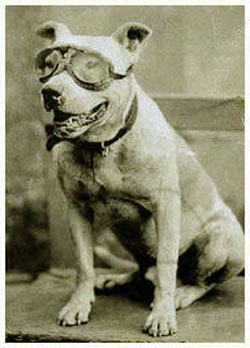 Sources on Dwight Eisenhower and the Cross-Country Motor Transport Train:
U.S. Federal Highway Administration, "Why President Dwight D. Eisenhower Understood We Needed the Interstate System" (accessed Jan. 15, 2016).
David A. Pfeiffer, "Ike's Interstates at 50: Anniversary of the Highway System Recalls Eisenhower's Role as Catalyst," Prologue, Summer 2006.
This week's lateral thinking puzzle was contributed by listener Craig Murphy.
You can listen using the player above, download this episode directly, or subscribe on iTunes or via the RSS feed at http://feedpress.me/futilitycloset.
Many thanks to Doug Ross for the music in this episode.
If you have any questions or comments you can reach us at podcast@futilitycloset.com. Thanks for listening!