Nov 12, 2018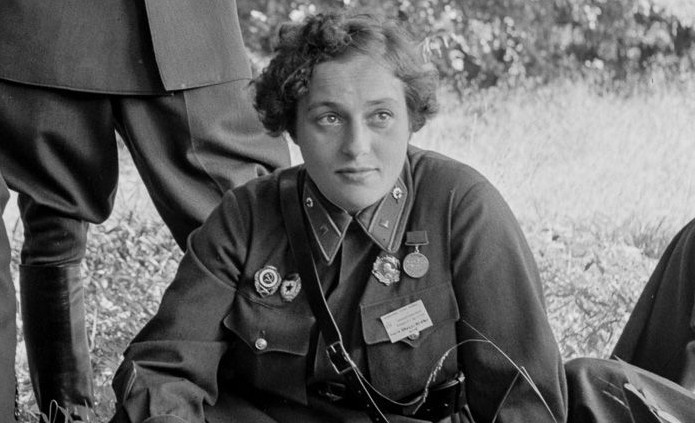 Lyudmila Pavlichenko was training for a career as a history teacher when Germany invaded the Soviet Union in 1941. She suspended her studies to enlist as a sniper in the Red Army, where she discovered a remarkable talent for shooting enemy soldiers. In this week's episode of the Futility Closet podcast we'll trace the career of "Lady Death," the deadliest female sniper in history.
We'll also learn where in the world futility.closet.podcast is and puzzle over Air Force One.
Intro:
Andy Warhol's Brillo Boxes creates a host of puzzles in the philosophy of art.
German architect Herman Sörgel wanted to dam the Congo to create two African seas.
Sources for our feature on Lyudmila Pavlichenko:
Lyudmila Pavlichenko, Lady Death: The Memoirs of Stalin's Sniper, 2018.
Roger Reese, "Soviet Women at War," Military History 28:1 (May 2011), 44-53,5.
Drew Lindsay, "Why Not Send Women to War?" MHQ: The Quarterly Journal of Military History 25:3 (Spring 2013), 50-55, 58-61.
Karl E. Friedl, "Biases of the Incumbents: What If We Were Integrating Men Into a Women's Army?" Military Review 96:2 (March/April 2016), 69-75.
Jonathan W. Jordan, "Master of the Long Rifle," MHQ: The Quarterly Journal of Military History 18:4 (Summer 2006), 49-53.
D'Ann Campbell, "Women in Combat: The World War II Experience in the United States, Great Britain, Germany, and the Soviet Union," Journal of Military History 57:2 (April 1993), 301-323.
E.M. Tenney, "Mrs. Roosevelt, the Russian Sniper, and Me," American Heritage 43:2 (April 1992), 28.
John Kass, "This Soldier's Skill Had Nothing to Do With Gender," Chicago Tribune, Jan. 25, 2013.
Peter Sheridan, "Meet Lady Death: The Deadliest Female Sniper That Ever Lived," Express, Feb. 5, 2018.
Marea Donnelly, "'Lady Death' Sniper Made 309 Kills After Young Comrade Shot," Daily Telegraph, July 12, 2016, 23.
Gilbert King, "Eleanor Roosevelt and the Soviet Sniper," Smithsonian.com, Feb. 21, 2013.
Alex Lockie, "Meet the World's Deadliest Female Sniper Who Terrorized Hitler's Nazi Army," Independent, March 18, 2018.
"Soviet Girl Sniper Learned to Shoot as University Co-Ed," [Washington, D.C.] Evening Star, August 28, 1942, 2-X.
"Africa a Prelude, Maisky Declares," New York Times, Nov. 15, 1942.
"Rifle Match Proposed," New York Times, Sept. 3, 1942.
Public Radio International, "The Life and Myths of Lyudmila Pavlichenko, Soviet Russia's Deadliest Sniper," PRI's The World, March 9, 2018.
"Sharp-Shooting Women Best Soviet Snipers," USA Today Magazine, 135:2739 (December 2006), 3-4.
Listener mail:
Wikipedia, "Maidenhead Locator System" (accessed Nov. 3, 2018).
Wikipedia, "Contesting" (accessed Nov. 4, 2018).
"An Evaluation of Location Encoding Systems," GitHub (accessed Nov. 9, 2018).
This week's lateral thinking puzzle was devised by Greg. Here's a corroborating link (warning -- this spoils the puzzle).
You can listen using the player above, download this episode directly, or subscribe on Google Podcasts, on Apple Podcasts, or via the RSS feed at https://futilitycloset.libsyn.com/rss.
Please consider becoming a patron of Futility Closet -- you can choose the amount you want to pledge, and we've set up some rewards to help thank you for your support. You can also make a one-time donation on the Support Us page of the Futility Closet website.
Many thanks to Doug Ross for the music in this episode.
If you have any questions or comments you can reach us at podcast@futilitycloset.com. Thanks for listening!