Jul 1, 2019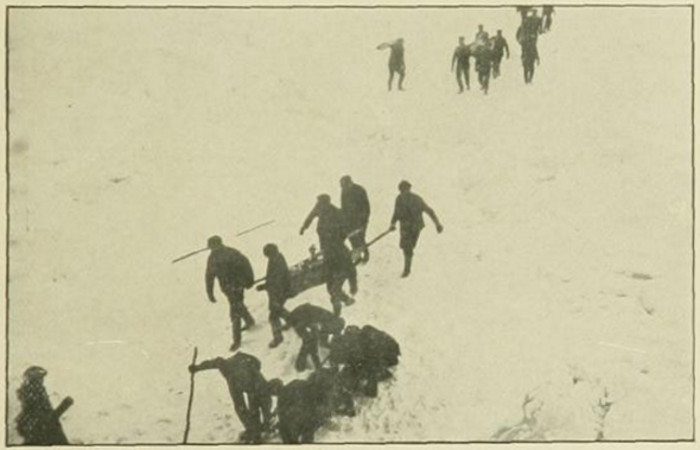 In 1914, 132 sealers found themselves stranded on a North Atlantic icefield as a bitter blizzard approached. Thinly dressed and with little food, they faced a harrowing night on the ice. In this week's episode of the Futility Closet podcast we'll tell the story of the Newfoundland sealing disaster, one of the most dramatic chapters in Canadian maritime history.
We'll also meet another battlefield dog and puzzle over a rejected necklace.
Intro:
England has seen some curious cricket matches.
In 1940 two Australian planes collided in midair and landed as one.
Above: Crewmembers carry bodies aboard the Bellaventure. Sources for our feature on the 1914 sealing disaster:
Cassie Brown, Death on the Ice: The Great Newfoundland Sealing Disaster of 1914, 2015.
Melvin Baker, "The Struggle for Influence and Power: William Coaker, Abram Kean, and the Newfoundland Sealing Industry, 1908–1915," Newfoundland and Labrador Studies 28:1 (2013).
Willeen Keough, "(Re-) Telling Newfoundland Sealing Masculinity: Narrative and Counter-Narrative," Journal of the Canadian Historical Association/Revue de la Société historique du Canada 21:1 (2010), 131-150.
R.M. Kennedy, "National Dreams and Inconsolable Losses: The Burden of Melancholia in Newfoundland Culture," in Despite This Loss: Essays on Culture, Memory, and Identity in Newfoundland and Labrador, 2010, 103-116.
Kjell-G. Kjær, "Where Have All the Barque Rigged Sealers Gone?", Polar Record 44:3 (July 2008), 265-275.
Helen Peters, "Shannon Ryan, The Ice Hunters: A History of Newfoundland Sealing to 1914, Newfoundland History Series 8 [review]," Newfoundland and Labrador Studies 12:1 (1996).
Raymond Blake, "Sean Cadigan, Death on Two Fronts: National Tragedies and the Fate of Democracy in Newfoundland, 1914–34 [review]," Newfoundland and Labrador Studies 30:1 (2015).
Michael Harrington and Barbara Moon, "Tragedy on Ice: One of the Most Dramatic Disasters in Canadian History Occurred on the Newfoundland Ice Floes in 1914," Maclean's 113:48 (Nov. 27, 2000), 76.
"Disaster on the Ice," [Winnipeg] Beaver 89:3 (June/July 2009), 22-23.
Guy Ray, "Seal Wars," Canadian Geographic 120:2 (January/February 2000), 36-48.
Jenny Higgins, "1914 Sealing Disaster," The [Newfoundland and Labrador] Independent, April 1, 2011.
Sue Bailey, "Newfoundland Marks 1914 Sealing Disaster With Father and Son's Frozen Embrace," Guelph Mercury, March 30, 2014.
"Frozen Embrace to Mark 1914 Tragedy at Sea," Prince George [B.C.] Citizen, March 31, 2014, A.13.
"The 1914 Sealing Disaster: 100 Years Later," CBC News, March 30, 2014.
Francine Kopun, "Gale of 1914 Proved Deadly," Toronto Star, April 24, 2007, A8.
Tim B. Rogers, "The Sinking of the Southern Cross," [Winnipeg] Beaver 89:3 (June/July 2009), 16-22.
Alison Auld and Michael MacDonald, "Questions Raised About Coast Guard's Actions in Fatal Sealing Accident," Canadian Press, March 29, 2008.
Joanna Dawson, "Newfoundland's 1914 Sealing Disaster," Canada's History, March 31, 2014.
Sean T. Cadigan, "Tuff, George," Dictionary of Canadian Biography (accessed June 16, 2019).
"The 1914 Sealing Disaster," Newfoundland and Labrador Heritage (accessed June 16, 2019).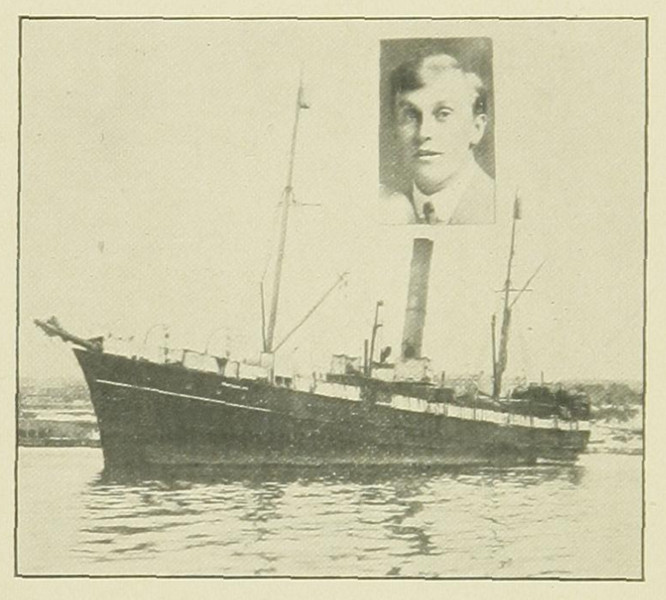 Wes Kean and the S.S. Newfoundland.
Listener mail:
Wikipedia, "Rin Tin Tin" (accessed June 19, 2019).
Michael Schaub, "'Rin Tin Tin': The Dog Who Never Died," National Public Radio, Sept. 29, 2011.
Linda Holmes, "Rin Tin Tin: From Battlefield to Hollywood, a Story of Friendship," Weekend Edition Saturday, National Public Radio, Sept. 24, 2011.
John Banville, "Rin Tin Tin: The Life and the Legend by Susan Orlean – review," Guardian, Feb. 2, 2012.
Wikipedia, "The Lighthouse by the Sea" (accessed June 21, 2019).
Wikipedia, "Political Colour" (accessed June 17, 2019).
"Why Is the Conservative Party Blue?" BBC News, April 20, 2006.
Wikipedia, "Red States and Blue States" (accessed June 22, 2019).
Stephen Battaglio, "When Red Meant Democratic and Blue Was Republican," Los Angeles Times, Nov. 3, 2016.
Ruaridh Arrow, "Gene Sharp: Author of the Nonviolent Revolution Rulebook," BBC News, Feb. 21, 2011.
"Commentary: Braille Restaurant Menus Are Still Hard to Find," Chicago Lighthouse (accessed June 22, 2019).
Sophie Meixner and Tara Cassidy, "Braille on the Menu to Accommodate Blind and Vision Impaired Patrons," ABC News, June 1, 2018.
Josh Haskell and Armando Barragan, "Blind Monrovia Student Creates Braille Menus for Local Restaurants," KABC-TV Los Angeles, May 11, 2019.
This week's lateral thinking puzzle was contributed by listeners Jeff and Emmett Moxon.
You can listen using the player above, download this episode directly, or subscribe on Google Podcasts, on Apple Podcasts, or via the RSS feed at https://futilitycloset.libsyn.com/rss.
Please consider becoming a patron of Futility Closet -- you can choose the amount you want to pledge, and we've set up some rewards to help thank you for your support. You can also make a one-time donation on the Support Us page of the Futility Closet website.
Many thanks to Doug Ross for the music in this episode.
If you have any questions or comments you can reach us at podcast@futilitycloset.com. Thanks for listening!