May 25, 2020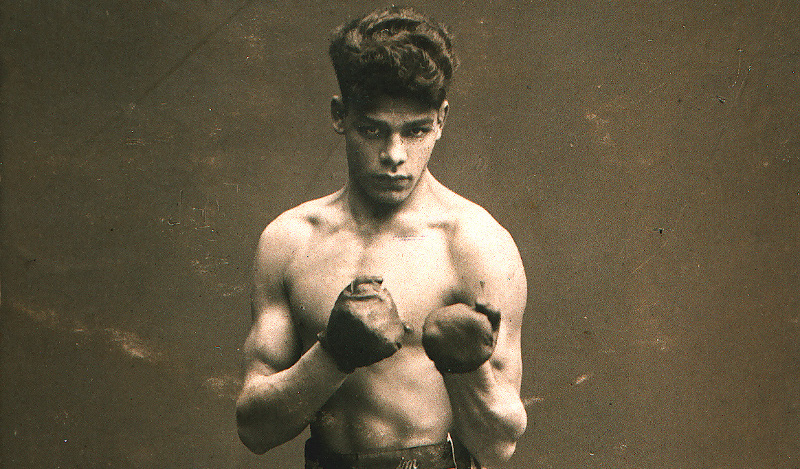 In the 1930s, Sinto boxer Johann Trollmann was reaching the peak of his career when the Nazis declared his ethnic inferiority. In this week's episode of the Futility Closet podcast we'll describe Trollmann's stand against an intolerant ideology and the price he paid for his fame.
We'll also consider a British concentration camp and puzzle over some mysterious towers.
Intro:
In 1872 Edward Lear offered a recipe for "Gosky Patties."
In 1927, engineer Edward R. Armstrong proposed a string of floating airports to link Europe and America.
Sources for our feature on Johann Trollmann:
Jud Nirenberg, Johann Trollmann and Romani Resistance to the Nazis, 2016.
Andrea Pitzer, One Long Night: A Global History of Concentration Camps, 2017.
Susan Tebbutt, "Piecing Together the Jigsaw: The History of the Sinti and Roma in Germany," in Susan Tebbutt, ed., Sinti and Roma: Gypsies in German-Speaking Society and Literature, 1998.
Theodoros Alexandridis, "Let's See Action," Roma Rights Quarterly 4 (2007), 95-97.
Linde Apel, "Stumbling Blocks in Germany," Rethinking History 18:2 (June 2014), 181-194.
Sybil Milton, "Sinti and Roma in Twentieth-Century Austria and Germany," German Studies Review 23:2 (May 2000), 317-331.
Paweł Wolski, "Excessive Masculinity: Boxer Narratives in Holocaust Literature," Teksty Drugie 2 (2017), 209-229.
Michaela Grobbel, "Crossing Borders of Different Kinds: Roma Theater in Vienna," Journal of Austrian Studies 48:1 (Spring 2015), 1-26.
Rainer Schulze, "Johann 'Rukeli' Trollmann," Holocaust Memorial Day Trust (accessed May 10, 2020).
Christina Newland, "Gypsy in the Ring: The Brave Life of Johann 'Rukeli' Trollmann," Fightland, Vice, July 25, 2016.
Rainer Schulze, "Punching Above Its Weight," Times Higher Education 2232 (Dec. 3, 2015).
Carol Sanders, "Boxers Have Long History of Fighting for Human Rights," Winnipeg Free Press, May 25, 2015, A.10.
A.J. Goldmann, "Memorials: Remembering the Resistance," Wall Street Journal, Aug. 26, 2014, D.5.
Alexandra Hudson, "Germany Finally Commemorates Roma Victims of Holocaust," Reuters, Oct. 23, 2012.
Von Siobhán Dowling, "Monument Honors Sinti Boxer Murdered by the Nazis," Spiegel, June 30, 2010.
Trollmann's professional boxing record.
Listener mail:
Megan Gannon, "'Forgotten' Nazi Camp on British Soil Revealed by Archaeologists," National Geographic, March 30, 2020.
Mindy Weisberger, "Hidden Atrocities of Nazis at Concentration Camp on British Island Finally Come to Light," Live Science, April 1, 2020.
Amy Brunskill, "Alderney's Concentration Camp Uncovered," Current Archaeology, May 12, 2020.
"Only Nazi Concentration Camp on British Soil May Be Protected," BBC News, March 10, 2015.
Alex Fox, "Archaeologists Reveal the Hidden Horrors of Only Nazi SS Camp on British Soil," Smithsonian.com, April 1, 2020.
Caroline Sturdy Colls, Janos Kerti, and Kevin Colls, "Tormented Alderney: Archaeological Investigations of the Nazi Labour and Concentration Camp of Sylt," Antiquity 94:374 (2020), 512-532.
This week's lateral thinking puzzle was devised by Greg, based on an item in Rebecca Zurier's 1991 book The Firehouse: An Architectural and Social History.
You can listen using the player above, download this episode directly, or subscribe on Google Podcasts, on Apple Podcasts, or via the RSS feed at https://futilitycloset.libsyn.com/rss.
Please consider becoming a patron of Futility Closet -- you can choose the amount you want to pledge, and we've set up some rewards to help thank you for your support. You can also make a one-time donation on the Support Us page of the Futility Closet website.
Many thanks to Doug Ross for the music in this episode.
If you have any questions or comments you can reach us at podcast@futilitycloset.com. Thanks for listening!