Jan 25, 2021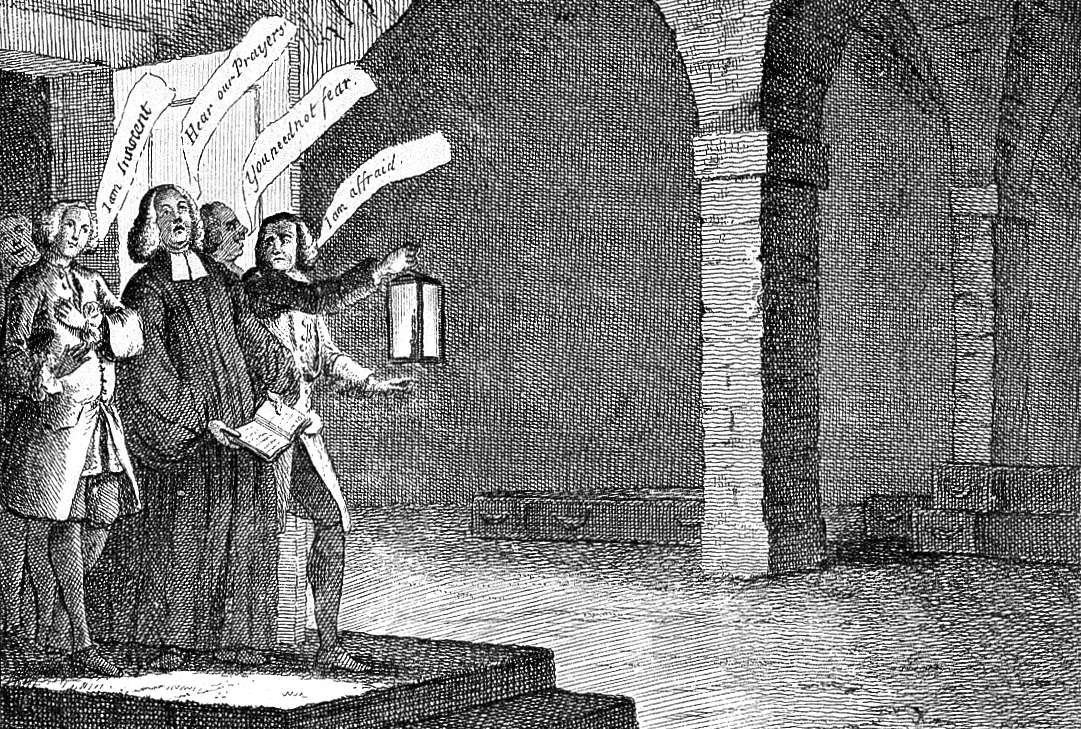 In 1759, ghostly rappings started up in the house of a parish clerk in London. In the months that followed they would incite a scandal against one man, an accusation from beyond the grave. In this week's episode of the Futility Closet podcast we'll tell the story of the Cock Lane ghost, an enduring portrait of superstition and justice.
We'll also see what you can get hit with at a sporting event and puzzle over some portentous soccer fields.
Intro:
In 1967 British artists Terry Atkinson and Michael Baldwin offered a map that charts its own area.
In 1904 Henry Hayes suggested adding fake horses to real cars to avoid frightening real horses.
Sources for our feature on the Cock Lane ghost:
Douglas Grant, The Cock Lane Ghost, 1965.
Oliver Goldsmith, "The Mystery Revealed," in The Works of Oliver Goldsmith, Volume 4, 1854.
James Boswell, The Life of Samuel Johnson, LL.D., Volume 1, 1791.
Charles MacKay, Memoirs of Extraordinary Popular Delusions and the Madness of Crowds, 1852.
Andrew Lang, Cock Lane and Common-Sense, 1894.
Roger Clarke, A Natural History of Ghosts: 500 Years of Hunting for Proof, 2012.
Henry Addington Bruce, Historic Ghosts and Ghost Hunters, 1908.
Jennifer Bann, "Ghostly Hands and Ghostly Agency: The Changing Figure of the Nineteenth-Century Specter," Victorian Studies 51:4 (Summer 2009), 663-685, 775.
Gillian Bennett, "'Alas, Poor Ghost!': Case Studies in the History of Ghosts and Visitations," in Alas Poor Ghost, 1999, 139-172.
Richard Whittington-Egan, "The Accusant Ghost of Cock Lane," New Law Journal 141:6487 (Jan. 18 1991), 74.
Howard Pyle, "The Cock Lane Ghost," Harper's New Monthly Magazine 87:519 (August 1893), 327-338.
María Losada Friend, "Ghosts or Frauds? Oliver Goldsmith and 'The Mystery Revealed,'" Eighteenth-Century Ireland / Iris an dá chultúr 13 (1998), 159-165.
H. Addington Bruce, "The Cock Lane Ghost," New York Tribune, July 14, 1907.
"The Cock Lane Ghost," Warwick [Queensland] Argus, Dec. 22, 1900.
"The Ghosts of London," New York Times, Sept. 10, 1900.
"The Cock-Lane Ghost," [Sydney] Evening News, Aug. 25, 1894.
"The Cock Lane Ghost," Maitland [N.S.W.] Weekly Mercury, March 10, 1894.
"The Rochester Ghost," Alexandria [Va.] Gazette, April 27, 1850.
Thomas Seccombe, "Parsons, Elizabeth [called the Cock Lane Ghost], (1749–1807)," Oxford Dictionary of National Biography, Sept. 23, 2004.
Listener mail:
"Death of Brittanie Cecil," Wikipedia (accessed Jan. 13, 2021).
L. Jon Wertheim, "How She Died," Sports Illustrated, April 1, 2002.
J. Winslow and A. Goldstein, "Spectator Risks at Sporting Events," Internet Journal of Law, Healthcare and Ethics 4:2 (2006).
Steve Rosenbloom, "Hit by Puck, Girl Dies," Chicago Tribune, March 20, 2002.
Tarik El-Bashir, "Girl Struck Puck Dies," Washington Post, March 20, 2002.
Connor Read et al., "Spectator Injuries in Sports," Journal of Sports Medicine and Physical Fitness 59:3 (March 2019), 520-523.
Bob Shepard, "Heads Up: UAB Does First-Ever Study of Spectator Injuries at Sporting Events," University Wire, Nov. 29, 2018.
"Father of Girl Killed by His Errant Golf Ball Says: 'How It Happened, I Cannot Explain'," Associated Press, Sept. 21, 2019.
Pat Ralph, "What Happens After 'Fore'? Injured Fans Face Legal Hurdles in Golf-Ball Lawsuits," Golf.com, Oct. 9, 2018.
Marjorie Hunter, "Ford, Teeing Off Like Agnew, Hits Spectator in Head With Golf Ball," New York Times, June 25, 1974.
"'First Off the Tee': White House Golf Tales," NPR, May 1, 2003.
Todd S. Purdum, "Caution: Presidents at Play. Three of Them," New York Times, Feb. 16, 1995.
"Ford, Bush Tee Off on Golf Spectators," Los Angeles Daily News, Feb. 16, 1995.
Kevin Underhill, "Missouri Supreme Court Hears Hot-Dog-Flinging Case," Lowering the Bar, Nov. 13, 2013.
Kevin Underhill, "Bad News for Dog-Flinging Mascots," Lowering the Bar, Jan. 16, 2013.
Kevin Underhill, "Jury Clears Mascot in Hot-Dog-Flinging Case," Lowering the Bar, June 24, 2015.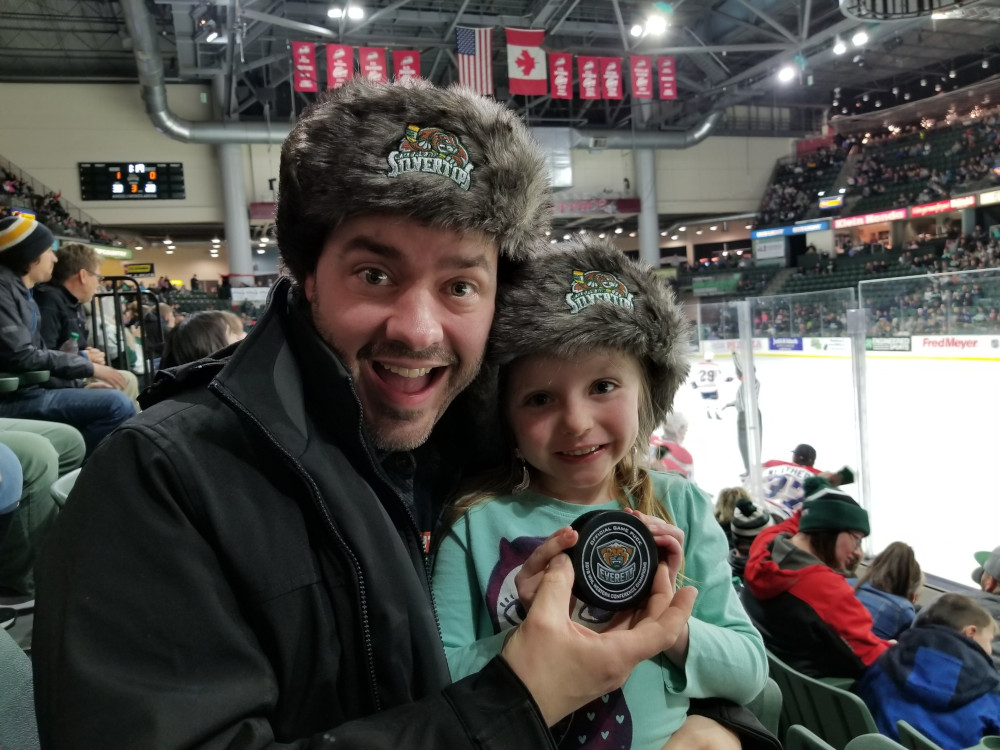 Listener Tim Ellis, his daughter, and an errant puck.
This week's lateral thinking puzzle was contributed by listener Jesse Onland. Here's a corroborating link (warning -- this spoils the puzzle).
You can listen using the player above, download this episode directly, or subscribe on Google Podcasts, on Apple Podcasts, or via the RSS feed at https://futilitycloset.libsyn.com/rss.
Please consider becoming a patron of Futility Closet -- you can choose the amount you want to pledge, and we've set up some rewards to help thank you for your support. You can also make a one-time donation on the Support Us page of the Futility Closet website.
Many thanks to Doug Ross for the music in this episode.
If you have any questions or comments you can reach us at podcast@futilitycloset.com. Thanks for listening!