Jun 14, 2021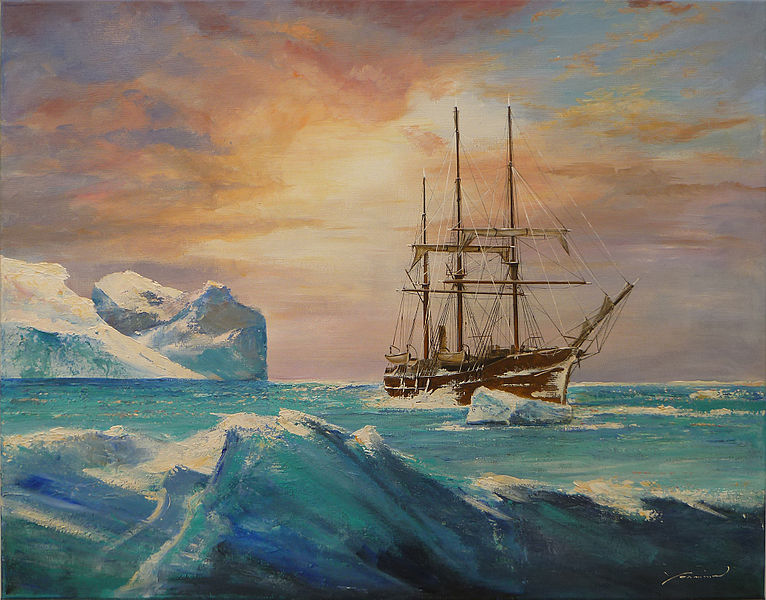 In 1898 a Belgian ship on a scientific expedition was frozen into the sea off the coast of Antarctica. During the long polar night, its 18 men would confront fear, death, illness, and despair. In this week's episode of the Futility Closet podcast we'll describe life aboard the Belgica during its long, dark southern winter.
We'll also consider a devaluing signature and puzzle over some missing music.
Intro:
George S. Kaufman was uninterested in Eddie Fisher's dating problems.
The Hatter and the March Hare impugn one another's honesty.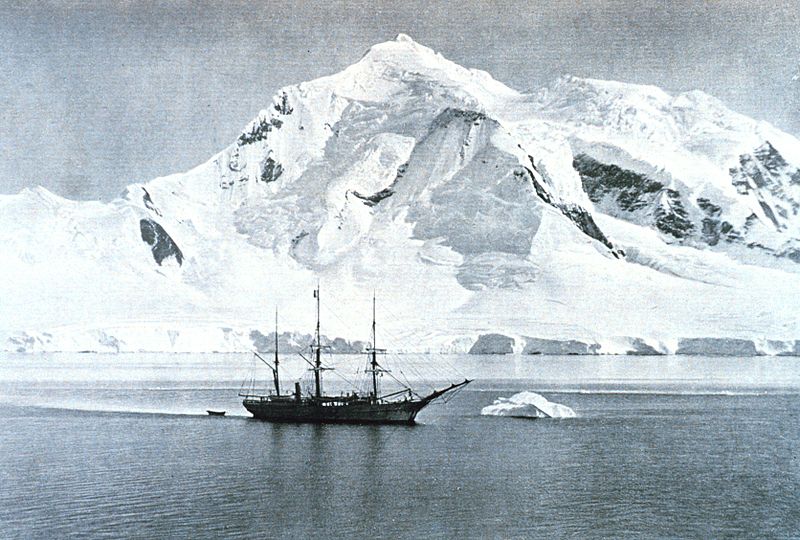 Sources for our feature on the Belgian Antarctic Expedition of 1897–1899:
Julian Sancton, Madhouse at the End of the Earth: The Belgica's Journey Into the Dark Antarctic Night, 2021.
Roland Huntford, The Last Place on Earth, 1985.
T.H. Baughman, Before the Heroes Came: Antarctica in the 1890s, 1994.
Marilyn Landis, Antarctica: Exploring the Extreme, 2001.
Frederick Albert Cook, Through the First Antarctic Night, 1898-1899: A Narrative of the Voyage of the "Belgica" Among Newly Discovered Lands and Over an Unknown Sea About the South Pole, 1900.
Henryk Arçtowski, The Antarctic Voyage of the Belgica During the Years 1897, 1898, and 1899, 1902.
Patrick De Deckker, "On the Long-Ignored Scientific Achievements of the Belgica Expedition 1897-1899," Polar Research 37:1 (2018), 1474695.
Alexandru Marinescu, "An Original Document About the History of the Antarctic Expedition 'Belgica,'" in Charles W. Finkl and Christopher Makowski, eds., Diversity in Coastal Marine Sciences: Historical Perspectives and Contemporary Research of Geology, Physics, Chemistry, Biology, and Remote Sensing, 2017.
Jacek Machowski, "Contribution of H. Arçtowski and AB Dobrowolski to the Antarctic Expedition of Belgica (1897-1899)," Polish Polar Research 19:1-2 (1998), 15-30.
Kjell-G. Kjær, "Belgica in the Arctic," Polar Record 41:3 (2005), 205-214.
Roger H. Charlier, "Philatelic Panorama of Some Belgian Antarctic Marine Contributions, 19th-21st Centuries: From Belgica to Princess Elisabeth," Journal of Coastal Research 26:2 (2010), 359-376.
Hugo Decleir and Gaston R. Demarée, "The Belgica Antarctic Expedition, 1897-1899: A View, 120 Years Later," Okhotsk Sea and Polar Oceans Research 5 (2021), 7-14.
Claude de Broyer and Thierry Kuyken, "The Celebration of the Centennial of the Belgica Antarctic Expedition: A Tribute to the Pioneers," Polish Polar Research 22:1 (2001), 71-76.
Ian N. Higginson, "Roald Amundsen's Belgica Diary: The First Scientific Expedition to the Antarctic, Edited by Hugo Decleir," Arctic 54:1 (2001), 86-87.
Henryk Gurgul, "Henryk Arçtowski and Antoni Dobrowolski in the Hundredth Anniversary of 'Belgica' Expedition to Antarctica," Oceanologia 39:2 (1997), 197-199.
Evert Lataire et al., "The Contradictions Between the Original Three Master Belgica and Present Regulations," in Royal Institution of Naval Architects, Historic Ships 2009, 2009.
Roger H. Charlier et al., "Belgica's Antarctic Toponymic Legacy," Journal of Coastal Research 26:6 (November 2010), 1168-1171.
Peder Roberts, "Belgium's Day in the Midnight Sun," Metascience 12:3 (November 2003), 345-348.
Pat Millar, "The Tension Between Emotive/Aesthetic and Analytic/Scientific Motifs in the Work of Amateur Visual Documenters of Antarctica's Heroic Era," Polar Record 53:3 (May 2017), 245-256.
Pat Millar, "Frederick A. Cook: The Role of Photography in the Making of His Polar Explorer-Hero Image," Polar Record 51:4 (July 2015), 432-443.
H.R. Guly, "'Polar Anaemia': Cardiac Failure During the Heroic Age of Antarctic Exploration," Polar Record 48:2 (April 2012), 157-164.
Shane McCorristine and Jane S.P. Mocellin, "Christmas at the Poles: Emotions, Food, and Festivities on Polar Expeditions, 1818-1912," Polar Record 52:5 (September 2016), 562-577.
Lawrence A. Palinkas and Peter Suedfeld, "Psychological Effects of Polar Expeditions," Lancet 371:9607 (Jan. 12-18, 2008), 153-63.
Arnoldus Schytte Blix, "On Roald Amundsen's Scientific Achievements," Polar Research 35:1 (2016), 1-7.
Paul Pelseneer and Henryk Arçtowski, "The Belgian Antarctic Expedition," Geographical Journal 19:3 (March 1902), 387-389.
Henryk Arçtowski, "The Antarctic Voyage of the 'Belgica' During the Years 1897, 1898, and 1899," Geographical Journal 18:4 (October 1901), 353-390.
W.T. Blanford, et al., "The Antarctic Voyage of the 'Belgica' During the Years 1897, 1898, and 1899: Discussion," Geographical Journal 18:4 (October 1901), 390-394.
Peter J. Anderson, "How the South Was Won," Wilson Quarterly 5:4 (Autumn 1981), 52-68.
David H. Stam and Deirdre C. Stam, "Bending Time: The Function of Periodicals in Nineteenth-Century Polar Naval Expeditions," Victorian Periodicals Review 41:4 (Winter 2008), 301-322.
Julian Sancton, "The Antarctic Expedition That Changed Modern Medicine," Time, May 12, 2021.
Tom Kizzia, "Moving to Mars," New Yorker, April 13, 2015.
Julian Sancton, "A Brief History of People Losing Their Minds in Antarctica," GQ, May 3, 2021.
Julian Sancton, "The Explorer Who Charted the Course to Peace in Antarctica," Boston Globe, May 16, 2021.
Sara Wheeler, "Freezing for Belgium," Wall Street Journal, May 13, 2021.
Nicole Cliffe, "The Tale of a Chaotic and Failed Attempt to Explore Antarctica in 1897," New York Times, May 6, 2021.
"Baron de Gerlache, Explorer, Dies, 69; Led Expeditions to Arctic and Antarctic -- Head of Belgian Marine Bureau," New York Times, Dec. 5, 1934.
"Cook's Antarctic Trip; Joined the Belgica Expedition at the Last Moment," New York Times, Sept. 3, 1909.
"A Visit to the Antarctic Region," San Francisco Call, June 24, 1899.
"Return of Dr. Cook," [Meriden, Conn.] Journal, June 23, 1899.
Frederick A. Cook, "A Trip to the Antarctic," New York Times, Jan. 2, 1898.
"Belgian Antarctic Expedition (1897-1899)," Frederick A. Cook Digital Exhibition, Ohio State University (accessed May 30, 2021).
Listener mail:
vlogbrothers, "John's World Record," YouTube, April 2, 2021 (video).
Jane Wakefield, "App Used by Emergency Services Under Scrutiny," BBC News, April 29, 2021.
Jane Wakefield, "Rescuers Question What3Words' Use in Emergencies," BBC News, June 1, 2021.
Zack Whittaker, "What3Words Sent a Legal Threat to a Security Researcher for Sharing an Open-Source Alternative," TechCrunch, April 30, 2021.
Aaron Toponce's Twitter profile.
This week's lateral thinking puzzle was contributed by listener Izzy Cope.
You can listen using the player above, download this episode directly, or subscribe on Google Podcasts, on Apple Podcasts, or via the RSS feed at https://futilitycloset.libsyn.com/rss.
Please consider becoming a patron of Futility Closet -- you can choose the amount you want to pledge, and we've set up some rewards to help thank you for your support. You can also make a one-time donation on the Support Us page of the Futility Closet website.
Many thanks to Doug Ross for the music in this episode.
If you have any questions or comments you can reach us at podcast@futilitycloset.com. Thanks for listening!