Apr 13, 2015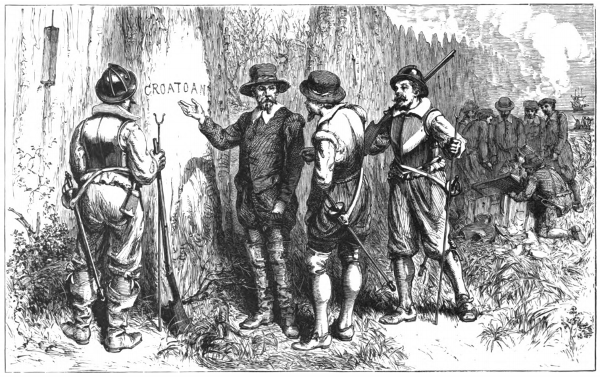 It's been called America's oldest mystery: A group of 100 English colonists vanished from North Carolina's Roanoke Island shortly after settling there in 1587. But was their disappearance really so mysterious? In this episode of the Futility Closet podcast we'll trace the history of the "lost colony" and consider what might have happened to the settlers.
We'll also visit an early steam locomotive in 1830 and puzzle over why writing a letter might prove to be fatal.
Sources for our feature on the lost colony at Roanoke:
James Horn, A Kingdom Strange: The Brief and Tragic History of the Lost Colony of Roanoke, 2011.
Karen Ordahl Kupperman, Roanoke: The Abandoned Colony, 2007.
Giles Milton, Big Chief Elizabeth: The Adventures and Fate of the First English Colonists in America, 2011.
Lee Miller, Roanoke: Solving the Mystery of the Lost Colony, 2013.

Fanny Kemble wrote of her encounter with an early locomotive in a letter dated Aug. 26, 1830 ("A common sheet of paper is enough for love, but a foolscap extra can alone contain a railroad and my ecstasies"). It appears in her 1878 memoir Records of a Girlhood.
She sat alongside engineer George Stephenson, who explained his great project and with whom she fell "horribly in love." At one point on their 15-mile journey they passed through a rocky defile:
You can't imagine how strange it seemed to be journeying on thus, without any visible cause of progress other than the magical machine, with its flying white breath and rhythmical, unvarying pace, between these rocky walls, which are already clothed with moss and ferns and grasses; and when I reflected that these great masses of stone had been cut asunder to allow our passage thus far below the surface of the earth, I felt as if no fairy tale was ever half so wonderful as what I saw.
This week's lateral thinking puzzle was contributed by listener Blaine, who sent this corroborating link (warning -- this spoils the puzzle).
This episode is sponsored by our patrons and by The Great Courses -- go to http://www.thegreatcourses.com/closet to order from eight of their best-selling courses at up to 80 percent off the original price.
You can listen using the player above, download this episode directly, or subscribe on iTunes or via the RSS feed at http://feedpress.me/futilitycloset.
Please consider becoming a patron of Futility Closet -- on our Patreon page you can pledge any amount per episode, and all contributions are greatly appreciated. You can change or cancel your pledge at any time, and we've set up some rewards to help thank you for your support.
You can also make a one-time donation via the Donate button in the sidebar of the Futility Closet website.
Many thanks to Doug Ross for the music in this episode.
If you have any questions or comments you can reach us at podcast@futilitycloset.com. And you can finally follow us on Facebook and Twitter.
Thanks for listening!