Jul 16, 2018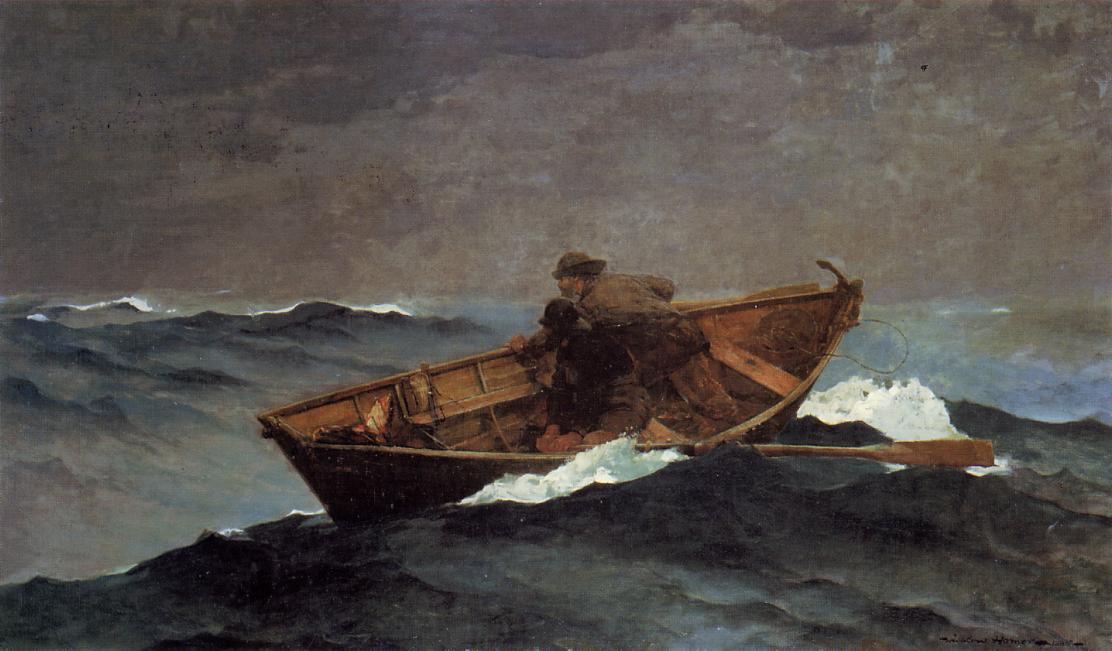 In 1883 fisherman Howard Blackburn was caught in a blizzard off the coast of Newfoundland. Facing bitter cold in an 18-foot boat, he passed through a series of harrowing adventures in a desperate struggle to stay alive and find help. In this week's episode of the Futility Closet podcast we'll follow Blackburn's dramatic story, which made him famous around the world.
We'll also admire a runaway chicken and puzzle over a growing circle of dust.
Intro:
During Oxfordshire's annual stag hunt in 1819, the quarry took refuge in a chapel.
With the introduction of electric light, some American cities erected "moonlight towers."
Sources for our feature on Howard Blackburn:
Joseph E. Garland, Lone Voyager: The Extraordinary Adventures of Howard Blackburn, Hero Fisherman of Gloucester, 1963.
Louis Arthur Norton, "The Hero of Gloucester," American History 35:5 (December 2000), 22.
"The Terrible Odyssey of Howard Blackburn," American Heritage 33:2 (February/March 1982).
Peter Nielsen, "Howard Blackburn: Heroism at Sea," Sail, July 31, 2017.
Matthew McKenzie, "Iconic Fishermen and the Fates of New England Fisheries Regulations, 1883-1912," Environmental History 17:1 (January 2012), 3-28.
R. Guy Pulvertaft, "Psychological Aspects of Hand Injuries," Hand 7:2 (April 1, 1975), 93-103.
Paul Raymond Provost, "Winslow Homer's 'The Fog Warning': The Fisherman as Heroic Character," American Art Journal 22:1 (Spring 1990), 20-27.
"Ask the Globe," Boston Globe, Jan. 24, 2000, B8.
Michael Carlson, "Obituary: Joseph Garland: Voice of Gloucester, Massachusetts," Guardian, Oct. 6, 2011, 46.
Larry Johnston, "During a Struggle to Survive '83 Blizzard, a Sailor Becomes a Hero," Florida Today, June 21, 2006, E.1.
Herbert D. Ward, "Heroes of the Deep," Century 56:3 (July 1898), 364-377.
"Alone in a Four-Ton Boat," New York Times, June 19, 1899.
"Passed Blackburn's Boat," New York Times, Aug. 11, 1899.
"Capt. Blackburn at Lisbon," New York Times, July 21, 1901.
Sherman Bristol, "The Fishermen of Gloucester," Junior Munsey 10:5 (August 1901), 749-755.
Patrick McGrath, "Off the Banks," Idler 24:3 (March 1904), 522-531.
John H. Peters, "Voyages in Midget Boats," St. Louis Republic Sunday Magazine, Dec. 11, 1904, 9.
M.B. Levick, "Fog Is Still the Fisherman's Nemesis," New York Times, July 19, 1925.
"Capt. Blackburn Dies," New York Times, Nov. 5, 1932.
James Bobbins, "Two Are Rescued as Boat Capsizes," New York Times, Jan. 30, 1933.
L.H. Robbins, "Out of Gloucester to the Winter Sea," New York Times, Feb. 12, 1933.
Robert Spiers Benjamin, "Boats Dare Ice and Fog," New York Times, Dec. 22, 1935.
Cape Ann Museum, "Captain Howard Blackburn, the Lone Voyager" (accessed July 1, 2018).
Listener mail:
Kristina Killgrove, "You Can Virtually Excavate Artifacts From a Riverbed in Amsterdam With This Website," Forbes, June 30, 2018.
"Home to Roost! Clever Hen Takes Flight and Opens a Glass Door After Eyeing Up Chicken Feed Inside," Daily Mail, June 30, 2018.
Listener Sofia Hauck de Oliveira found this f on the Thames foreshore: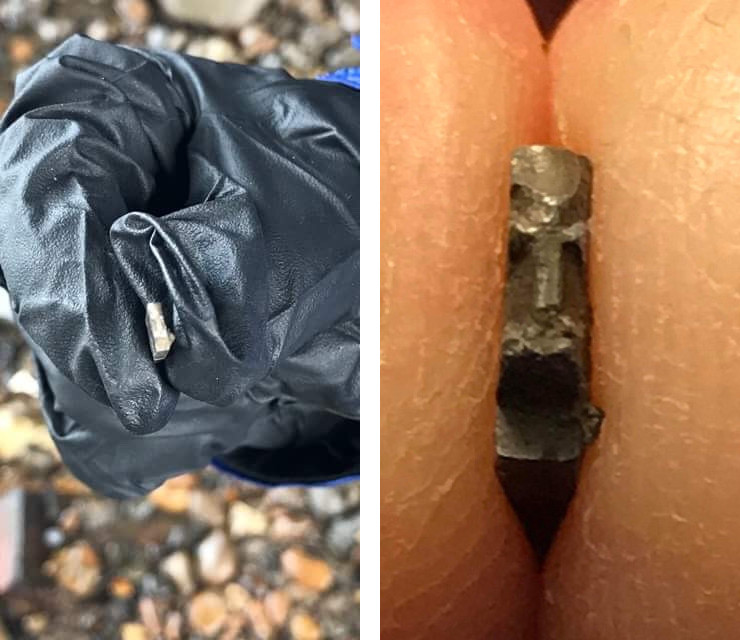 This week's lateral thinking puzzle was contributed by listener James Colter.
You can listen using the player above, download this episode directly, or subscribe on Apple Podcasts or Google Play Music or via the RSS feed at http://feedpress.me/futilitycloset.
Please consider becoming a patron of Futility Closet -- you can choose the amount you want to pledge, and we've set up some rewards to help thank you for your support. You can also make a one-time donation on the Support Us page of the Futility Closet website.
Many thanks to Doug Ross for the music in this episode.
If you have any questions or comments you can reach us at podcast@futilitycloset.com. Thanks for listening!