Nov 4, 2019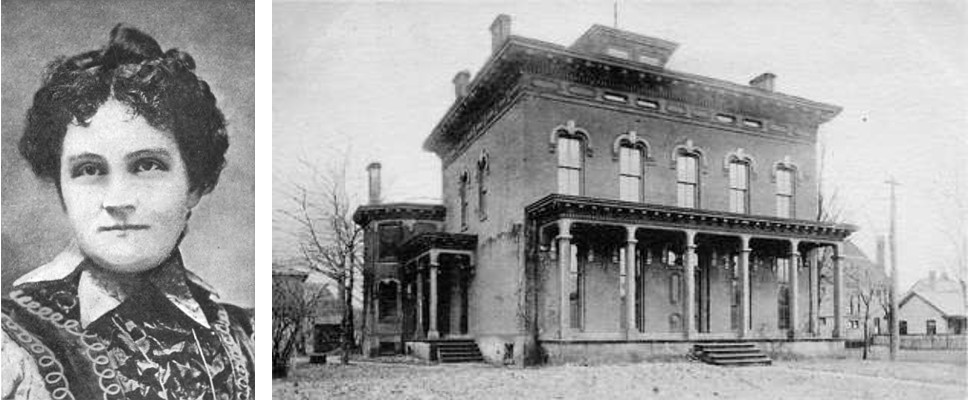 In 1902, scam artist Cassie Chadwick convinced an Ohio lawyer that she was the illegitimate daughter of steel magnate Andrew Carnegie. She parlayed this reputation into a life of unthinkable extravagance -- until her debts came due. In this week's episode of the Futility Closet podcast we'll describe Chadwick's efforts to maintain the ruse -- and how she hoped to get away with it.
We'll also encounter a haunted tomb and puzzle over an exonerated merchant.
Intro:
Inventor Otis L. Boucher offered a steel suit for soldiers during World War I.
The tippe top leaps up onto its stem when spun.
Sources for our feature on Cassie Chadwick:
Kerry Segrave, Women Swindlers in America, 1860-1920, 2014.
Alan F. Dutka, Misfortune on Cleveland's Millionaires' Row, 2015.
George C. Kohn, The New Encyclopedia of American Scandal, 2001.
William Henry Theobald, Defrauding the Government: True Tales of Smuggling, From the Note-book of a Confidential Agent of the United States Treasury, 1908.
Karen Abbott, "The High Priestess of Fraudulent Finance," Smithsonian.com, June 27, 2012.
"Chadwick, Cassie L.," Encyclopedia of Cleveland History (accessed Oct. 20, 2019).
Lindsay Kernohan, "Cassie Chadwick: A Very Double Life," Strathroy [Ontario] Age Dispatch, May 17, 2018, A7.
Sadie Stein, "Impostors Among Us," Town and Country, February 2017.
"Top 10 Imposters," Time, May 26, 2009.
"Mrs. Chadwick Measured," Poughkeepsie Journal, Dec. 30, 2004, C.1.
"Femme Fatale," D&B Reports 40:4 (July/August 1992), 47.
"Cassie Chadwick's Jewels," The Bankers Magazine 106:3 (March 1923), 551.
Arthur B. Reeve, "New and Old South Sea Bubbles," World's Work 41:1 (November 1920), 31-35.
C.P. Connolly, "Marvelous Cassie Chadwick," McClure's Magazine 48:1 (November 1916), 9-11, 65-71.
Walter Prichard Eaton, "The Gullible Rich," Munsey's Magazine 46:3 (December 1911), 335-340.
"Cassie Chadwick Fretted Life Away in Ohio Prison," Cañon City [Colo.] Record 30:42 (October 17, 1907), 12.
"Cassie Chadwick Dies in Prison," New York Times, Oct. 11, 1907.
"Mrs. Chadwick Broken Down," Chickasha [Indian Territory] Daily Express, Feb. 19, 1907.
"Mrs. Chadwick's Sentence," New York Times, March 28, 1905.
"Carnegie Sees Note; Laughs at Bad Spelling of Chadwick Trust Agreement," New York Times, March 6, 1905.
"Mr. Carnegie on Hand for Chadwick Trial," New York Times, March 5, 1905.
"Chadwick Indictments," New York Times, Feb. 22, 1905.
"Motion to Quash," St. John Daily Sun, Feb. 28, 1905.
"Tracing Chadwick Satchel," New York Times, Dec. 22, 1904.
"Nearly Collapsed in Court," [Fredericksburg, Va.] Daily Star, Dec. 19, 1904.
"Meeting Dramatic," Associated Press, Dec. 16, 1904.
"Chadwick Paper Out Is Over $19,000,000," New York Times, Dec. 11, 1904.
"Trail of Mrs. Chadwick," Carroll [Iowa] Herald, Dec. 7, 1904.
Listener mail:
C.H. Shanan, "The Haunted Tomb," Wide World Magazine 35:207 (July 1915), 281-285. (Listener Peter Atwood found this story through the podcast Reading, Short and Deep, Episode 188.)
Wikipedia, "The Wide World Magazine" (accessed Oct. 26, 2019).
"The Wide World Magazine," The Arthur Conan Doyle Encyclopedia (accessed Oct. 23, 2019).
"Biography: The Boer War," The Arthur Conan Doyle Encyclopedia (accessed Oct. 23, 2019).
Encyclopaedia Britannica, "Arthur Conan Doyle" (accessed Oct. 23, 2019).
"Govt Mulling Over 1400-km Long Great 'Green Wall' to Tackle Land Desertification," News 18 India, Oct. 9, 2019.
Vishwa Mohan, "Government Plans 1,400km Long Great 'Green Wall' of India," Times of India, Oct. 9, 2019.
Aryn Baker, "Can a 4,815-Mile Wall of Trees Help Curb Climate Change in Africa?", Time, Sept. 12, 2019.
Tony Hoare, "Null References: The Billion Dollar Mistake," QCon 2009.
Wikipedia, "Tony Hoare" (accessed Oct. 23, 2019).
Chambers' 500 entertaining words.
This week's lateral thinking puzzle was devised by Greg. Here's a corroborating link (warning -- this spoils the puzzle).
You can listen using the player above, download this episode directly, or subscribe on Google Podcasts, on Apple Podcasts, or via the RSS feed at https://futilitycloset.libsyn.com/rss.
Please consider becoming a patron of Futility Closet -- you can choose the amount you want to pledge, and we've set up some rewards to help thank you for your support. You can also make a one-time donation on the Support Us page of the Futility Closet website.
Many thanks to Doug Ross for the music in this episode.
If you have any questions or comments you can reach us at podcast@futilitycloset.com. Thanks for listening!